Main — War — NATO Secretary-General expresses concern about 'malicious foreign interference' in the Balkans, particularly from Russia
War
NATO Secretary-General expresses concern about 'malicious foreign interference' in the Balkans, particularly from Russia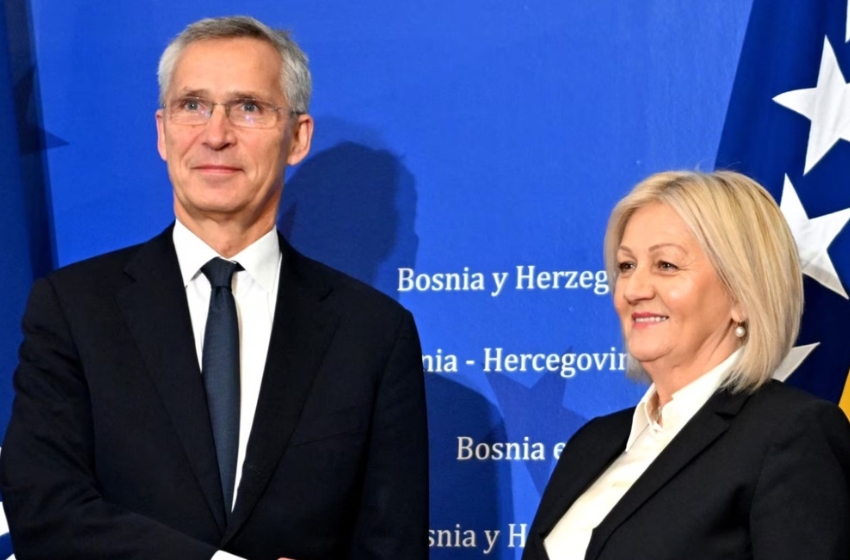 Main image: General Secretary of NATO Jens Stoltenberg and the Chairman of the Council of Ministers of Bosnia and Herzegovina, Borjana Kristo, during a joint press conference after their meeting in Sarajevo on November 20, 2023. (Photo by ELVIS BARUKCIC / AFP)
NATO supports the territorial integrity of Bosnia and Herzegovina and is concerned about 'malicious foreign interference,' including from Russia, which threatens the stability of this deeply divided country and the entire Balkan region.
This was stated on Monday, November 20, by NATO Secretary-General Jens Stoltenberg during his visit to the Bosnian capital, Sarajevo, according to Western news agencies.
Bosnia became the first stop on Stoltenberg's tour of the Western Balkans, which will also include visits to Kosovo, Serbia, and North Macedonia.
"Allies strongly support the sovereignty and territorial integrity of Bosnia and Herzegovina. We are concerned about separatist and divisive rhetoric, as well as malicious foreign interference, including from Russia," said Stoltenberg during a press conference in Sarajevo. "This threatens the undermining of stability and hinders reforms."
Stoltenberg's visit comes amid concerns that Moscow is trying to use its influence in Bosnia to destabilize the region and divert attention from its aggression in Ukraine.
Ukrainian President Volodymyr Zelensky recently warned directly that, according to Ukrainian sources, Moscow is trying to provoke new crises in the Balkans and Moldova.