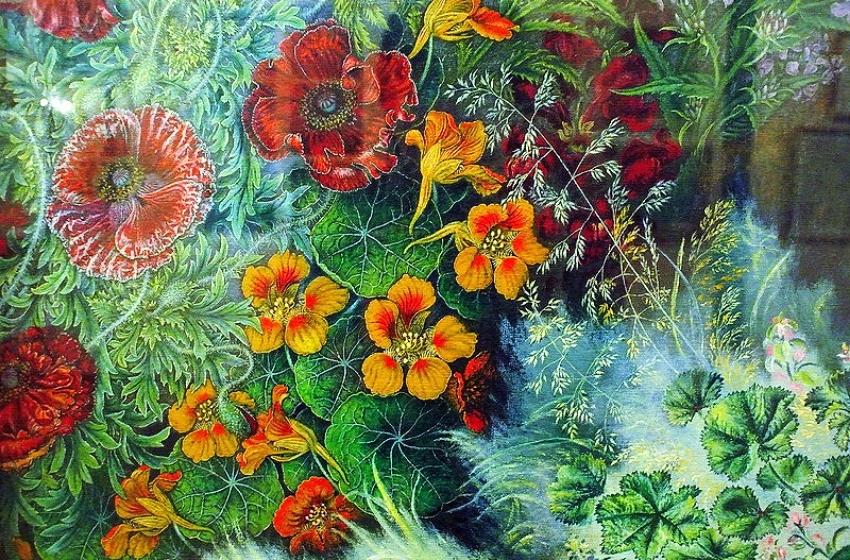 ---
The Ukrainian land has given the world not only colourful folklore and national costumes. Famous Ukrainian artists and designers brought fame to their homeland in New York and Paris. It is difficult to determine how much one masterpiece will be sold from the auction. But the original works of brilliant Ukrainians are immediately noticeable against the background of other canvases in the most prestigious art galleries in the world.
---
Taras Shevchenko
The name of Taras Grigorievich Shevchenko is known to all lovers of Ukrainian literature. He is not only a classic poet and the founder of the literary form of the Ukrainian language, he is also the founder of the Ukrainian baroque in painting. The most famous painting is "Katerina".
Contemporary Ukrainian artists consider the former serf to be an apologist for national painting, although some of his works were painted in St. Petersburg, Orenburg and Kazakhstan, like this "Askold's Grave".
Art critics argue about the authorship of some of his paintings, they are so diverse. Naked nature was no stranger to him, like this "Odalisque", written from a sleeping model, tired of entertaining the audience with oriental dances.
Once upon a time, his paintings were considered illustrations for his own literary works. Then they were recognised as masterpieces, along with other canvases by famous Ukrainian artists. Now, they are replicated in the form of patterns for embroidery and colouring by numbers.
Ivan Marchuk
Is the author of these masterpieces also Ukrainian? This question is often asked by art historians and critics who first saw the work of Ivan Marchuk. However, connoisseurs unmistakably recognise his creations among the paintings of other great Ukrainian artists. His "Eve" fascinates with something really primordial.
According to the British edition of The Daily Telegraph, in 2007 Marchuk was included in the list of 100 geniuses of our time. In the West, his "Coloured Preludes", "New Expressions", "White Planet" and "Gaze into Infinity" are well known.
Maria Primachenko
A simple peasant woman who was born and lived in a remote village near Kyiv gave the world a new genre. A typical representative of "naive art" strikes the imagination with the simplicity and originality of the paintings.
In her life there were titles, awards and state awards. During the Soviet era, foreigners wanted at least from a distance to look at the amazing works of her studio school, when exhibitions of Ukrainian artists were closed.
The sculptural figures were as simple and intricate as the drawings of a rural girl with poliomyelitis, who made her way to the title of People's Artist of the Ukrainian SSR. By the way, her husband and son were also recognised artists. It seems to be nothing special, but neither a child nor an adult would have thought of portraying animals like this.
Kateryna Bilokur
The list of famous artists of Ukraine would be incomplete without the name of Katerina Belokur, whose work amazes the imagination of people of different generations. She grew up in a well-to-do family that earned money from agriculture, but went through a difficult path to art. Today, the whole world knows it, and collectors gave a fortune for the stamp with "Flowers Behind the Fence".
Sketches, landscapes, still lifes and portraits by Belokur are inspired by the original culture of his people. She tried her hand at "naive art" until she found her own style of painting. Most of all she loved fresh flowers. Imitation of her technique is often used for voluminous photo wallpapers and textile designs.
Mikhail Andreenko-Nechitaylo
Many great Ukrainian artists, especially after the 1917 revolution, worked abroad. Therefore, the work of "Michel Andreenko" is better known to Parisians than to our compatriots.
Was born on December 29, 1894 in Odessa. The painter and decorator worked in Bucharest and Prague, but most of all he loved Paris, where he lived for 60 years. He prepared hundreds of bright scenery for performances, operas and ballets.
Scenography was a favourite hobby and the main source of income of the emigrant. Art critics consider him a great French modernist artist with Ukrainian roots.
"Composition", 1924
"Landscape B", pastel, 1960
Georgy Narbut
Georgy Narbut is the "father of Ukrainian money". Under any power, he was given the opportunity to work productively in any genre. No one else could so skillfully perform small curls for the manufacture of banknotes, stamps, coats of arms, alphabet, illustrations for the reprint of old folios, as did the famous Ukrainian artist from Chernihiv region.
The artist himself most of all liked to prepare covers for various publications. With the greatest enthusiasm he worked on illustrations for "Aeneid" by I. Kotlyarevsky, which he read with gusto (then it was published without textbook abbreviations). At that time he was fond of popular prints depicting war scenes, some of which "passed" into serious publications.
Mikhail Boychuk
A prominent representative of monumental painting was born in Western Ukraine, graduated from the Munich and Krakow Academy of Arts, giving birth to a new trend called "boychukism".
He had many students and followers, but the greatest interest is caused by his creative "handwriting" based on national traditions. This is how he portrayed the biblical prophet Elijah, who, according to the books of the Old Testament, was fed by crows in a desolate place.
Unfortunately, many of his works were destroyed, his family was shot by the Bolsheviks in 1937, and his students were repressed. Such was the bitter fate of the Ukrainian intelligentsia, which did not want to submit to the new government, since it was working "in the wrong direction."
He was accused of having "a lot of religion" in the subject of images. But famous Ukrainian artists often had to work with frescoes in temples and seminaries. This gave additional earnings, the ability to update approaches in creative search, finding a new channel. This is his version of The Last Supper.
Victor Sidorenko
The works of Viktor Sidorenko are too original, they cannot be confused with the paintings of other authors. They can only be painted in red on a white background, but these canvases are unmistakably recognised at any international exhibition.
Among the famous Ukrainian artists, there are few who left to work abroad, and then willingly returned to their homeland with personal inserts, a big name and new ideas.
The genius of the famous Ukrainian is recognised all over the world; large loans for investment are given on the security of his paintings. Another personal exhibition with paintings by Viktor Sidorenko has opened at the Saatchi Gallery in London. What is it about them? It's hard to say, let art critics argue over this. For example, one of his series of works, "Levitation".
Alexander Bogomazov
The very name of the famous Ukrainian artist Alexander Bogomazov speaks of creative genetics. "Bogomaz" were once called icon painters and masters of wall painting in Orthodox churches. In what generation it began, no one knows, but his talent and craving for art, which was noticed in childhood, is obvious. He practiced in different ways, and this is how the famous cubo-futurist saw "Cityscape".
He is rightly called "Ukrainian Picasso", but his work has been largely lost and forgotten. But even what has survived to this day gives an idea of ​​how the brilliant "descendant of godmazes" owned the palette.
Someone admires painting in the manner of avant-gardists, futurists or abstractionists, most do not understand this. However, the art of the twentieth century was further built on the creative searches of daring experimenters.
Initially, she was seen only a children's literature illustrator. Over time, Evgenia Gapchinskaya became a recognized master, along with famous artists of Ukraine. Her works are recognisable, there is so much optimism and childish naivety in them! They seem to remind that somewhere in the depths of their souls all people remain children.
There are "Galleries of Happiness" Gapchinskaya in the largest cities of the country. Others copied her work, but no one can think in the inimitable manner of a Ukrainian artist.
Plots, imbued with warmth and some kind of naive light, are sold for thousands of dollars. The most famous are "Watermelon", "You and Me" and "The Botanical in Love"!
---
The article is based on the materials of ArtHolst
---