Main — Business — A wartime business start-up: a grid farm in Odessa to feed Ukraine
Business
A wartime business start-up: a grid farm in Odessa to feed Ukraine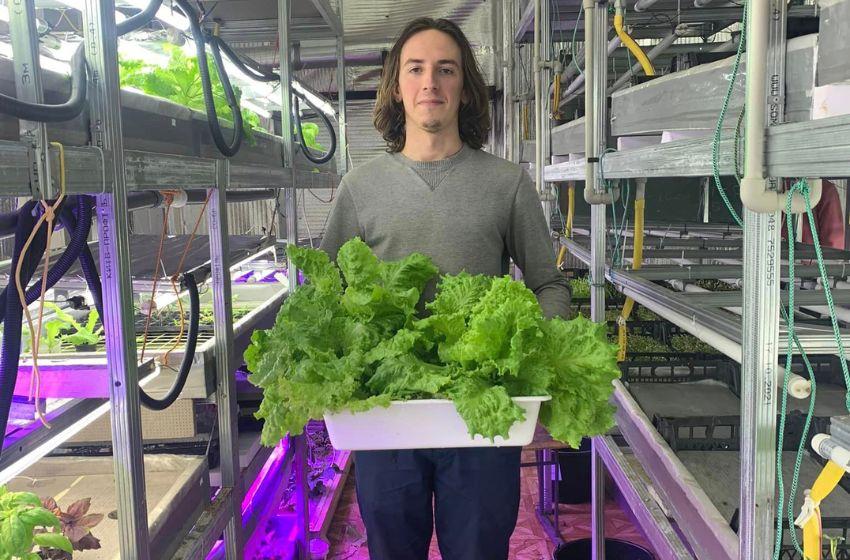 ---
In 2021, the young Odessan entrepreneur Pavel Koyen held a start-up competition at Vostok Bank with his project to create a grid farm (or smart greenhouse). It was not only a competition, but also an opportunity for startups to get support from big business.
---
Also the Fozzi group was interested in his project of "grid farms" and racks on which the greens would ripen right in the stores.
In December 2021, Pavel's start-up received a small grant from the Odessan banker Vadym Morokhovsky and signed a memorandum with Odessa State Agrarian University on scientific cooperation, in order to receive a location in the University's premises, where he began to build a pilot grid farm.
With the outbreak of the war, funding was suspended. However, they used what was left and quickly repurposed production to grow microgreens, as they grow faster.
Thus, since April 2022, the city farm under the working name "Eruca" has been operating at the Odessa Agrarian University. They grow microgreens and in 3 months of work they have ensured the supply of the products to 24 Silpo stores in Odessa (in total, 28 Silpo stores operate in Odessa). Thanks to the business model, Pavel Koyen has increased the volume of sales of microgreens to Silpo stores. The path from the "field" to the counter is covered by products in less than half an hour, thanks to which he can think about the quality of the product, and not only about the appearance and shelf life. For comparison: on average, products reach supermarket shelves in 15 hours and pass through 4 logistics centers. Pavel's products are cheaper than competitors' products and are in greater demand in Silpo stores. But this is only the beginning and not the main goal.
Now, Koyen is adding tomatoes, salads and herbs to the assortment, moving into the "food security" segment. It is important to remember that food security is not only about the availability of basic products, it is about assortment, about availability, about safe, fast logistics of products, because production facilities should be as close as possible to the shelves.
Currently, they have already started growing salads (they have been growing it since the beginning) and plan to install a shelf in the Le Silpo store on which the salads will ripen in 2022. That is, the target is not just to fill the shelves, but to add their own, unique, qualitatively better than the existing ones.
This will significantly extend the shelf life, product type, and also reduce the price of the product for the end consumer. This is not news for the markets of developed countries, But, if there it works more like a showroom, then here it is a real product, business and, most importantly, the end consumer does not spend more because of the new packaging.
In addition to the economy, Pavel Koyen pays great attention to science and closely cooperate with the university in this direction. So he reached the stage of fruiting in tomatoes and peppers indoors; they have never seen sunlight, but behave as if they were outside. They will continue to improve the technology and plan to be vanguardists in this direction.
There are many network farms in the world and in Ukraine, but, few people planned and few people managed to make a systemic business out of it, capable of scaling, working with a large retailer, such as Fozzi Group.
Why is it timely?
Today, the largest agricultural regions of Ukraine are partly under Russian occupation or have suffered losses due to the actions of the aggressor country.
Open ground is more vulnerable to climate changes, occupies large areas, and requires a developed logistics network. Cultivation in open ground far from the final consumer puts appearance and shelf life in the first place.
In summer, 30% of all vegetables and fruits are imported to Ukraine, in winter - up to 70%. Most of the imports were carried out by sea. On average, any item takes 15 hours to reach the supermarket shelves and passes through 4 logistics centers.
Pavel's grid farm prioritize taste, quality, price and time. Since the beginning of working with Fozzi, they have built qualitatively new relationships with retailers that allow them to quickly adapt and add new items in less than 10 days. Special thanks to these heroes of the food front, both for full shelves and for openness, willingness to seek understanding, not only with the end consumer, but also with small producers like us.
As of today, they are in the final stage of pilot approval and want to develop this project and work on reducing the distance to the end consumer by developing a decentralized network of mesh farms (which in the future we want to place in sea containers, this will give modularity and mobility.
Their slogan: "a new generation of farmers for a new generation of consumers" (although in fact we have changed the rules of the game and if before the sprouts were a product with a target audience mainly of millennials, now our consumers also include elderly people).
A unique approach and business model allow not only to create a quality product, but also to make it affordable, which is extremely important in times of crisis. Pavel is critical of the phrase: "green is not the main thing", because the availability of a selection of goods, full shelves in stores provide people with a sense of comfort and peace, and this affects how people work, pay taxes, donate to the armed forces, etc.
City farms in containers and racks can be located not only in supermarkets, but also in points of humanitarian aid, points of location of forcibly displaced persons, military units, etc.
In addition to creating a network of farms in containers, they want to engage in revitalization and use buildings and premises that are not needed or in poor condition for a network of farms.
Of course, the grid farm requires electricity to operate, but they can create the plants "daily light" whenever they want, for example at night, when the load on the country's power system is the least.
As for heating: here they smoothly move on to our second project "innovative burners". They want to transfer district heating of farms and greenhouses to autonomous heaters and burners that will work on pyrolysis fuel, but this another project.
Pavel Koyen and his team want to feed the country and know how to do it wherever and in spite of everything.
---