Main — Business — Andrey Piontkovsky: Erdogan cynically uses Putin
Business
Andrey Piontkovsky: Erdogan cynically uses Putin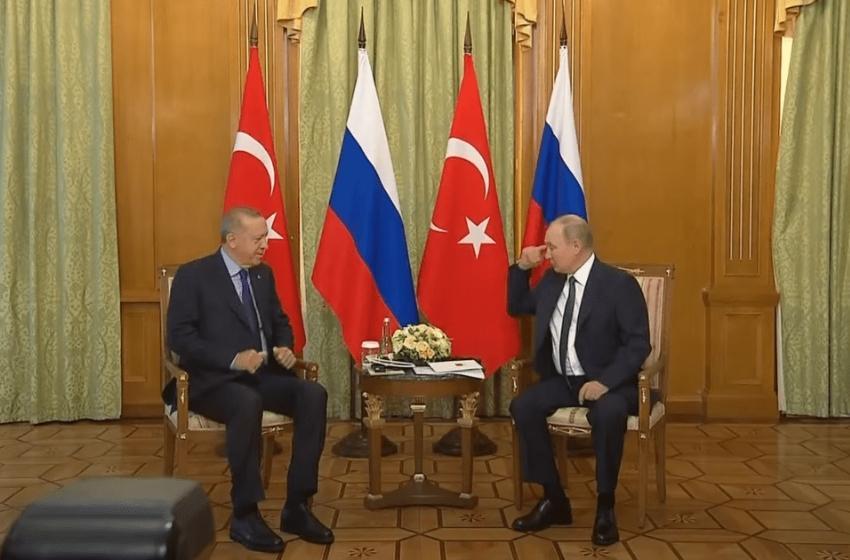 ---
Turkish President Recep Tayyip Erdogan cynically uses Vladimir Putin and his Russian colleague is "eating" to all baits.
This opinion was expressed by Russian publicist and political expert Andrey Piontkovsky to Channel 24. This is how he commented on Putin's last meeting with Erdogan in Sochi.
According to the publicist, Erdogan is a strong politician and has "imperial manners" like Putin.
He does not want to restore the Russian world, but wants to restore the Ottoman Empire.

Andrey Piontkovsky
He expressed his conviction that the Turkish president understands Putin's plight and his need for support. In the world now, the expert says, there is not a single politician ready to take responsibility for the initiative for a truce in Ukraine.
Ukraine will refuse to sign any ceasefire agreements, and Erdogan understands this. Putin's desperate situation shows that he understands this too, but wants to see the light at the end of the tunnel. Erdogan is cynically using Putin.

Andrey Piontkovsky
In his opinion, Erdogan is also seeking from Putin the betrayal of the allies in several ways. As an example, he cites the occupation of the positions of Russian peacekeepers in Nagorno-Karabakh by the Azerbaijani army. He argues that Erdogan's troops are now practically opposed to Putin's forces, and they do not even react to the enemy's actions.
As the publicist is convinced, Erdogan "sold" Putin "air", promising to help negotiate peace with Ukraine, and the Russian Federation for this allegedly will not respond to the seizure of territories in the war between Armenia and Azerbaijan.
Recall, Erdogan and Putin met in Sochi on August 5. According to the Russians, the Turkish President agreed to pay for Russian gas in rubles partially.
Subsequently, Erdogan said he invited Putin again to meet with Ukrainian President Volodymyr Zelensky. According to him, what is important now is the effective implementation of the plan and the transformation of a positive atmosphere into concrete steps towards returning to the negotiations in Istanbul.
After the talks, Turkish President Recep Tayyip Erdogan's first aide, Fahrettin Altun, said the world "cannot end the war in Ukraine by ignoring Russia."
According to the Kremlin website, at the beginning of the meeting, Putin announced that the presidents would talk about major common projects, such as the construction of the Akkuyu nuclear power plant or the operation of the Turkish Stream, which, according to the Russian president, supplies Russian gas "not only to consumers in Turkey, but also for consumers in Europe."
He also added that the parties will discuss "security issues in the region, primarily … the Syrian crisis."
It was expected that the dominant topics in the talks would be the end of Russia's war in Ukraine and the prospect of a Turkish offensive in Syria.
---