Main — Diplomacy — Chef Sommelier David Gribov telling about Key drink trends, Black sea wines and culinary experience
Diplomacy
Chef Sommelier David Gribov telling about Key drink trends, Black sea wines and culinary experience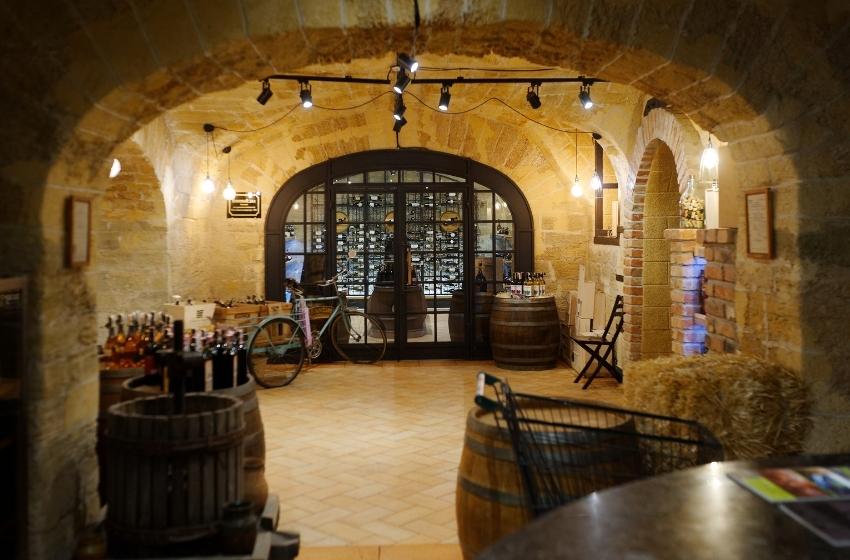 ---
The Odessa Journal visited the Santim wine cellar. This is almost the only cellar in Odessa, where the emphasis is placed not only on wines, but also on collections of whiskeys, cognacs, and brandy. We talked to the Chef Sommelier of the wine cellar, David Gribov, who told us everything a gourmet needs to know.
---
Santim Wine cellar and its Chef Sommelier have been known in Odessa for a long time. Here you can often see not only supermarket customers or wine lovers, but also the biggest wine experts, winery owners and the world's biggest distributors. The cellar has a very pleasant atmosphere: subdued light, natural materials, arches and an endless shelves full of world wines that you want to explore like an art objects.
How did you get the idea to found a wine cellar and a club here?
The question itself is that it was necessary to properly use the premises that we had. This is a wonderful place in the city center, which is almost connected with the famous catacombs. Ideal for a wine cellar. And when the decision to create it was made, they began to collect the collection.
Santim changed almost nothing in this room, just cleared the walls and put the necessary equipment, and, as you can see, added it on top so as not to violate the authenticity. We did it very well. The temperature here is excellent for wine, it is quite cool, about 18 degrees.
Plus we have a separate room for more demanding wines, where the constant temperature is 14-15 degrees. My task here is to continue the selection of drinks and to make sure that the collection is constantly updated.
How did you select, choose wine for the cellar?
There are several factors here. We constantly monitor what comes to our country. We work exclusively with official suppliers. Communicating with all the importers and distributors that are, we always see and know about new products. We taste each product, trying to find out as much information about the product as possible and, if it's interesting, immediately include it in our assortment. However, we take the best, otherwise everything would not fit on the shelves. There is always something new in all six of our stores, there is always an interesting selection. I know that our clients will always have many options to choose from.
That means that the selection is changing?
Sure. No static. Firstly, we are constantly reviewing the assortment, as there are a lot of new products. I attend all significant exhibitions. The last year and a half, mainly in Ukraine, since due to the pandemic, international exhibitions abroad are almost never held. Plus, I am glad that international exhibitions have begun to come to Ukraine more often, for example, we are waiting for Gambero Rosso in the fall. Yesterday there was an exhibition of en-premier Bordeaux, when we taste wines even before they hit the market. This is an opportunity to predict the product that will appear in the next year. Tastings from distributors allow us to understand what to look for in the future.
Second, we listen to the wishes of our guests. What do they want, what is interesting. In any case, our company must also have commercial success so that the wine does not stagnate. And the feedback from our guests is very important to us.
Then the next question. What do Ukrainians drink according to statistics? According to official data mainly French and Italian wines are chosen.
Yes that's true. Moreover, at the moment in the countries of Eastern Europe, Italian wines are in first place in terms of consumption. It is a fact. We, of course, take this into account, which is why our selection contains wines from different regions of Italy. But don't forget about other countries as well.
What about Moldovan wines?
This is a separate topic. I would expand it to include wines from the Black Sea region. This applies to our native Ukrainian wines, Moldova and Georgia. These are the three countries that have been united by a common destiny. This fate was called the Soviet Union. There is a stereotype that these countries are producing a weak product. Nevertheless, each of these countries has potential. They are developing very brightly.
For example, when I look at the wine lists of foreign restaurants, I see Georgian wines in them. And that says a lot. Wine experts have been considering Moldovan wines for several years already. The fact is that experts are no longer surprised with Italian or French wines. But such curiosities as Moldovan or Ukrainian wines are very interesting. And most of them are not very expensive. Unfortunately, not everyone knows about our countries yet, since we do not really stand out on the wine lists of the world. Ukraine despite the fact that it is the largest country in Europe, but not so many areas are occupied by vineyards. For example, there are many more of them in Morocco.
Craft wines appear in Ukraine. New wines take part in blind tastings, take part in exhibitions, and everyone notes a steady improvement in quality. Quality is on the rise. Ukraine already has its own technologists, experts - people without whom the winemaking process is impossible. In addition, these people are very fond of learning, absorbing in themselves and their own and others' experience.
We used to just drink wine: red, white or pink. Now, Ukrainians want uniqueness, a wine card, a product with their own taste and face. There should now be a consistency of style, from label to aftertaste, which can only change with the harvest of a particular year. And so interesting manufacturers began to appear. For example, Shabo, Kolonist or Chizay. And that's top quality! They have something to be proud of! In addition, in Ukraine, zoning is already beginning, which now works in Europe not only for wine, but also for products in general. Everyone is now taking terroir more seriously.
Are there wine trends? If so, what are the wine trends of 2021.
If we talk about Ukraine, then, perhaps, now the trend is unambiguous - a local product. Demand is constantly increasing, which will give rise to supply in our wine cellar. What we have now is the products of the largest manufacturers. But we are constantly working on increasing the collection.
When the first quarantine hit last year, alcohol sales increased. Santim was unharmed in this respect. And the important thing is that this continues and we see an increase in interest in the local product. The emphasis is shifting. And this is the nearest perspective of the next 5-7 years. In addition, Ukrainian winemakers expect support from the State, in the form of the abolition of some outdated laws, after which, I am sure, there will be a flourishing of micro-farms, mini-productions. The fact that such wine will not stand in all supermarkets in the country is even good. This means that craft wine will be in the best places and in limited quantities. And there are already examples, look at the results of recent competitions. Such wines get objectively good grades. And after all, let me remind you that these are always blind tastings.
In addition, no matter how much I communicate with foreign sommeliers, restaurateurs, 80% of guests ask me about a local product. It doesn't matter what kind of dish: pasta or meat. And this applies to guests from Europe and Asia. This will develop, and we will also strive for this.
We've already entered the summer season 2021. What do you think is the taste of this summer?
First, I'll give you a general answer. Still, the biggest sales in summer are sparkling wines. This is the law of every year. If we come closer, now there is interest not only in Prosecco, Cava, I mean a foreign product, but also in a local producer of sparkling wines and champagne. Ukraine is the main choice here, since Georgia is not associated with the production of sparkling wine, and Moldova is often more expensive. Here the buyer voting with his wallet. Moreover, contests tell us that this is good. Even the old familiar brands are taking the lead in quality.
Wine for a sea voyage on a yacht along the Odessa coast. What do you recommend?
First of all, these are light drinks from our collection. We have a great selection of sparkling and white wine, rosé. After all, a person wants lightness and freshness, and it is these products that will give him. Of course, you can chill red wine, but his face will already be lost. However, there are many options!
A small question, but what are you personally interested in now?
I do not limit my choice. I pay attention to the quality and do not give preference to any particular country. If we talk about the category, now I prefer fortified wines, as they are very diverse and I see the development of this market, including in Ukraine. Fortified wines are an underrated product. For some reason, there is a stereotype that they are consumed only in winter because of the high degree. But this is not so. The standard degree can be 15. So it can be safely used in summer. And, yes, we have a selection of fortified wines, and we continue to expand this line with the help of Ukrainian and foreign producers. For example, I am currently trying chilled white port.
Do you hold master classes or wine tastings in the cellar?
This is where we do it. In addition, presentations of distributors for all of Odessa very often take place here. We select an audience depending on the mass of the product. This applies to both the wine and the hard group.
Once a week we meet with the Santim staff and I teach. Collected my author's course. This is about 10 lectures, 2 hours each, including both theory and practice. A person learns to try, taste, consolidate everything that he heard in the theoretical part. On average, 6 theoretical lessons and 4 practical lessons.
Since we have a good wide selection of wines we arrange individual tastings. We also have something to show for a small company up to 15 people. We conduct enogastronomic tastings, because we are in a supermarket, so we don't have any problems with good food.
---