Main — Culture — From nothingness to infinity. Exhibition of tapestries in Western and Eastern Art Museum
Culture
From nothingness to infinity. Exhibition of tapestries in Western and Eastern Art Museum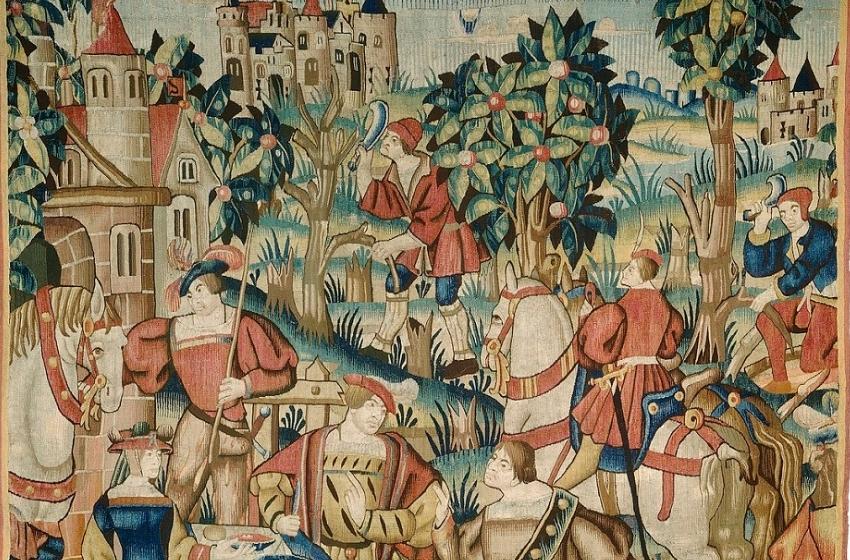 ---
The opening of the exhibition and performance is scheduled for August 7, 4pm. Organisers of the exhibition: Koshkin Dom decor salon and its founders Vlada Dyzyk and Aleksandr Myalkovsky.
---
Tapestry is an ancient form of textile art which has been practised all over the world for thousands of years. Ancient Egyptians and the Incas used woven tapestries as shrouds in which to bury their dead. Important civic buildings of the Greek Empire, including the Parthenon, had walls covered by them. The Chinese rarely used them as wall-hangings - preferring instead to use them mainly to decorate garments and for wrapping gifts. However, it was the French medieval weavers who brought the craft to fruition.
One of the most expensive and time-consuming crafts, tapestry-making only truly flourished in Europe from the Middle Ages onwards, at the hands of French and (later) Flemish weavers.
By the mid-15th century as many as 15,000 weavers and other artisans were working in the tapestry centres of the french Loire Valley alone. Using either a vertical loom (high-warp) or a horizontal loom (low-warp), and a range of no more than 20 colours, medieval weavers produced images of religious stories from the Old and New Testaments, and - from 1500 onwards - secular scenes of battle, Kings and noblemen.
Tapestries became status symbols amongst the aristocracy. They also had much practical use, providing insulation for castle walls, covering openings and giving privacy around beds. Kings and nobles took them on their travels from castle to castle for reasons of comfort and prestige. Tapestries often changed hands after battle, and since the victor's door and window openings might be a different size the acquired hangings might be cut up or even joined to other tapestries.
Medieval weavers extracted their dyes from plants and insects in a range of less than twenty colours. For example, red came from madder, poppies or pomegranates and woad produced blue (a process that was so profitable in 16th century France that importing woad from the East was punishable by death).
In 1663, during the lavish reign of Louis XIV, Les Gobelins factory was founded in Paris employing over 800 artisans in the production of tapestries for the royal court. Other European countries followed, opening factories on behalf of their rulers.
The presented exposition consists of Belgian, French, Italian copies of machine and manual weaving. The fact that Vlada Dyzyk's path as a couturier began with the eponymous collection of clothes ".. From non-existence to infinity .." is very symbolic. The collection of gobelins and tapestries purchased from private owners, in combination with luxurious silks, velvet of the best manufactories in Europe, sounded bright on the catwalks of Odessa, San Remo and Cannes. Most of the images have long found their place in the wardrobes of their owners.
For performance, these items are kindly provided by their owners, who will demonstrate them. In the shows, Vlada prefers to revive her works with the help of amateur models - ordinary people.
---