Main — Business — A signpost for Mombasa (Kenya), new sister city of Odessa
Business
A signpost for Mombasa (Kenya), new sister city of Odessa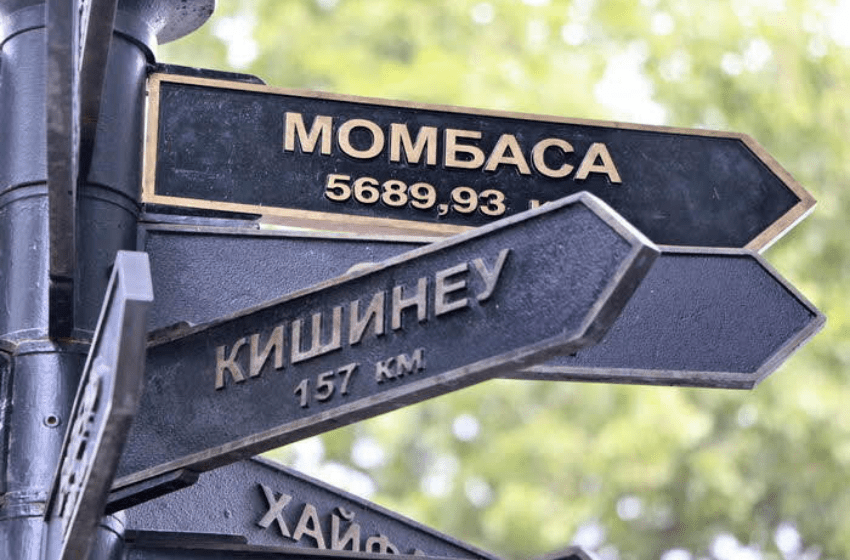 ---
The mayor of Odessa Trukhanov, together with a delegation from Mombasa (Kenya), opened a new memorial sign in the monument showing the names of Odessa sister cities.
---
A new signpost was added to the monument near the Odessa City Hall: a direction indicator towards the partner city of Mombasa (Republic of Kenya).
This is a significant event, we continue to unite the whole world. Another city has joined our big family.

For Odessa, friendship and twinning is not just a formality, but real ties between cities and their inhabitants. Relations between Odessa and Mombasa have significant prospects in the context of developing cooperation in the spheres of business, tourism, health care, education and a number of other areas.

Gennady Trukhanov, Mayor of Odessa
The mayor Gennady Trukhanov thanked the Kenyan delegation, which, despite the quarantine restrictions, covered about ten thousand kilometers separating Odessa and Mombasa.
In turn, the Deputy Governor of Mombasa District Joab Obhiamo Tumbo noted the similarity of the two cities and conveyed greetings from the leadership of Mombasa and the people of Kenya to all Odessa residents.
Today we have become one more step closer towards improving our relations. We are glad to cooperate with all international delegations who are present at the birthday celebration. Mombasa, like Odessa, is a sea gateway to their countries.

Joab Obhiamo Tumbo. Deputy Governor of Mombasa District
The agreement on the establishment of partnership relations between Odessa and Mombasa was signed on January 20, 2021 in the municipality of the city of Mombasa. The Republic of Kenya has become the second African country with which Odessa is developing bilateral relations. Prior to that, in April 2019, an Agreement on Cooperation and Partnership was signed between Odessa and Marrakesh (Kingdom of Morocco).
---
Mombasa is the second largest city in Kenya, with a population of over a million. Large seaport. Located on the coral island of Mombasa in the Indian Ocean and connected to the mainland by several dams.
---