Main — Culture — Odesa International Film Festival 2021: The jury
Culture
Odesa International Film Festival 2021: The jury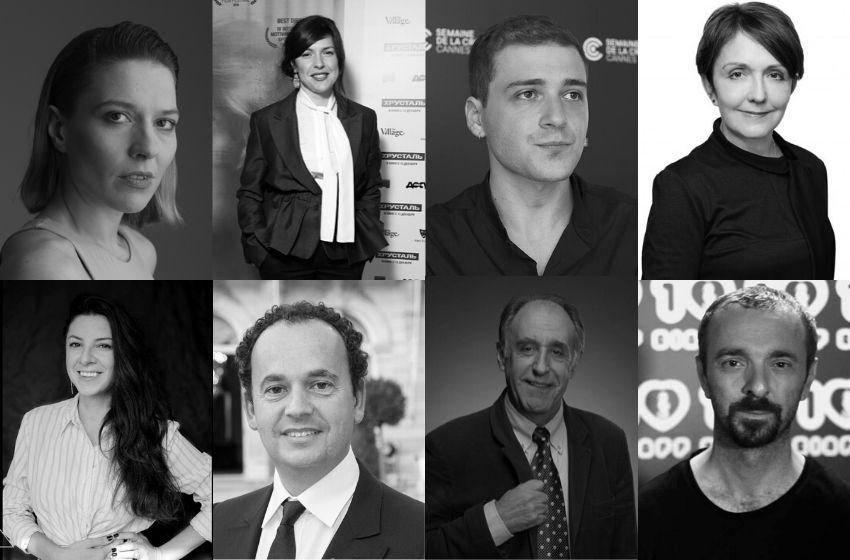 ---
The 12th Odesa International Film Festival announces the panel of the jury that will rate the films of this year's National Competition.
---
The International Jury included Director Daria Zhuk (Belarus), Director Elie Grappe (France/Switzerland), Producer Jean-Charles Levy (USA), Actress Oksana Cherkashyna (Ukraine) and Festival Manager Zviad Eliziani (Georgia).
Daria Zhuk
Director Daria Zhuk was born in Minsk, but after graduating from school she went on an exchange study to the United States. Since then, she has lived and worked there. Her debut full-length film Crystal Swan was nominated for an Oscar from Belarus for the first time in 22 years in the Best Foreign Language Film category. The film premiered in the East of West Competition Program of the Karlovy Vary International Film Festival; among the Crystal Swan awards, there are the Grand Prix of Odesa IFF, the Almaty IFF, Tbilisi IFF Grand Prix, the FIPRESCI Award at the Bratislava IFF, Cork International Film Festival Youth Jury Award and many others.
Elie Grappe
Director Elie Grappe has been studied classical music at the National High Conservatory Of Music And Dance Of Lyon for ten years, and later at the Lausanne Cantonal Art School from 2011 to 2015. As part of the curriculum, he made the short film Répétition, and then Suspendu, the graduation work, which were presented at the international film festivals. The script for his first feature film Olga, was co-written with Raphaëlle Desplechin. The film was created jointly by Switzerland, France and Ukraine, and the roles were played by first-class gymnasts. Olga premiered in 2021 at the 60th Critics Week at the Cannes Film Festival, where the film awarded as the Best Screenplay.
Jean-Charles Levy
Producer Jean-Charles Levy has long worked for TF1 company, where he co-financed several films, including two Academy Award nominees: Far from Heaven and Tempted. In 2003, he opened Forecast Pictures, with which he produced 25 lines with budgets ranging from 1.5 to 35 million USD (released by such majors as Universal and Paramount). Jean-Charles also recently became a partner in Los Angeles-based Trinity Media Financing and is a co-owner of Apple Tree Vision in Kiyv, which is currently one of the leading filmmakers in Ukraine. Jean-Charles produced The Last Mercenary for Netflix with Jean-Claude Van Damme in the lead role.
Oksana Cherkashyna
Oksana Cherkashyna is a Ukrainian actress of theater and cinema. In 2020, she won the Kinokolo Film Critics Award for her role in Natalka Vorozhbyt's film Bad Roads, which premiered at the Venice Film Festival in the International Critics' Week section. She works as a theater actress at the Powszechny Theatre and TR Warszawa in Warsaw. In 2019, she has got the higher theatrical awards in Poland, in particular, the second prize for Best Actress at the Divine Comedy festival in Krakow and the main actor's award at the All-Poland Contemporary Art Competition.
Zviad Eliziani
Zviad Eliziani studied tourism management in Georgia, and after graduation he continued his studies in the USA in California, where he received a Master's degree in Strategic Management. Over several years, he has been taken part in such certification courses, as Training for Film Producers (Mini EAVE, Georgia, 2011), Festival Development (Independent Film Office, Great Britain, 2018), PR and Reputation Management (London School of PR, 2012), Series of Cultural Management Seminars (Eastern Partnership Program for Cultural and Creative Leaders, 2016), etc. Since 2006, Zviad has been working at the Batumi International Art-House Film Festival (BIAFF) as a Festival Manager. In addition to organising the festival, he coordinated various projects, in particular, the BIAFF Film School (master classes), BIAFF film screenings in the out-of-festival period, organised presentations of Georgian films at BIAFF partner film festivals abroad (in the USA, Poland, Germany and other countries).
Films of the National Competition Program will also be judged by the FIPRESCI jury, which included film critic Bozhidar Manov (Bulgaria), film critic Diana Martirosyan (Armenia) and cinema expert Nataliia Musiienko (Ukraine).
Bojidar Manov
Bojidar Manov is a Bulgarian film critic and journalist, former Dean of the Film Faculty of the National Academy for Theatre and Film Arts. Member of the National Council on Cinematography in Bulgaria, Vice-President of the International Film Press Federation, Member of the European Film Academy. Bojidar was the President and member of international juries at film festivals in Berlin, Cannes, Venice, Thessaloniki, Istanbul, Busan, Karlovy Vary, San Sebastian, Locarno, Palm Springs, Wiesbaden, Dubai, Cairo and others. He is the author of the books Theory of Film Image (1996), Digital Audiovision (2000), Festival Meetings (2007), Cinema and Other Temptations (2008), Evolution of the Screen Image (2004, 2012) and others.
Diana Martirosyan
Diana Martirosyan is an Armenian film critic and cultural journalist. She has worked in television and radio, covering film news and did interviews on cinema topics. Since 2007 he has been taking part in various cultural, urban and film events — festivals and projects. Now, she works at the Golden Apricot Yerevan International Film Festival and the ReAnimania International Animation Film & Comics Art Festival of Yerevan. She was on the FIPRESCI jury at the Molodist International Film Festivals and in Turin.
Natalia Moussienko
Natalia Moussienko is a Ukrainian film expert, culturologist, Leading Researcher at the Modern Art Research Institute of the National Academy of Arts of Ukraine. Member of the International Federation of the Cinematographic Press, the Ukrainian Film Academy, The Ukrainian Association of Cinematographers, as well as the Ukrainian Oscar Committee (2016-2018). Natalia Moussienko is the author of books and articles on cinema, as well as the theory and history of culture, published in Ukraine, the United States, Canada, Belgium, Great Britain, Norway, Poland and Switzerland. In particular: Art of Maidan, Kyiv Art Space, Art and Politics, as well as Light from Distant Stars (co-authored).
---