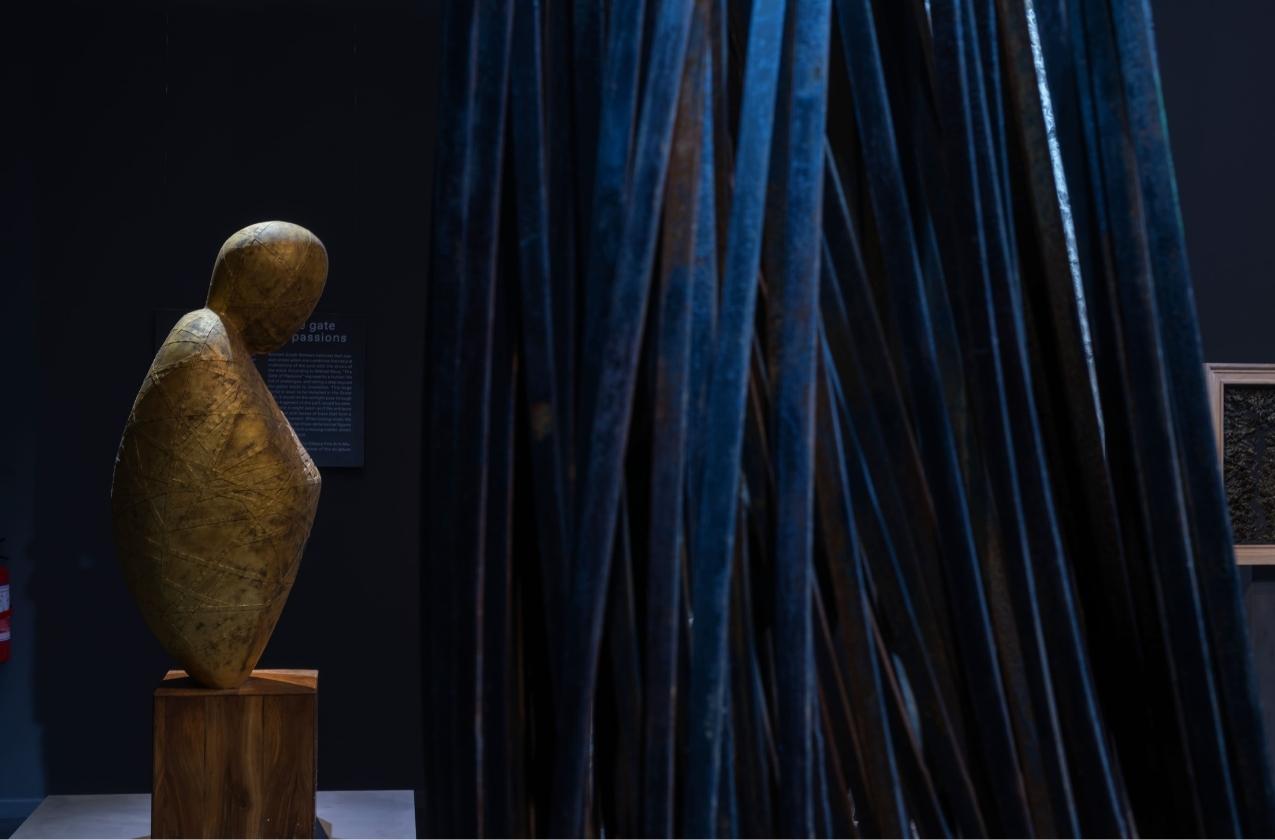 ---
We are glad to inform that the personal exhibition by Mikhail Reva "Revelation" extended until January 10, 2021. The final exhibition room holds the works of different years. This is a search for figurative solutions and stylings. Here's a chance to trace and compare the transformation of the art by Mikhail Reva.
---
There is a kind of cycling, as in 1995 Odesa Fine Arts Museum held his first solo exhibition comprising a wide range of topics, from the Bible to Avant-garde. "The Revelation" exhibition is arranged respectively, narrating the revelations of the different periods.
The exhibition opens with the icons created by the artist in 1994 for the film "Desert" directed by Mikhail Katz. The young sculptor, who had just graduated from the institute, had to give up acquired skills and sculpt with his hands a boy, who was surrounded by the apostles and Jesus.
The artist's recent lockdown in Mexico has been embedded in the exhibition plot. Mexico struck the artist with saturation and openness of colour, incredibility of natural forms and global environmental problems. Thus Mikhail got to experience with another form along with traditional technologies, combining traditional techniques and still preserving the iconic essence of the sculpture. Sculpture is a sign and a completed image, which has lots of meanings. So when Michael applies colour, then by means of shaping the form, he makes the sculpture no longer speak in a whisper, but scream aloud.
Everything that exists is breathing since it was born. Breathing is life. The artist sees the metastasis that have appeared on the Earth's flesh and his breathing is his appeal to humanity. The spiritual immunity of the Earth is violated. Mutation of nature and its natural self-purification lead to the new stage of evolution. The virus is a response of nature to human actions. In wildlife everything is interrelated. Now we are witnessing a violation of the eco-balance.

Mikhail Reva
---
[video]
About Mikhail Reva
Mikhail Reva holds the honorary title of "National Artist of Ukraine", a title he has held since 2004, yet what he is to Ukraine, and to the world, cannot be summarized in just a few words. Indeed, Mikhail was born in Odessa, in what was then the Soviet Union and is now Ukraine, and his artistic work across multiple mediums seeks to heal, to rebuild, and to emphasize the value of unique individuality in a region where such thinking was once absent. His work celebrates and builds upon the rich history of Odessa across centuries, in a way that looks to a brighter future for all people.
Mikhail was born in 1960 in the city of Kerch, in the Crimean region of Ukraine USSR. In 1966, he moved with his parents to Odessa, where he grew up and discovered his artistic calling. He attended secondary school and maritime college in Odessa, then spent two years working on ships for the Black Sea Shipping Company before spending another two years in mandatory military service for the Soviet Union. Once free of military commitments, he returned to Odessa and began to pursue art as a profession, with his starting point being a job in the Sculpture Art Fund of the Odessa branch of the Union of Artists (where he met his future wife, Tatyana Kushniruk). It was during this time that Mikhail had his first exhibition, "Land and People", in Moscow.
At the age of 25, he entered what is now known as the St. Petersburg State Academy of Art and Design, where his academic tutors were such well-known artists as Lyudmila Kalugina, Anatoly Dyoma (sculpture), Peter Puko (painting), and Igor Shmelev (architecture and design). While at the Academy, his work was already becoming well known, as he won a contest to create the Grand Prix trophy, known as the "Golden Duke", for the International Film Festival. He graduated summa cum laude in 1990, winning the Academy's gold medal for best diploma work, and was awarded a scholarship to travel to Rome, Italy for additional study at the Roman Academy of Arts. He completed a one year internship at the Roman Academy, then returned to Odessa where his work flourished.
In 1991, he joined the National Union of Artists of Ukraine, held personal exhibitions in Moscow and Odessa, and gained international acclaim for a collection of miniature sculptures inspired by Dante's Divine Comedy and displayed in Ravenna, Italy. He collaborated with Ernst Neizvestny on his monumental sculpture "The Golden Child" in Odessa. He held further exhibitions in Paris, France, and Caracas, Venezuela. Soon, his prominent sculptures over the previous few years in Odessa, such as "Source of Life", a fountain commemorating the 200th Anniversary of Odessa, and "Angel of Grace", a monumental bronze sculpture at a center for disabled children, would win him the Grand Prix, the "Golden Peretin", at the International Festival of Arts in Kyiv, Ukraine.
Over the next several years, Mikhail's work proliferated and earned him ever-increasing international acclaim. In 1998, he won a festival award in Belgium and another in Great Britain. In 1999, he created the monumental sculpture "The Apple of Temptation" in Amsterdam, Holland. In 2001, he held his first personal exhibition in the United States, at the Ukrainian Institute of American in New York City. While in the United States, he also created the monumental sculpture "Crystal Dream" for a public art project known as "3 Acres on the Lake" in Chicago, Illinois. All of this occurred while Mikhail was also completing several new sculptures in Odessa and holding exhibitions in Kyiv. Indeed, it was this stunning display of prestigious creative output that led the government of Ukraine to bestow the title of "Honored Artist of Ukraine" upon Mikhail in 2004.
Not content simply to bask in the glory and recognition of his new title, Mikhail used his higher profile to expand his work and explore different creative avenues. While continuing to create magnificent sculptures, such as a monument in Kyiv to remember worldwide victims of terrorism in 2005, he entered the world of architecture and design. In 2007, he became a Professor at the Moscow Branch of the International Academy of Architecture in Russia, and won first prize in a national architecture competition. He continued to design amazing monuments and sculptures for museums, hotels, and other public spaces while at the same time establishing himself as a visionary architect and designer. Mikhail designed the interior of the Intercontinental Hotel in Kyiv in 2007, and would do the same for the Swisshotel in Odessa in 2011. In 2009, his vision and design for the "Babi Yar" memorial and museum complex in Kyiv won Mikhail more awards, and soon he began to create architectural designs and visions for other sculptors to create. This was the case with the acclaimed monument to Russian writer and playwright Isaac Babel, created by sculptor Georgiy Vartanovich Frangulyan in Odessa. Over the next several years, he produced more critically-acclaimed sculptures, public art installations, architectural designs, and won many more awards in the process.
Mikhail soon found his philanthropic voice, and created the Reva Foundation in 2015. The foundation is a US nonprofit organization, established to develop, support, and promote the unique art and cultural heritage of Odessa for generations to come. Its mission is to operate worldwide, assisting and supporting talented artists in all creative fields who are focused on conserving and enhancing the unique heritage and culture of Odessa. Inspired by Mikhail's endless vision for enhancing the quality of life in Odessa through cutting edge public art and design projects, Reva Foundation is positively impacting Odessa itself as well as the world's understanding and appreciation for Odessa. It is, quite simply, the global legacy of Mikhail Reva.
These days, Mikhail is a vibrant and well-known contributor to a wide array of artistic endeavours. He still produces amazing sculptures, and also designs award trophies for international competitions, illustrates books, designs custom jewelry, and so much more. He continues to hold exhibitions of his work, and continues to win awards for his excellence.
Mikhail continues to amaze those who experience his art. Moreover, he is a true artist's artist; one whose endless creativity and devotion to quality in his many crafts is an inspiration to countless other artists around the world. His influence in artistic movements around the world continues to grow.
---
[video]