Main — Diplomacy — Pushkin carved in a chestnut tree
Diplomacy
Pushkin carved in a chestnut tree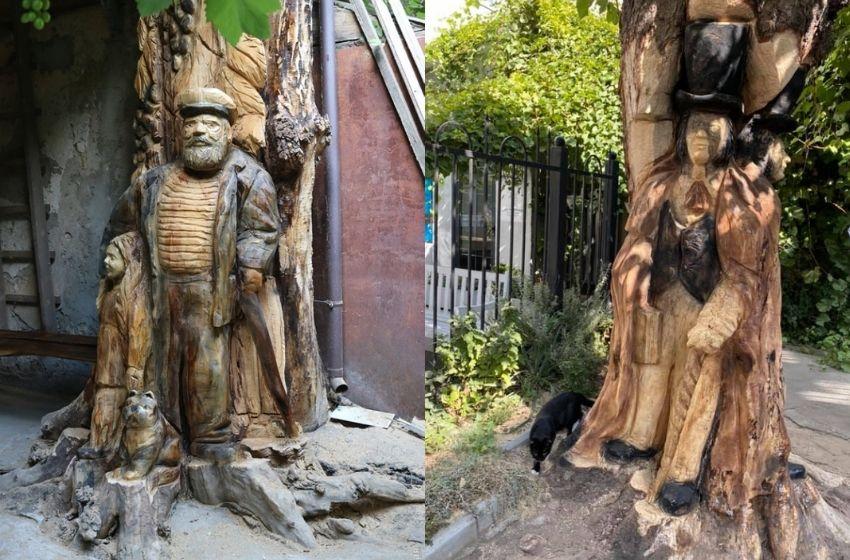 ---
Inside a yard of the city center of Odessa, an old tree became a bizarre monument. It was in to represents two historical characters: the Russian writer Alexander Pushkin and Samuel von Thom, General Consul of the Austrian Empire in Odessa from 1804 to 1845.
---
In the courtyard of the house in Mayakovsky Lane 7, it possible to see the sculptures of Pushkin and the Austrian Consul. They were carved into the trunk of an old chestnut tree.
This is the second subject in the project of the renowned Odessa historian Oleg Gubar to transform old trees, with the help of the artist Aleksandr Kovalenko. The first sculpture of an elderly sailor and a girl in the trunk of an old poplar was unveiled at the end of July in the courtyard on Uspenskaya 75.
The personality of Alexander Pushkin doesn't need any presentation. Instead, the Austrian diplomat is not so famous. Christoph Samuel von Thom was General Consul of the Hapsburg Empire during the period when Odessa was in full growth to become the commercial capital of the Russian Empire.
The Austrian gentleman was described by his contemporaries as:
A merry fellow, punisher, wit, who remained so in his old years. Von Thom was the soul of Odessa society, receiving and being an indispensable visitor to all balls, dinners and entertainments.
A legend say that, after the plague in Odessa in 1812, when Duke Richelieu decided to finish the quarantine, he was the first to open his house to the guests, "philosophically deciding to die better of the plague than of boredom." The consul lived in a house at the intersection of modern Preobrazhensky streets and Mayakovsky lane, on the site of which a house for sea transport workers was built in the 1930s.
The memoirist Philip Vigel, a Russian noble of Swedish extraction friend of Pushkin, wrote that the Poet visited Samuel von Thom at the Dalnitsky farm in 1824.
---