Main — Culture — The Pushkin statue in Odessa: facts and legends
Culture
The Pushkin statue in Odessa: facts and legends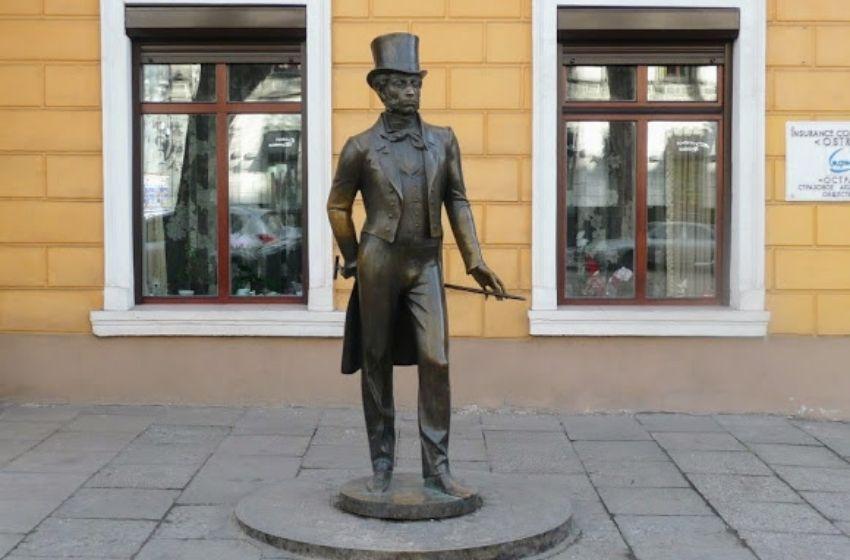 There are two monuments to Alexander Pushkin in Odessa: a bust on Primorsky Boulevard and a statue on Pushkinskaya Street. And there is also another bust of Pushkin, located in a niche on the facade of the Opera House. And this is not surprising, because Alexander Sergeevich and Odessa had a very reverent relationship. He loved the city, and Odessa gave him inspiration to write beautiful poems and a novel in verse "Eugene Onegin".
After that the city of Odessa received, as the poet Tumansky wrote it: "a certificate of immortality," and Pushkin as well. Therefore, the second monument to Alexander Sergeevich was opened in Odessa for the 200th anniversary of the poet's birth.
If you rub Pushkin's nose, you will not get any good luck, as it is said for other bronze statues. Only his nose will shine even brighter. But there is something more interesting in the monument to Pushkin than this. Here is some facts that we know about him.
Italian street
This monument was erected on Pushkinskaya Street, 13. But initially, the street was called Italian, it is not for nothing that Pushkin writes in Eugene Onegin: "Everything there breathes Europe, blows, everything shines with the South and is dazzled with a variety of living things. The golden language of Italy sounds cheerful down the street… ". Indeed, a lot of Italians lived in young Odessa. And only after the monument to Alexander Sergeevich was unveiled on Primorsky Boulevard in 1889, they decided to rename the street to Pushkinskaya, and not to Pushkin Street, as if it were just his street.
Unloved hotel
Near the monument to Alexander Sergeevich on Pushkinskaya Street 13, there is the Pushkin Museum. This building that was built in 1817 as the hotel "Severnaya" (Нotel du Nord) and Pushkin lived there in 1823. But he only stayed only for a few weeks. According to the recollections of his contemporaries, gambling and alcohol were prohibited in Severnaya. The hotel owner, the Frenchman Charles Sicard, was apparently a strict man, and Pushkin at that time was known as a disgraced poet, but not great. And it was not possible to agree. So, Pushkin spent almost all 13 months of his Southern exile in the Renault Hotel on the corner of Richelievskaya and Deribasovskaya. But there was a Casino there, and oysters with lemon, and "light wine from the cellars brought to the table by helpful Otton." Plus, around the corner, the City Theater, where "the delightful Rossini, Europe's darling - Orpheus", Primorsky Boulevard and "And the Southern sun and the sea … Why are you more, friends?" Blessed lands! "And I didn't like the Severnaya Hotel, no."
Surprising hairstyle
Speaking of Pushkin, almost everyone immediately imagines a proud profile with curly sideburns and a fragment of a white shirt; these were most often the poet's self-portraits. But, according to the memories of contemporaries, in Odessa, Alexander Sergeevich used to be shaven and preferred red shirts. But on the statue he is still portrayed in a classic manner: with sideburns and in a top hat, in a vest, tailcoat and a scarf.
Too tall and too handsome
The monument to Pushkin is depicted in human height and is only slightly raised above ground level, which, as it were, brings it closer to the audience. There is no high pedestal and no pathos arising from it. Alexander Sergeevich, it seems, just stopped and looked at Odessa. But there is a funny tale that some Moscow Pushkinists expressed dissatisfaction with the fact that Pushkin on the monument is too tall and too handsome, they say, so-so portrait resemblance. To which they immediately received an answer that it has long been known that if a person is happy, then he looks much better. Accordingly, in Odessa, Pushkin felt great, and this is confirmed by his letters to his brother Lyovushka. But in Moscow, he did not like the city at all. Therefore he seemed to those around him shorter and less handsome.
The fourth cane
The monument to Alexander Pushkin by sculptor Alexander Tokarev was opened in 1999. But it was slightly different from today's version, because initially Pushkin seemed to be leaning on his bronze cane. But after the notorious cane was stolen from Alexander Sergeevich three times, it was re-made in 2009 from steel, and the poet already holds it with two hands behind his back. Plus, the cane has no less than five levels of attachment to the sculpture. After that, it worth noting that the cane was no longer stolen.
---
Source: Lotsia
---