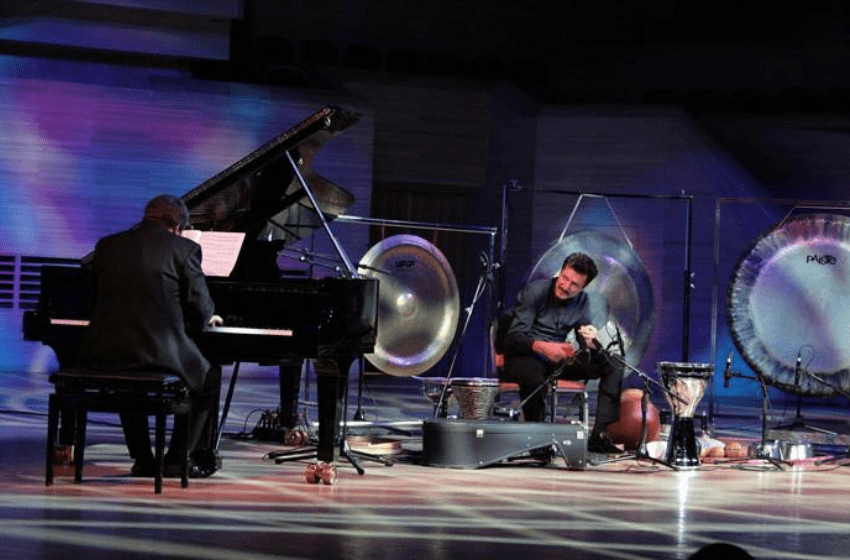 ---
August 12, 20:00 "Reloaded-2" with Alexey Botvinov and Burhan Öçal at the Green Theater
---
Two stars of the world music scene Burhan Öçal (Turkey) and Alexey Botvinov (Ukraine) - created in 2010 a unique project "Bach. Reloaded."
The project presented a version of the fundamental masterpiece of European civilization "Goldberg Variations" by Bach, which has no analogues in the modern musical process, accompanied by oriental rhythms based on ancient Sufi traditions.
The project has been performed more than 30 times - including in Paris, Zurich, Basel, Istanbul, Abu Dhabi, the Montreux Jazz Festival.
In the new project "Reloaded-2", the artists present completely new, unexpected versions of the cult masterpieces of Bach, Beethoven, Rachmaninov, Prokofiev, Glass in a program built on the principle of constant pumping of emotions and energy - they cannot leave you indifferent.
It's worth to mention several works by Mussorgsky's cycle "Pictures at an Exhibition". The medieval European "Castle" turns into an oriental palace from "1001 Nights", "Ballet of Unhatched Chicks" and "Conversation with the Dead" are frighteningly real, and "Baba Yaga" resembles a powerful rock arrangement.
---
Alexey Botvinov
Pianist Alexey Botvinov belongs to the elite of world pianism. Botvinov is rightfully considered one of the best performers of Rachmaninoff's music in the world. Botvinov is the only pianist in the world who has performed Bach's complex masterpiece "Goldberg Variations" on stage more than 300 times. He has toured in more than 40 countries around the world. The performances of the solo pianist and with leading orchestras in the largest concert halls - the Berlin Philharmonic, London Wigmore Hall, Zurich Tonhalle, the Moscow House of Music, in other best halls in Europe and Asia - has constant success by the public and the press.
---
Burhan Öçal
Recognized worldwide as a virtuosic percussionist, Burhan Öçal has made the bridging of musical cultures his central mission. A native of Kirklareli in the Thrace region, he grew up in a musical family. During his early years in Switzerland, Burhan Öçal worked with Pierre Favre, a national jazz celebrity. His works with Swiss jazz piano artist George Gruntz, world renowned Portuguese classical pianist Maria Joao Pires and Australian pianist Peter Waters followed.
He is a regular guest at the Jazz Festivals in Montreal (where he before an audience of 150 thousand) Montreux, Chicago, Paris, Istanbul, Vienna, Berlin as well as the Womad World Music Festival.
---
Tickets: bit.ly/botvinov_burhan
---