Main — War — Russia prepares pro-Russian rallies in Europe
War
Russia prepares pro-Russian rallies in Europe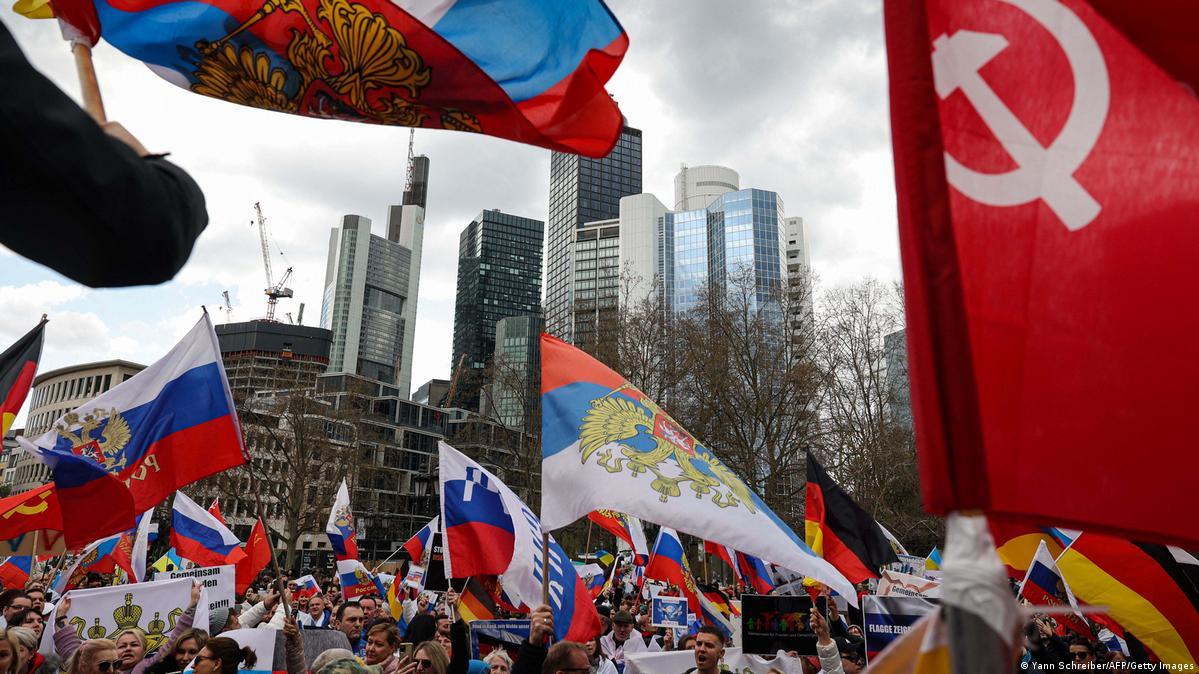 ---
The rallies will cover a number of European countries in the coming days.
---
Russia has planned a number of malign influence operations in several European countries to create the illusion of pro-Russian sentiments, popular discontent over Russia sanctions, and military aid being provided to Ukraine. Actions and provocations can take place on the eve of the Munich Security Conference, which will begin on February 18.
Analysts at the Robert Lansing Institute (RLI) explain that, obviously, in this way, Moscow plans to cause certain doubts among the population of these countries about the unity of the West in countering Russian aggression against Ukraine.
"Assets from among the members of left-wing political forces and organizations are being recruited to this end. A significant part of them had initially been engaged by Russia's communist regime to support the anti-war movement in the West. Far-right organizations and parties will also be involved, operating from the positions of protecting national interests and military potential, getting rid of the U.S. influence, and pulling out of NATO," the RLI said in a statement.
It is noted that "the Kremlin's inability to politically influence decision-making in NATO leads to attempts to organize demonstrative rallies of "solidarity", conceived by analogy with those held by communist Moscow during the Cold War."
As part of efforts to organize pro-Russian rallies, there is a trend towards organizing demonstrations and picketing at US military bases, according to analyst sources in Moscow. Another option is to gather crowds near other NATO allied military infrastructure facilities where Ukrainian military personnel are being trained.
At the same time, analysts believe that such operations by the Russian authorities provide a unique opportunity to expose the agents of the Russian Federation and organizations associated with it.
According to RLI, in addition to the actions scheduled for February in Great Britain, Russian intelligence agencies will organize similar events in Portugal February 16 through February 18. The organizer is the "Portuguese Council for Peace and Cooperation", which is the legal successor of the pro-communist organization "Movement for Peace in Portugal." Its leader, Maria Ilda da Costa Figueiredo, is a member of the Central Committee of the Communist Party of Portugal, of which she has been part since the Soviet times.
"The organizers of the actions will demand the cessation of hostilities in Ukraine, the resumption of direct political dialogue with Moscow, the abandonment of the sanctions policy, and will also demand that the Portuguese government stop providing military assistance to Ukraine," analysts say.
On February 18, a demonstration under the slogan "Negotiating instead of shooting" is scheduled to be held in Germany's Munich. The organizer is "Public Initiative Against the Holding of the NATO Security Conference";. The events are expected to be attended by pro-Russian activists who have traveled to the Russian-occupied territories of Ukraine or participated in propaganda events in Russia in the capacity of journalists or NGO members.
At the same time, on February 26, a rally has been scheduled for 12:00 (local time) outside NATO's Ramstein base under the slogan "Stop the export of NATO weapons to Ukraine to prevent the Third World War."
---