Main — Без рубрики — Secrets of the Black Sea: Why are there not so many seagulls in Odessa compared to Istanbul?
Без рубрики
Secrets of the Black Sea: Why are there not so many seagulls in Odessa compared to Istanbul?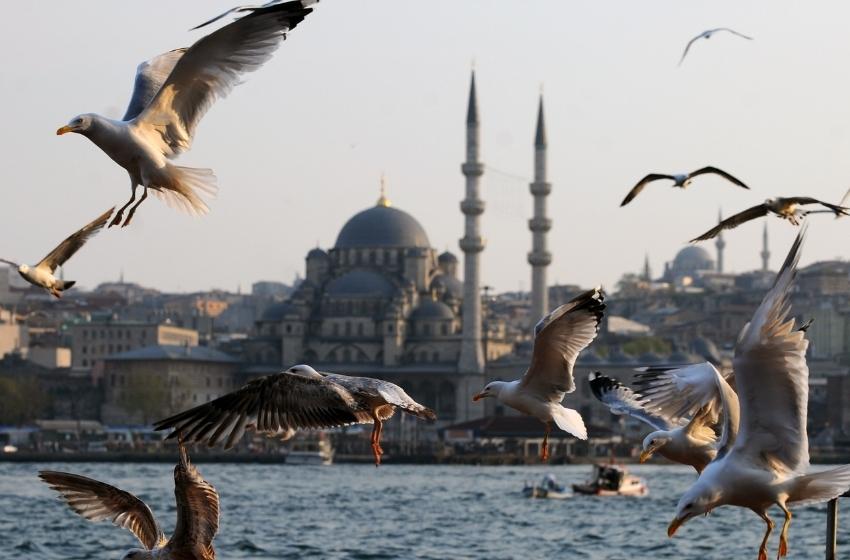 ---
Seagulls are amazing birds, if for no other reason than their ability to use people at their own discretion. Sometimes seagulls tolerate a human presence in order to benefit from their harvests; sometimes seagulls expend great efforts to escape humans, for example, during their nesting period, when seagulls seek out isolated islands and rocky cliffs. Near the coasts around Odesa, about 10 species of seagulls can be found across various seasons as they visit the hospitable shores of Luzanivka and Cape Velyky Fontan. The largest among these species is the Caspian gull (Larus cachinnans) with a wingspan of slightly more than 1 metre. Its loud 'laughing' can be heard on the piers and docks of southern port towns. The image of large, quarrelsome colonies of seagulls is quite common on the quays of Spain, Portugal, Italy, and Croatia, where people feed them for fun. The Caspian gull behaves in a not-at-all aristocratic manner; if people let it, it will trample fishing tackle, snatch bait, or pierce buckets to poach caught fish. Moreover, if a profusion of food appears, a gang of fighting and screaming gulls is quick follow. The most clamorous among seagulls is the black-headed gull (L. ridibundus), smaller relative of the Caspian gull. It prefers freshwater lakes in deltas to the coastal islands for reproduction. For this reason, mature seagulls appear near Odesa's shores only after fulfilling their parental duties, and in the case of a mild winter, they unhurriedly fly along the coast from July to April of the following year. This species, along with the Caspian gulls, escort pleasure boats hoping for a treat from tourists. Their young, which are recognised by their brown feathers on both heads and wings, live as nomads near the Odesa coast all year round.
However, let us return to our earlier question. The number of seagulls on any Odesa coast, especially near ports or oil depots, is indeed smaller than along any part of Istanbul seashore. This happens for several reasons. For one, Istanbul simply hosts more species of gulls during the year. Unlike in Odesa, the Armenian gull (Larus armenicus) and Audouin's gull (Larus audouinii) occur here regularly. Beyond the Caspian gull – the main dweller of the Black Sea cities - the yellow-legged gull (Larus michahellis) is also widespread in Istanbul. This species usually nests on rocks, and thus easily accommodates house roofs as a rookery. Because of their adaptability, the population of the yellow-legged gull has increased significantly. The Caspian gull, however, prefers Black Sea beaches for nesting, almost completely ignoring roofs. In addition, the Sea of Marmara is full of islands, with a multitude of cliffs suitable for seagull nesting. Another answer to our question is related to human activity. There are many small fishing vessels docked in Istanbul, and birds do not miss an opportunity to scavenge the remains of nearby fish. The sea here is warmer, and schools of small pelagic fish and cuttlefish are easy pickings for gulls that took a fancy to this prosperous place.
It should be noted that only 50 years ago, Caspian seagulls from the Azov-Black Sea region as a rule stayed here to survive winters, moving mainly along the coastline. However, nowadays the majority of local birds prefer to spend winter on the garbage dumps of Northern and Western Europe, which are rich with food and where people are more tolerant than in Southern climes.
---
The publication was prepared with the financial support of the EU – UNDP project 'Improving Environmental Monitoring in the Black Sea: Selected measures' (EMBLAS-Plus). This publication was produced with the financial support of the European Union and UNDP. Its contents are the sole responsibility of the authors and do not necessarily reflect the views of the European Union or UNDP
Authors: B. Aleksandrov, O. Adrianova, N. Atamas, V. Bolshakov, O. Bondarenko, I. Chernichko, V. Demchenko, S. Dyatlov, Y. Dykhanov, E. Dykyi, O. Garkusha, P. Gol'din, S. Hutornoy, V. Komorin, Y. Kvach, V. Mamaev, O. Manturova, O. Marushevska, A. Mikelyan, Yu. Mikhalev, G. Minicheva, I. Sinegub, T. Shiganova, J. Slobodnik, A. Snigiryova, M. Son, K. Vishnyakova, A. Zotov. Illustrator: I. Pustovar.
---