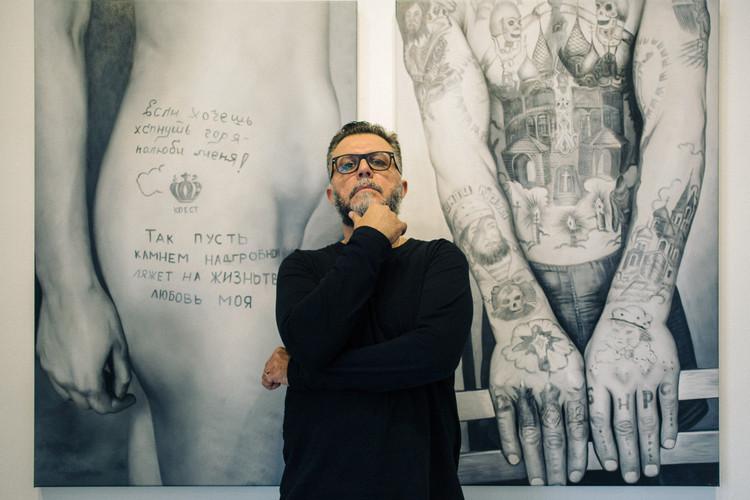 ---
Ruslan Karablin, founder and designer of iconic streetwear brand SSUR
---
SSUR—to mere observers, these four letters seen emblazoned on shirts and hats worldwide are simply a logo, a brand name. For savvy consumers, art aficionados, and parties in the know, SSUR represents substance and style reaching beyond the norm of typical "streetwear" brands. Formed in New York City, the SSUR name began as Ruslan Karablin's stylized nom de plume and signature, written in reverse on his first paintings. It just happens to be a happy and powerful coincidence that SSUR nods to the USSR, and thus Karablin's Russian heritage, having been born in Odessa, Ukraine.
Immersed in the emergent street wear culture of downtown New York, he saw the potential of everyday fashion in the form of apparel and accessories to be an affordable, accessible canvas for his designs and concepts. More than two decades since his first groundbreaking paintings in the '80s, SSUR is both Karalbin's artist identity and a global brand with several sub-brands and side projects which include Caviar Cartel, SSUR*PLUS and THECUT.
SSUR's reputation, relevancy, and unquestioned legitimacy were earned and built with each new concept and product release, featuring designs drawn from his personal take on everyday life. In other words, the daily struggles and challenges that define us, or as he describes it: sex, politics, and protest. As both a clothing designer and gifted conceptual artist, Karablin reinterprets current affairs, luxury brands, and pop culture with striking and provocative visuals. From the infamous upside down crown logo, to the 'Rebel Ape' character blending revolutionary Che Guevara with Planet of the Apes anatomy, to his paintings of unflinchingly graphic Mexican drug cartel violence, Karablin encourages the thoughtful questioning of authority and the status quo, all while also recognizing the grim (yet beautiful) reality of life's struggles.
His designs flow from an understanding and reaction to culture in all of its forms, not "trending" gimmicks or hype-driven marketing plans. SSUR has survived and thrived off Karablin's insistence on speaking his mind through images, without regard to how they would be perceived or criticized.
While his brand will always proudly be linked to NYC, paying homage to his Coney Island stomping grounds, Karalbin's decision to relocate SSUR to Los Angeles in 2010 has brought new opportunities, both business wise and culturally. Continually moving forward, he worked quickly to establish his presence in LA with several high-profile exhibitions, including The Evil That Men Do at Known Gallery and From the Cradle to the Grave following almost immediately after at Scion AV's Installation space on Melrose Avenue.
SSUR has two shops in Odessa:
SSUR ODESSA
34, Preobrazhenskaya str.
SSUR PORTOFINO
12 Arcadia Beach
---