Main — War — The bombing of Kyiv: three buildings hit in the center after Putin's accusation on the Crimean bridge
War
The bombing of Kyiv: three buildings hit in the center after Putin's accusation on the Crimean bridge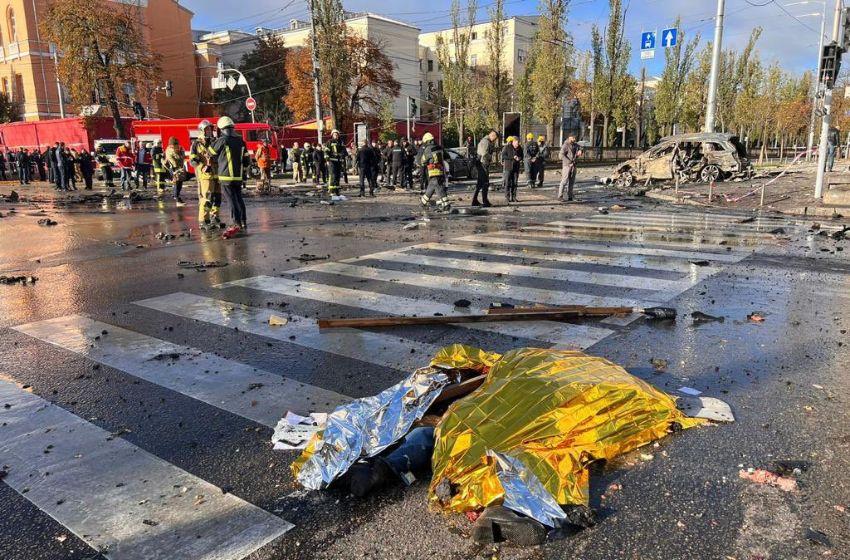 ---
Some powerful explosions were heard in Kyiv. A large cloud of black smoke has risen from three buildings in the center of the capital. As of now 5 people are confirmed dead and 12 wounded after the attack.
---
Mayor Klitschko confirms the bombing. On his Telegram channel, the mayor said that "several explosions occurred in the Shevchenkiv district, in the center of the capital. All services have been activated. Details will follow." Last night, immediately after Putin's words on the Kerch bridge in the Crimea, an air alert was issued throughout the Ukrainian territory. Former Prime Minister Medvedev also said that the Russians "expect the destruction of the terrorists of the Kyiv regime."
The explosions were felt this morning in the center of the Ukrainian capital around 5:15 (GMT). The anti-aircraft sirens went off several tens of minutes earlier. According to some witnesses, five missiles have hit the capital of Ukraine. The explosions occurred near the train station. The attack was geolocated in the Shevchenkiv neighbourhood.
One of the rockets fell this morning near the monument of the national hero of the Ukrainian revolution Grushevsky, according to reports from Anton Gerashchenko, advisor to Ukrainian President Zelensky.
Ukrainian Defense Minister Oleksii Reznikov wrote on Twitter that "our courage will never be destroyed by terrorists' missiles. Even if they hit the heart of the capital. The only thing they are demolishing is the future of Russia."
Some videos posted on social networks, presumably referable to these explosions, show clouds of smoke. The last missile attack against Kyiv dates back to June 26 last. All subway stations have been used as shelters.
---