Main — War — The Ministry of Defence officialy informs, that the UK donating undersea minehunter drones to help Ukraine clear coastline
War
The Ministry of Defence officialy informs, that the UK donating undersea minehunter drones to help Ukraine clear coastline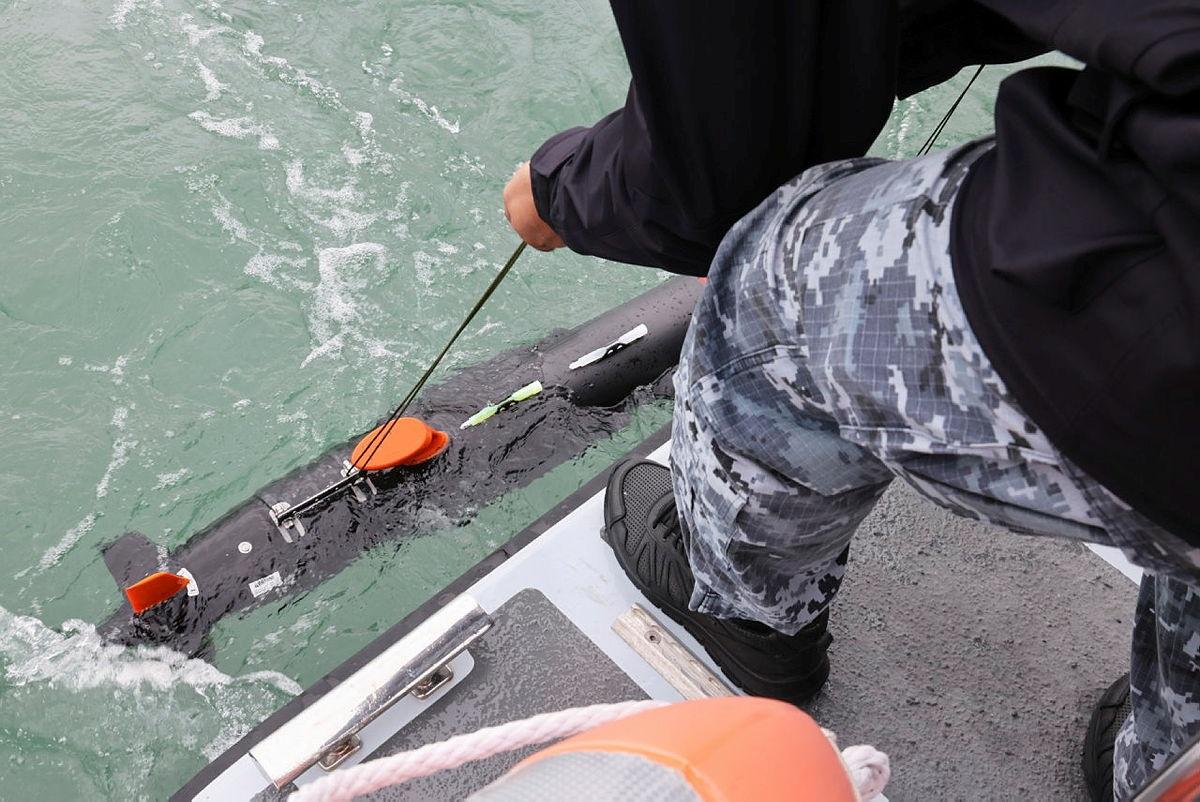 ---
Text : UK Ministry of Defence © Crown copyright 2022
Photographers: LPhot Belinda Alker, LPhot Chris Sellars
UK donating undersea minehunter drones to help Ukraine clear coastline
Dozens of Ukrainian personnel will be taught to use the autonomous minehunting vehicles by the Royal Navy and our US partners over the coming months.
The UK is giving underwater drones to Ukraine and training Ukrainian personnel in Britain to use them to clear their coastline of mines.
Six autonomous minehunting vehicles will be sent to the country to help detect Russian mines in the waters off its coast. Three of these will be provided from UK stocks, with a further three to be purchased from the industry.
The lightweight autonomous vehicle is designed for use in shallow coastal environments, operating effectively at depths of up to 100m to detect, locate and identify mines using an array of sensors so the Ukrainian Navy can destroy them.
Dozens of Ukrainian Navy personnel will be taught to use the drones over the coming months, with the first tranche has already begun their training.
Russia has been weaponizing food by destroying Ukrainian agriculture and blockading the country's Black Sea ports to prevent exports, with devastating consequences for the world's poorest people as food prices rise.
A small number of ships carrying grain have left Ukraine since the UN brokered a deal in July to allow food exports, but efforts to get food out of the country continue to be hampered by sea mines left by Russian forces along Ukraine's coast.
Defence Secretary Ben Wallace said: «Russia's cynical attempts to hold the world's food supply to ransom must not be allowed to succeed. This vital equipment and training will help Ukraine make their waters safe, helping to smooth the flow of grain to the rest of the world and supporting the Armed Forces of Ukraine as they look to defend their coastline and ports.»
The Royal Navy's Diving & Threat Exploitation Group will conduct the three-week training courses, alongside the US Navy 6th Fleet. Having considerable experience using the equipment already, they will conduct training at sea to operate the vessels and interpret the data they send back to identify mock mines.
Admiral Sir Ben Key, First Sea Lord and Chief of the Naval Staff, said: «Through the expert skills being taught here, our Ukrainian allies will be able to clear their own waters of mines. These weapons target shipping indiscriminately but particularly affect civilian traffic and trade and have had a devastating impact on freedom of navigation in the Black Sea. This training is another powerful demonstration of the UK's ongoing commitment to Ukraine in their fight to defend their country and repel Russian aggression.»
Captain Ben Vickery Royal Navy, Captain of Royal Navy Diving and Mine Warfare said: «The Ukrainian personnel has been fantastic, and it is a pleasure to be working with them and helping them in their struggle to defend their homeland against the aggression they are currently suffering. These incredible, motivated, and very professional sailors have thrown themselves into the task and have made incredible progress gaining an excellent level of proficiency. I am hugely proud of them and the Royal Navy Clearance Divers and Mine Warfare specialists delivering the training, standing shoulder to shoulder – stronger together to achieve this vital training mission driven by our shared values and a common bond.»
The Royal Navy also trains Ukrainian sailors to operate Sandown Class Minehunter vessels.
Armed Forces Minister James Heappey and his Ukrainian counterpart Volodymyr Havrylov visited Scotland in July to watch trainees practicing key skills at sea, such as weapon drills and damage control, whilst learning to operate the machinery on the vessels.
The UK is also leading a major international programme to train up to 10,000 Ukrainian volunteer recruits in basic military skills, which Canada Canadian Armed Forces, Denmark Forsvaret, Finland Puolustusvoimat - Försvarsmakten, Sweden Försvarsmakten, Norway Forsvaret, New Zealand NZ Defence Force, Lithuania Lietuvos kariuomenė and the Netherlands Ministerie van Defensie - NL have all announced they will support.
We will recall how the representatives of the military and political leadership of the United Kingdom spoke about the support of Ukraine and the training:
17.01.2022 – Defence Secretary Ben Wallace: «The UK's position on Ukraine is also clear. We unequivocally support its sovereignty and territorial integrity within its internationally recognized borders, including Crimea. Ukraine is an independent, sovereign country of proud, independent Ukrainian people. The UK Ministry of Defence already has a longstanding relationship with our Ukrainian counterparts, and we continue to provide support in many areas, including security assistance and defence reform». (https://bit.ly/3d44yVq)
24.02.2022 - - The Prime Minister of the United Kingdom Boris Johnson: «Ukrainians are offering a fierce defence of their families and their country. I am proud that Britain did everything within our power to help Ukraine prepare for this onslaught, and we will do our utmost to offer more help as our brave friends defend their homeland. Now we have a clear mission: diplomatically, politically, economically – and eventually, militarily – this hideous and barbaric venture of Vladimir Putin must end in failure. And to our Ukrainian friends in this moment of agony, I say we are with you, and we are on your side. Your right to choose your own destiny is a right that the United Kingdom and our allies will always defend». (https://bit.ly/3oNETCU)
25.02.2022 - The Prime Minister of the United Kingdom Boris Johnson: «The people of the United Kingdom stand with our Ukrainian brothers and sisters in the face of this unjustifiable assault on your homeland. We salute the fierce bravery and patriotism of your government, your military and your people».
09.05.2022 - The Prime Minister of the United Kingdom Boris Johnson: «I have never been more certain that Ukraine will win. Britain will stand shoulder-to-shoulder with Ukraine for as long as it takes. Slava Ukraini!» (https://bit.ly/3boe0ST)
06.06.2022 - Defence Secretary Ben Wallace: «The UK will give multiple-launch rocket systems (MLRS) to Ukraine to help the country defend itself against Russian aggression. The UK stands with Ukraine in this fight and is taking a leading role in supplying its heroic troops with the vital weapons they need to defend their country from unprovoked invasion. If the international community continues its support, I believe Ukraine can win. As Russia's tactics change, so must our support to Ukraine. These highly capable multiple-launch rocket systems will enable our Ukrainian friends to better protect themselves against the brutal use of long-range artillery, which Putin's forces have used indiscriminately to flatten cities.» (https://bit.ly/3Qb5kyF)
17.06.2022 - The Prime Minister of the United Kingdom Boris Johnson: «In a hideous echo of the past, the illegal deportation of people that the Russian forces believe are insufficiently sympathetic to Putin's aggression and in these circumstances, we can only once again salute the heroism of the Ukrainian forces, the bravery of your armed forces.». (https://bit.ly/3BzFe3N)
28.06.2022 - The Chief of the General Staff, General Sir Patrick Sanders: «The scale of the war in Ukraine is unprecedented. […] For us, the visceral nature of a European land war is not just some manifestation of distant storm clouds on the horizon; we can see it now. In all my years in uniform, I haven't known such a clear threat to the principles of sovereignty and democracy, and the freedom to live without fear of violence, as the brutal aggression of President Putin and his expansionist ambitions. I believe we are living through a period in history as profound as the one that our forebears did over 80 years ago. Now, as then, our choices will have a disproportionate effect on our future». (https://bit.ly/3zTbihI)
05.07.2022 - Defence Secretary Ben Wallace: «In response to Russia's illegal invasion of Ukraine, the UK Government is providing £2.3 billion of military aid to Ukraine. Included in this is a commitment to spearhead an innovative programme, which aims to train up to 10,000 new Ukrainian recruits in the UK. Our ambition is to increase the scale and frequency of these courses, in line with Ukrainian requirements. We are also discussing with international partners options to broaden involvement in the training programme, working constructively with countries prepared to support either by contributing trainers or providing equipment». (https://bit.ly/3oPcXyz)
07.07.2022 - The Chief of the British Defense Staff, Admiral Sir Tony Radakin: «I am full of admiration for the Armed Forces of Ukraine, and their courage, resilience & ingenuity in confronting Russia's illegal & barbaric aggression. My 48 hour visit allowed me to better understand the operational outlook and discuss how the UK can continue to support Ukraine, and how we can help other international partners and allies assist the Armed Forces of Ukraine in the weeks and months ahead». (https://bit.ly/3OYbbWm)
09.07.2022 - Defence Secretary Ben Wallace: «This ambitious new training programme is the next phase in the UK's support to the Armed Forces of Ukraine in their fight against russian aggression. Using the world-class expertise of the British Army we will help Ukraine to rebuild its forces and scale-up its resistance as they defend their country's sovereignty and their right to choose their own future». (https://bit.ly/3SjiTxf)
15.07.2022 – The Chief of the General Staff, General Sir Patrick Sanders: «I was struck by the courage, morale and fighting spirit of the Ukrainian soldiers. Furthermore, the commitment and hard work of the instructors, and the speed with which they have put the training together, is hugely impressive. We will continue our work to scale up the ambition and pace of the training to maximise support to Ukraine». (https://bit.ly/3OO6FK8)
21.07,2022 - Defence Secretary Ben Wallace: «The scale and range of equipment we are providing demonstrates the strength of our resolve. Together with our international partners, we will ensure Ukraine has the tools to defend their country from Putin's illegal invasion.» (https://bit.ly/3BybUKP)
21.07.2022 - Armed Forces Minister James Heappey: «The intensity with which the Ukrainian soldiers and sailors are training is something to behold. They work with the focus of troops who know they'll be fighting in a war. Delivering training that matches that intensity and focus is not straightforward. The Royal Navy and the British Army are working long hours and drawing on all their operational experience to make sure their new Ukrainian friends are sent into combat with the best chance of victory».
23.07.2022 - The Prime Minister of the United Kingdom Boris Johnson: «The people of the United Kingdom support the people of Ukraine and support you in your fight. I am absolutely convinced that you can win and that you will win». (https://bit.ly/3bosylt)
03.08.2002 - Deputy Commander-in-Chief of the Armed Forces of Ukraine, Lieutenant General Yevhen Moisiuk: «Help from Great Britain in the training of Ukrainian soldiers is extremely important for Ukraine. We value friendship with the United Kingdom and thank them for what they are doing to help Ukrainians resist the Russian aggressor. Ukrainian service members trained in Great Britain are showing results on the battlefield». (bit.ly/3TfPiFo)
---