Main — Diplomacy — The young athlete from Odesa became the bronze medalist of the World Junior Championship
Diplomacy
The young athlete from Odesa became the bronze medalist of the World Junior Championship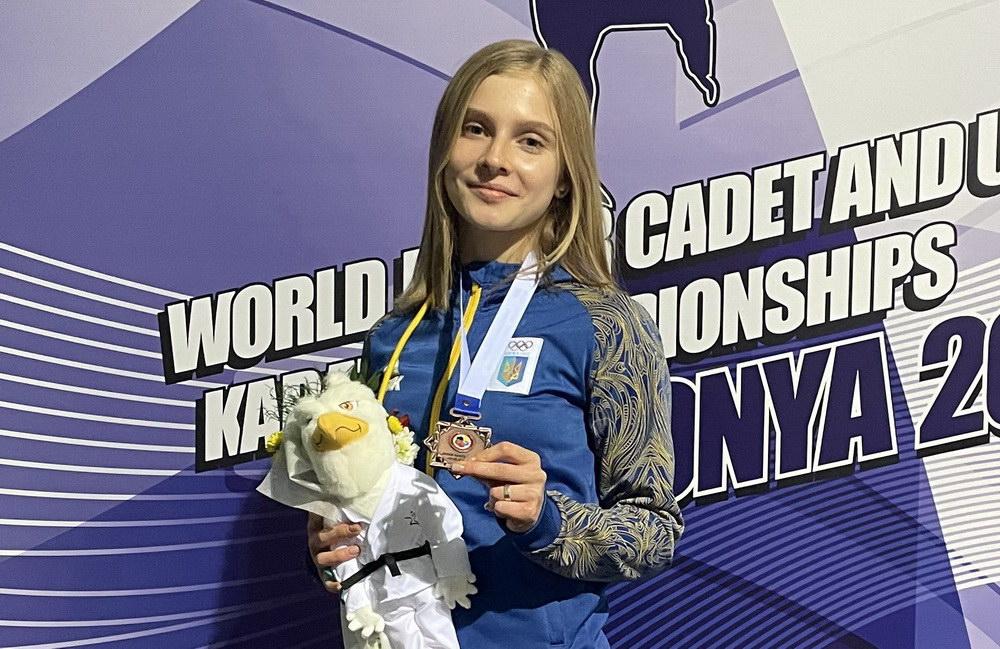 ---
The Odessa Regional Karate Federation athlete, Polina Marchenko, became the bronze medalist of the Junior World Championship, which was held in the Turkish city of Konya from October 26 to 30.
In the match for the 3rd place in the "up to 48 kg" category, 17-year-old Polina Marchenko (coaches - Igor, Dmytro and Oleksandr Negaturov) defeated the bronze medalist of this year's Euro, the host of the competition, Hatice Sena Kayacan, with a score of 1:0. The success of the Odessan was brought by a hand strike 37 seconds before the end of the fight.
This is the third medal in the history of Odessa karate at the world championships among cadets, juniors, and youth. The highest achievement of the previous tournament (in 2019) was the bronze of Yulia Palashevska (coaches - Dmytro Negaturov, Serhiy Palashevsky; youth, up to 50 kg), and the first medal was won by Iryna Zaretska, who became the champion in the junior competition in 2013.
In her category, Polina Marchenko won with a total score of 10:0 in the pool of representatives of Malta, Uzbekistan and Germany, namely the bronze medalist of the 2022 European Junior Championship Sydney-Michelle Ott (5:0). In the semi-finals, Polina lost to Hanna Ali from Egypt (0:6), who eventually became the world champion.
At these competitions, 10 athletes (4 in kata, 6 in kumite) represented the Odessa Regional Karate Federation (president - Oleksiy Kohanets).
Among the rest of the athletes, the best result was shown by Matvii Pereuda (coaches - Ihor, Dmytro and Oleksandr Negaturov), who took 5th place in the category "+70 kg, cadets".
In his pool, Matvii defeated athletes from Austria, Bulgaria, Turkey and Iran with a total score of 18:2. In the semi-finals, he lost to the Greek Psomas (0:2), and in the battle for bronze - to the Tunisian Gazouani (2:3).
In the kata competition among junior girls, Daria Studenkova (coach - Vitaly KULIK) took 7th place, another debutante of the competition of this rank, and Yaroslav Fedorov (coaches - Oleksandr Tonkoshkur, Oleksiy Konovalov) took 11th place among young people - both athletes finished the tournament in the 3rd round.
The following qualified for the second round: Anastasia Pushkova (cadets, "up to 54 kg"), Vitaly Metelenko (juniors, kata), Natalia Osadchuk (junior girls, "up to 59 kg") and Nataliya Mandazhy (all coached by Oleksandr TONKOSHKUR; youth, " up to 55 kg")
In the first round, Ariadna Panchuk (coaches - Igor, Dmytro and Oleksandr Negaturov; youth, "up to 50 kg") and Artur Hluschenko (coaches - Oleksiy Konovalov, Volodymyr Holoveshko; kata, cadets) completed the fight.
Already this week, namely on November 4-6 in Lviv, the championship of Ukraine among cadets, juniors, youth, and adults will be held. In the first three categories, these competitions are the first stage of selection for the European Championship-2023.
---