Main — Business — Ukraine confirmed its will to hold EXPO-2030 in Odessa
Business
Ukraine confirmed its will to hold EXPO-2030 in Odessa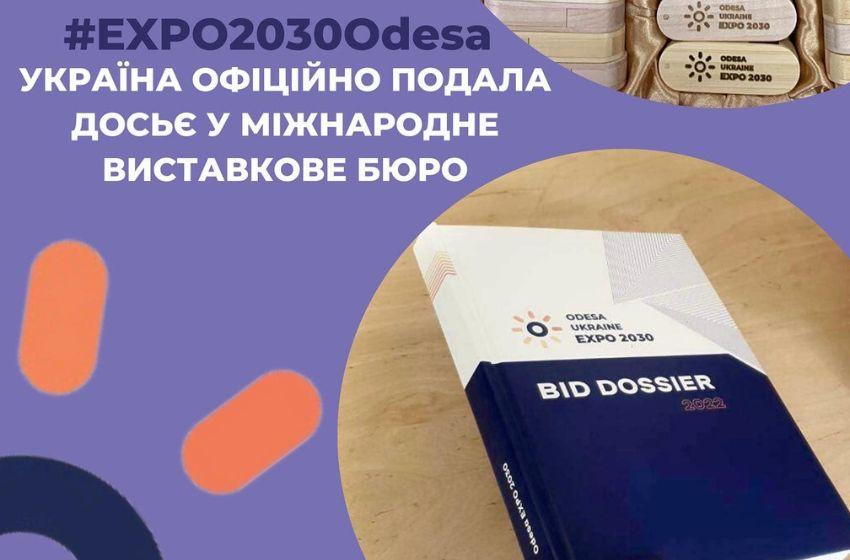 ---
On Sep 7, a Ukrainian delegation in Paris officially submitted a dossier to the Bureau International des Exhibitions (BIE) to stay in the race for the selection of the country for Expo-2030.
---
This was a mandatory route for each candidate country during the project review and voting process. The other candidates are Italy (Rome), Saudi Arabia (Riyadh) and South Korea (Busan), which delivered their dossier as well.
Candidature dossiers outline candidate's vision for the Expo and specify details on the planned Expo site (to be built especially for the event) and the theme, including an analysis of local infrastructures (hospitality and transports), a plan to involve economic, social and cultural players, and projections on expected visitors, financing and costs.
Ukraine's candidature is for a World Expo in Odessa between 26 April and 14 October 2030 under the theme "Renaissance. Technology. Future."
Ukraine's participation in the selection for the right to host Expo 2030 will draw the world's attention to our country and contribute to its recovery. In the event of our victory, holding the exhibition in Odessa will give a powerful impetus to investment income, which will increase economic activity and positively affect the development of the infrastructure of the country as a whole and the southern region in particular.

Yulia Svyridenko, First Deputy Prime Minister of Ukraine and Minister of Economy of Ukraine
On Aug 23, a Coordination Committee for the Expo-2030 World Exhibition was created. The Ukrainian Government appointed as the head of the Coordination Committee Yulia Svyridenko. The Committee will also include Deputy Minister of Economy - Trade Representative of Ukraine Taras Kachka, deputies of relevant ministries and a representative of the Odessa Regional State Administration. Upon agreement, representatives of interested enterprises, institutions and organisations may be involved.
Ukraine had submitted the initial application for participation in the selection for Expo 2030 offering to choose Odessa as the host city, as early as Oct 15, 2021.
World exhibitions "EXPO" are held by the decision of the International Bureau of Exhibitions every 5 years and are the most prestigious image exhibition events in the world, like the Olympic Games. At them, the participating countries demonstrate the uniqueness of their cultures and national identification, economic and scientific and technical potential.
In 2021, Ukraine participated in the Expo-2020 exhibition in Dubai for the first time with its own pavilion. During the exhibition, the Ukrainian pavilion was visited by more than 1 million people and about 120 foreign delegations.
As previously written by the Kyiv Post, Ukraine has good chances to win, because either Italy, or South Korea are likely to be excluded from the competition, because of having host in recent years other world expositions: Milan (2015), Yeosu (2012). A tough competitor remains Saudi Arabia, with many doubts about how its rigid restrictions regarding consumption of alcoholics and limited access to public spaces for unaccompanied women can be fit to an international event with millions of foreign visitors.
---