Main — Diplomacy — Salon "Ukrainian Ceramics and Decorative eco-craft". Paris Design Week 2021
Diplomacy
Salon "Ukrainian Ceramics and Decorative eco-craft". Paris Design Week 2021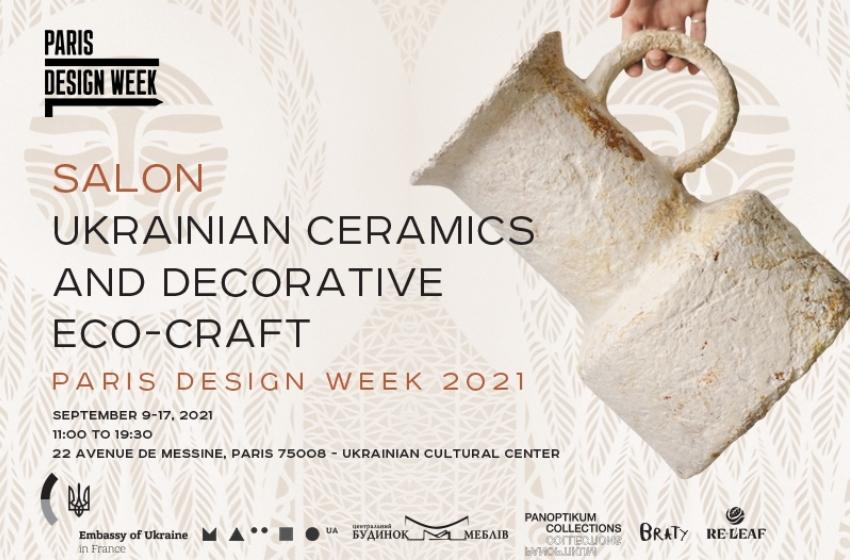 ---
At the first post-Covid Paris Design Week the Ukrainian project will present in Paris unusual creative products that have the ideology of environmental friendliness, sustainability, handmade elements and are made of natural or the latest eco-materials.Re- think - materials, techniques, forms and senses.
---
Decorative items made of mycelium, furniture decorated with wood mushrooms and straw inlay; traditional wood carving in modern design; installations in the ancient technique of cutting out of paper "vytynanka", which used paper made from fallen leaves; craft carpets and a new breath of ceramics.
Were involved for the selection process well-known decorators, masters of multi-layered interiors - French decorator Fabrice Ausset and Ukrainian decorator Aleksandrina Lukach (Intemporary Design Studio).
Participants: artists, craft craftsmen, manufacturers of interior design and furniture, ceramists and product designers: Ruda Studio, Ceramika Design, Panoptikum Collection, Len carpets, Gushka, Ukimnati, Mapico, GORN Ceramics, GOMINGIR, GUTCULIA.TINI, Polina Moroz, Yova Yager + S. Lab - YY MYCO COLLECTION, Mudu Design, Anna Prysiuda, VYTYNANKA, WOOD MOOD.
A special project-installation from Daria Aleshkina in paper cutting technique "vytynanka". For the project used Re-Leaf made paper (made from fallen leaves).
The show takes a place in Paris from 9th to 17th September
Opens every day from 11:00 to 19:30
Address: 22 Avenue de Messine, Paris 75008 - Ukrainian Cultural Center
Organizer: MAINO DESIGN UKRAINE, MAINO FRANCE
Supported by Embassy of Ukraine in France. Main Partner: Central House of the Furniture. Partners: Panoptikum Collection, Re-Leaf, Braty
---