Main — Culture — The first car arrived in Odessa (and the first of the Russian Empire)
Culture
The first car arrived in Odessa (and the first of the Russian Empire)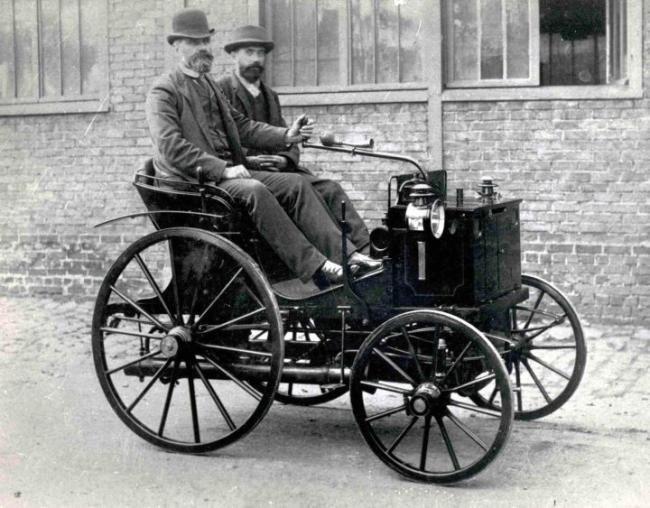 In September 1891, the first automobile appeared in Odessa. It was a car built by a famous French brand "Panhard-Levassor", a miracle of overseas technology, brought from Paris by Vasily Navrotsky, the most important journalist and publisher of Odessa. It was also the first car on the soil of the Russian Empire.
The car looked like a self-propelled stroller, it had only two places and there was no steering wheel. In its place, there was a lever like those in boats. Holding it with both hands, the driver could barely turn the car in the wanted direction. Wooden wheels with solid rubber tires produced a characteristic loud knock on the cobblestone pavement, which, with the growl of the engine, terrified the citizens. For this reason the owner was forbidden to drive his car at night.
During its inauguration trip for Deribasovskaya street a hired boy with a flag ran in front of the car, loudly warning onlookers about the danger.
In the "Odesskiy Listok" (Odessan Leaflet), the newspaper directed by Vasily Navrotsky, he placed a photo of the vehicle and a note on the development of the automotive industry. Navrotsky actively used the car not only for his own pleasure, but also for work. He delivered journalists and photographers to the scene of events before competitors. Later, the car received the residence permit in the garage of the publishing house.
The top speed of the first Russian car was only 30 km per hour, developed by a four horsepower engine. A little later, the owner of the car received a severe fine from a police officer for violation of public safety and "excessive" speed: about 25 km per hour. Therefore, Odessa became the first city of the immense Russian Empire to have the first car and the first fine for overly fast unsafe ride.
In St. Petersburg the first car appeared in 1894, three years later than Odessa, and in Kiev in 1897.