Main — War — Ukrainian intelligence published the names of pilots from the Belarusian aviation brigade
War
Ukrainian intelligence published the names of pilots from the Belarusian aviation brigade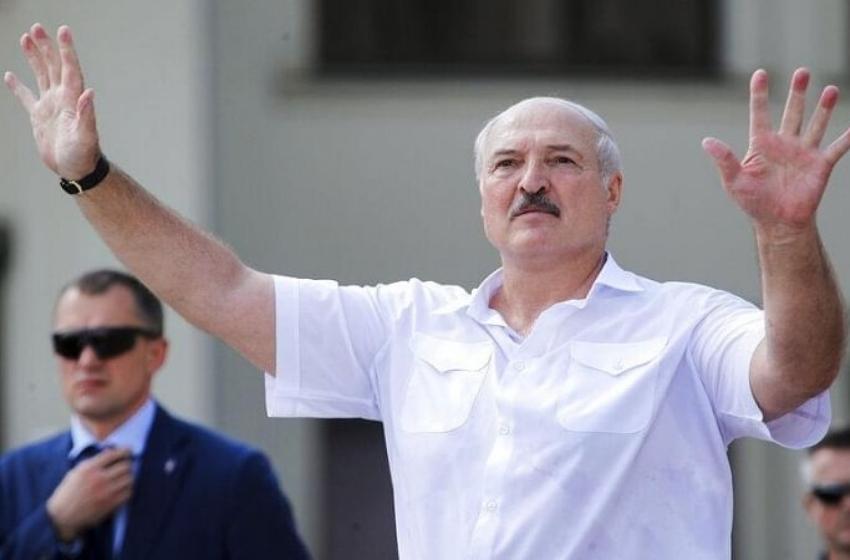 ---
The Main Intelligence Directorate of the Ministry of Defense of Ukraine has published the list of personnel of the army aviation brigade carrying out combat sorties from the airfield of the Republic of Belarus "Lida" to strike the civilian population and infrastructure of Ukraine.
The list contains 114 names of citizens of Belarus, starting with the commander of the army aviation brigade, Colonel Chemodanov.
"These persons can already consider themselves "pilots-raiders"! All flew, "respected"! We are already working on your search! And you will fully answer for every tear of our people! ", - said in a statement of Ukrainian intelligence.
We consider it necessary to reprint this list in full. If you see a friend there, tell them to run and hide.
Colonel Chemodanov A.A., commander of an army aviation brigade;
Lieutenant Colonel Borovkov A.V., squadron commander;
Lieutenant Colonel Khaliullin VN, deputy squadron commander;
Major Khramov O.B., squadron navigator;
Major Kutikov I.P., flight commander;
Major Kornev V.V., flight commander;
Major Mikhendeev A.A., flight commander;
Major Ismagilov V.V., flight commander;
Major Shevyakov A.V., flight commander;
Major Razuvaev S.A., flight commander;
Major Khabibullin R.R., flight commander;
Major Badriashvili T.O., flight navigator, pilot;
Lieutenant Khabibrakhmanov I.I., flight navigator, pilot;
Senior Lieutenant Akberdin R.R., flight navigator, pilot;
Lieutenant Glukhov A.N., flight navigator, pilot;
Senior Lieutenant Piderkin M.S., flight navigator, pilot;
Senior Lieutenant Ivanov D.P., flight navigator, pilot;
Senior Lieutenant Sosnin V.S., flight navigator, pilot;
Captain Aminov G.R., senior pilot;
Captain Georgiev Yu.V., senior pilot;
Captain Grechany M.A., senior pilot;
Captain Ryazanov A.F., senior pilot;
Major Kucherov Yu.A., senior pilot;
Major Fateev A.S., senior pilot;
Major Kotlyar P.A., senior pilot;
Captain Taran S.N., helicopter commander;
Captain Glukhin P.S., helicopter commander;
Captain Komarov B.A., helicopter commander;
Captain Tsaritsin B.A., helicopter commander;
Captain Barishev A.A., helicopter commander;
Captain Andreev P.A., helicopter commander;
Major Yufrikov A.V., helicopter commander;
Captain Narzyaev A.N., helicopter commander;
Captain I.S. Zapolnov, helicopter commander;
Major Harutyunyan M.S., helicopter commander;
Major Igoshin A.V., helicopter commander;
Captain Klenov P.A., helicopter commander;
Senior Lieutenant Shumeiko V.V., helicopter commander;
Senior Lieutenant Yamnyuk A.V., helicopter commander;
Lieutenant Shumakov A.A., pilot, helicopter navigator;
Lieutenant Burda N.P., pilot, helicopter navigator;
Senior Lieutenant Baburin M.K., pilot, helicopter navigator;
Lieutenant Bekkaliev R.B., pilot, helicopter navigator;
Lieutenant Shcheblov A.A., pilot, helicopter navigator;
Major Saetgaleev Z.R., pilot, helicopter navigator;
Major Luparev I.V., pilot, helicopter navigator;
Captain Elaeev A.V., pilot, helicopter navigator;
Senior Lieutenant Shevnin V.A., pilot, helicopter navigator;
Senior Lieutenant Mukhamedgaliev D.M., pilot, helicopter navigator;
Senior Lieutenant Izmailov I.I., pilot, helicopter navigator;
Senior Lieutenant Somov V.I., pilot, helicopter navigator;
Captain Bibikov V.A., pilot, helicopter navigator;
Senior Lieutenant Ivanov SD, pilot, helicopter navigator;
Senior Lieutenant Shimansky N.S., pilot, helicopter navigator;
Lieutenant Starkov N.M., pilot, helicopter navigator;
Lieutenant Kuklev A.A., pilot, helicopter navigator;
Senior Lieutenant Gumenyuk A.I., pilot, helicopter navigator;
Captain Nugaev R.R., pilot, helicopter navigator;
Lieutenant Salastenin N.A., pilot, helicopter navigator;
Lieutenant Mustakaev I.R., pilot, helicopter navigator;
Lieutenant Lavrukhin S.A., pilot, helicopter navigator;
Lieutenant Val Z.A., pilot, helicopter navigator;
Lieutenant Colonel Yesman O.V., commander of a helicopter squadron;
Major Sokolov A.S., deputy squadron commander;
major Zhilyaev D.N., flight commander;
Captain Khazhiev D.R., helicopter commander;
Major Lazarev A.Yu., senior pilot;
Captain V. S. Baraev, helicopter commander;
captain Timurshin R. I., helicopter commander;
captain Vlasov A.A., helicopter commander;
senior lieutenant R. G. Mankishev, helicopter commander;
Major A. V. Zakharov, helicopter commander;
Major Grovich R.V., flight commander;
Captain Kuznetsov P. A., helicopter commander;
Major Pisarev M.M., senior pilot;
senior lieutenant A. A. Kuregeshev, helicopter commander;
Major Zaitsev A.S., flight commander;
Captain Butenko O. I., helicopter commander;
Captain Popov N.A., senior pilot;
Senior lieutenant Kurnakin S.V., helicopter commander;
Major Mavrin D.N., flight commander;
Major D. D. Makarov, helicopter commander;
Major A. I. Merkulov, helicopter commander;
senior lieutenant Mordasov S. S., helicopter commander;
lieutenant colonel Safargaliev A.F., flight commander;
Captain Yu. N. Zaitsev, helicopter commander;
Captain Boldyrev I.N., helicopter commander;
Major Votyakov A. S., senior pilot;
Lieutenant Ermilov A.P., helicopter pilot-operator;
Lieutenant Shubin V.A., helicopter pilot-operator;
Lieutenant Gimranov T.I., helicopter pilot-operator;
Lieutenant Shmonko PS, helicopter pilot-operator;
Lieutenant Myrzenko N.Yu., helicopter pilot-operator;
lieutenant Khripunov A. D., navigator of a helicopter squadron;
Lieutenant Voronin A.V., helicopter pilot-operator;
Lieutenant Murunov D.S., helicopter pilot-operator;
lieutenant Nasedkin K. Yu., flight navigator;
Lieutenant A. B. Cherdantsev, helicopter pilot-operator;
Major Bugai N.V., flight navigator;
Lieutenant Kharitonov S.I., helicopter pilot-operator;
captain Rozhapov F.S., helicopter pilot-operator;
senior lieutenant Soloviev VV, helicopter pilot-operator;
captain Laptev A.V., flight navigator;
senior lieutenant Sidorenko I. O., navigator-operator;
senior lieutenant M. K. Sharov, navigator-operator;
captain Khamidullin R. R., navigator-operator;
Major Andreev A.A., flight navigator;
senior lieutenant V. S. Goncharov, navigator-operator;
captain Sedov A.Yu., navigator-operator;
senior lieutenant Petrichenko S. S., navigator-operator;
major Zlobin Yu. N., navigator-operator;
senior lieutenant Suyunshalin A.S., navigator-operator;
Major R. S. Kobets, navigator-operator;
Major Timoshenko S. V., navigator-operator
---