Main — War — Art in exile needs a home: Elena Zelenskaya addressed the participants and guests of the Venice Biennale
War
Art in exile needs a home: Elena Zelenskaya addressed the participants and guests of the Venice Biennale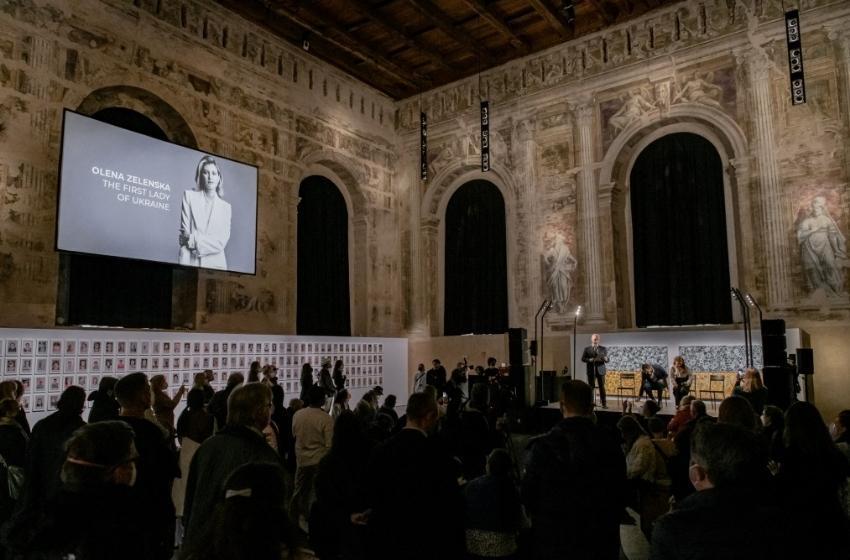 ---
The First Lady of Ukraine Olena Zelenska addressed the participants and guests of one of the world's leading exhibitions - the Venice Biennale (La Biennale di Venezia). She stressed that art is also a form of confrontation during war in her letter.
A delegation of Ukrainian artists arrived at the exhibition, which opened on April 21. This year, they set out to tell the world about the war in Ukraine, which at the time of the opening of the Biennale, lasted for 58 days and took 208 children and thousands of adult lives.
The day before, Venetians and visitors to the city could see an echo of Ukrainian events in St. Mark's Square - hundreds of volunteers unfurled a canvas depicting a girl named Valeriy, a five-year-old refugee from Kryvyi Rih. This work by JR is dedicated to the bombing of the Mariupol Drama Theater by Russian aircraft and its victims. It has already been demonstrated in many European cities.
In her address at the exhibition's opening, Olena Zelenska said that Ukrainian artists had come a long way to Venice because of the war. The Ambassador of Ukraine read her letter to Italy Yaroslav Melnyk.
"There are also ashes of war on Ukrainian exhibits this year. When the first explosions began, everyone saved the most. This is our tragic reality - now every Ukrainian, even in such an idyllic city as Venice, sees the ruins of Mariupol, Chernihiv, Kharkiv, Kyiv region," said the first lady.
Photographs were shown to the guests of the event during the address. They showed how cultural monuments protect Ukrainian monuments from shelling with the help of sandbags. The ruins of Ukrainian museums destroyed by Russian shelling were also on display, including the Arkhip Kuindzhi Museum in Mariupol, the Antiquities Museum in Chernihiv, and the Museum of People's Artist Maria Primachenko.
"For each of us, her paintings are an embodiment of a fairy tale from childhood, and in front of our eyes at that moment it was as if a fairy tale was shot. But… the fairy tale survived! After the liberation of the Kyiv region, we learned that the museum's security guard Anatoliy and his wife Natalia had saved everything under fire. It is a miracle of art and humanity, which is especially striking even among the horrors of war. And this is a story of hope and victory," Olena Zelenska stressed.
She also expressed hope that Ukraine would finally have its own pavilion at the biennial, which the country has not had since the collapse of the Soviet Union.
Because art in forced exile, like man in exile, especially needs a home. A house where they don't shoot

Firts Lady
---