Main — War — Kherson residents "broke" the occupiers' plans to become heroes on their false television
War
Kherson residents "broke" the occupiers' plans to become heroes on their false television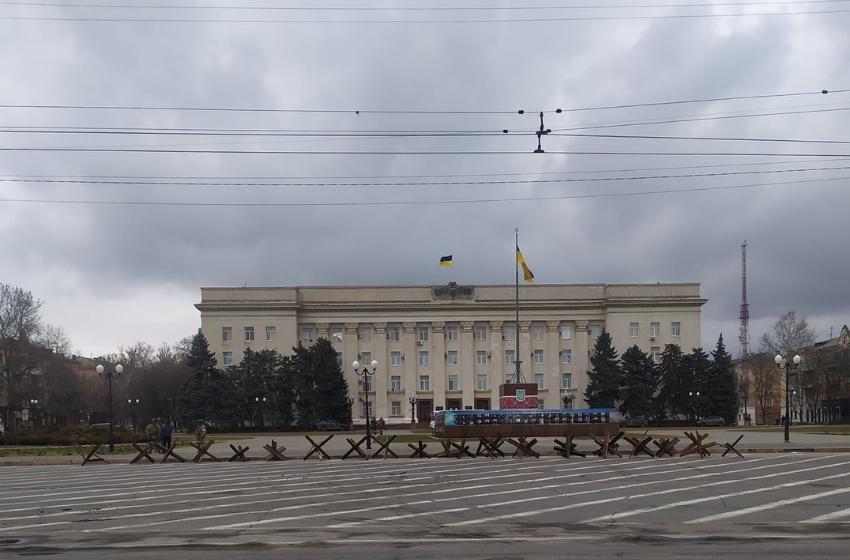 ---
Despite the danger, the townspeople show the occupiers that Kherson is Ukraine.
Kherson residents thwarted the plans of the occupiers, where they were preparing a rally to create another sub-republic - the People's Republic of Kherson. A massacre and a humanitarian convoy were brought from Crimea. It was hoped that the citizens, under siege for four days, would come to receive food. Instead, people came out with Ukrainian slogans and flags, albeit under machine gun barrels.
Kherson never received the promised green corridor for humanitarian aid. A Russian humanitarian convoy arrived instead of nineteen Ukrainian trucks that could not get into the city.
The Russian film crew is ready, it has to tell its compatriots how to save Kherson residents from starvation. The occupiers have been shelling locals and their cars, houses and shopping malls for four days now, seizing the railway station, river port and regional state administration, and a few days later shut down Ukrainian channels and make a film about "helping" Kherson. They even brought a mass with them.
Meanwhile, mobile communications and the Internet are being turned off in Kherson.
We cut off the connection so you don't have to worry, we don't have the Internet, MTS doesn't work, Kyivstar doesn't work either, tell everyone not to worry, everything is fine in Kherson, Kherson is Ukraine

Locals
Kherson residents with Ukrainian flags came here to the main square to look at the whole "circus" with the distribution of the enemy humanitarian, no Kherson resident took it.
The militants did not allow Kherson residents to approach the Russian film crew, who wanted to talk about directions for their help.
Russian channels are on the screens of Kherson TVs. They show Kherson, which seems to welcome the occupying power. But in reality this is not the case.
In the morning, citizens will gather again on the central square to tell the occupiers that Kherson is Ukraine despite the mortal danger.
---