Main — Business — Olena Zelenska talked to the First Ladies of Poland, Lithuania and France
Business
Olena Zelenska talked to the First Ladies of Poland, Lithuania and France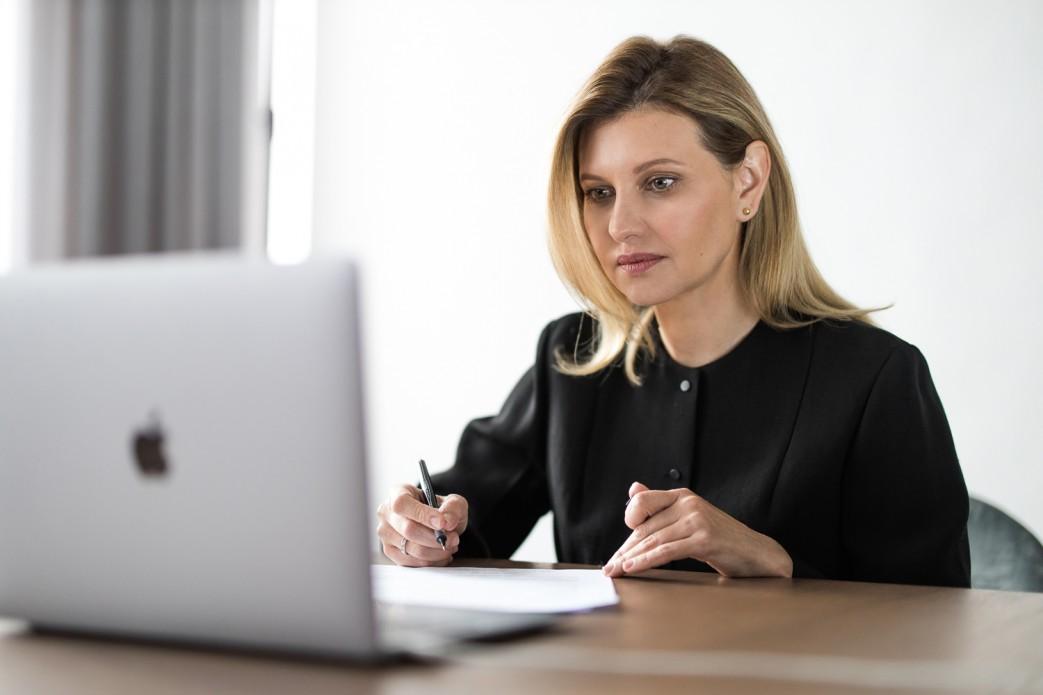 ---
The First Lady of Ukraine Olena Zelenska spoke via video call with the First Lady of Poland Agata Kornhauser-Duda, Lithuania - Diana Nausėdienė, France - Brigitte Macron.
She thanked the wives of the presidents for the warm welcome of Ukrainian citizens, the opportunity given to Ukrainians to receive medical and educational services on an equal footing with the citizens of their countries.
There are currently 2.5 million temporary migrants from Ukraine in Poland, more than 50,000 in Lithuania, and more than 70,000 in France.
The First Lady of Ukraine also thanked Poland and France for receiving Ukrainian children with oncology for treatment in the framework of the international evacuation initiative "Flights of Life".
From March 2022, thanks to an agreement between the First Ladies, the leadership and ministries of health, as well as the cooperation of volunteer and medical organizations, children with cancer are first brought to Lviv, to the Western Ukrainian Specialized Children's Medical Center. Then, accompanied by medical teams, they and their relatives are taken to Poland, to a specially created Unicorn clinic. There, patients are assigned to Poland or other European countries for permanent treatment.
Hundreds of children with oncology are currently receiving care in the Republic of Poland, and 45 patients have been transported by plane to France. "Flights of Life" will be continued, said the First Ladies.
In addition, Olena Zelenska discussed with the wife of the President of Lithuania Diana Nausėdienė a new joint project - the newly established Ukrainian Center in Vilnius, which will become the center of cultural, social and educational life of Ukrainians in the Republic of Lithuania.
"We planned to develop it in such a way as to cover both language courses and psychological assistance, so that the center becomes the Ukrainian heart of Lithuania - a place for conferences, meetings, helping Ukrainians and Ukraine to integrate. By the way, the Ukrainian Center is now the official name, we agreed on it during the video chat," Olena Zelenska said.
She offered her colleagues new projects for cooperation. In particular, the national program of psychological assistance.
"It is aimed at supporting children and their parents, people with disabilities, the elderly, combatants and their families. Last week, during a meeting with US First Lady Jill Biden in Uzhhorod, we talked about this project and came up with the idea of ​​involving other First Ladies in other countries to address psychological/mental health issues. Creating a system of psychological assistance in Ukraine, we will use the best world experience. The pain of war must be lived through, so that we have the strength to go further and accept life, so that the nation can build the future," said Olena Zelenska.
The First Ladies also discussed the project "Books without Borders" to provide displaced children with publications in the Ukrainian language. To do this, Ukrainian publishers provide book layouts, and local publishers print them.
In Poland, First Lady Agata Kornhauser-Duda agreed to take such a project under her patronage.
In addition, the parties discussed a project to organize summer holidays for children of Ukrainian immigrants in Lithuania and France.
"When we created the club of the world's first ladies and gentlemen in Kyiv last year, no one expected the tragic circumstances under which its powerful force would be needed. And now every "how are you?" from my colleagues heals Ukrainian wounds literally! The friendship that is formed in such conditions will be the strongest. Thank you, friends. I'm waiting for us to be able to hug in a personal meeting," Olena Zelenska summed up.
---