Main — Diplomacy — A monument to the Odessa cat
Diplomacy
A monument to the Odessa cat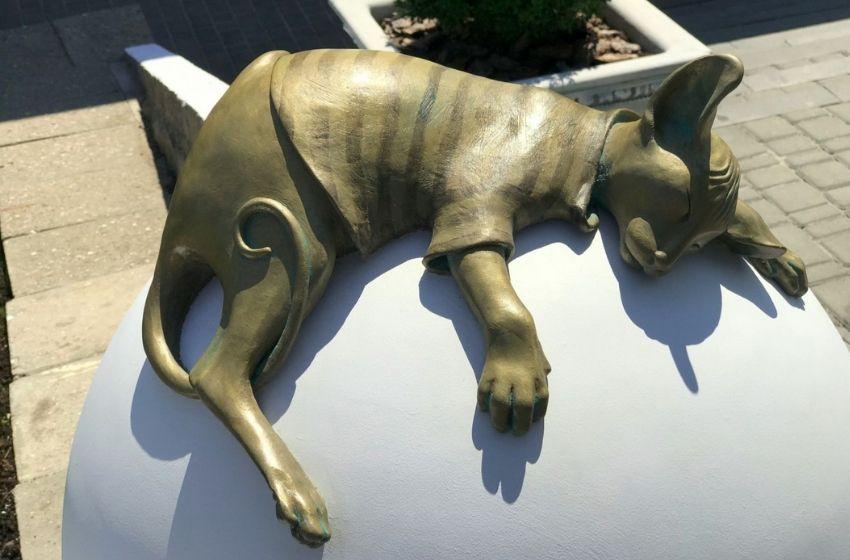 ---
Another monument to the Odessa cat by the sculptor Tatiana Shtykalo was opened on the embankment of Lanzheron Beach.
---
The cat "Izyum" (or Izya Langeron), dressed in an elegant vest, is lying on a large snow-white ball, at the entrance to the restaurant "Dacha Lanzheron". The kind of cat chosen to create a sculpture was the Canadian Sphynx breed.
The composition is an undoubted reference to the famous "two balls" at the entrance to this beach. Although, of course, the huge ears of the sculpted cat are more reminiscent of Dobby, the house elf from the famous novel about wizards.
Cats are the stars of Odessa. Therefore, miniature sculptures of cats have already become a highlight of the city. They can be found: in the fish row of Privoz and in the New Market, in the parks of Shevchenko and Pobeda, in the streets Bunina, Grecheskaya, Panteleimonovskaya, Marazlievskaya, General Petrov and Voenny Spusk.
The sculptor believes that the most important thing in his project is the participation of residents of Odessa, who are not indifferent to their tailed and ever present neighbours. Odessans are happy to take part in the project, suggesting interesting cat stories, some of which formed the basis of sculptural compositions.
Although, of course, cases are different. For example, the "Gentleman Cat", which stood on Ekaterininskaya Square in memory of the famous Odessa KVN team and its artistic director Yana Gelman, suffered at the hands of vandals. According to Tatiana Shtykalo, sculptures cannot be 100% protected - but, fortunately, they can be restored.
The new monument is the 14th sculpture from the "Cats of Odessa" series created by Tatiana. It is made of acrylic and polyester resin. This choice was taken to prevent thieves, interested in metal collection.
The sponsor of this art project is the Odessa entrepreneur Aleksandr Kozyr.
---