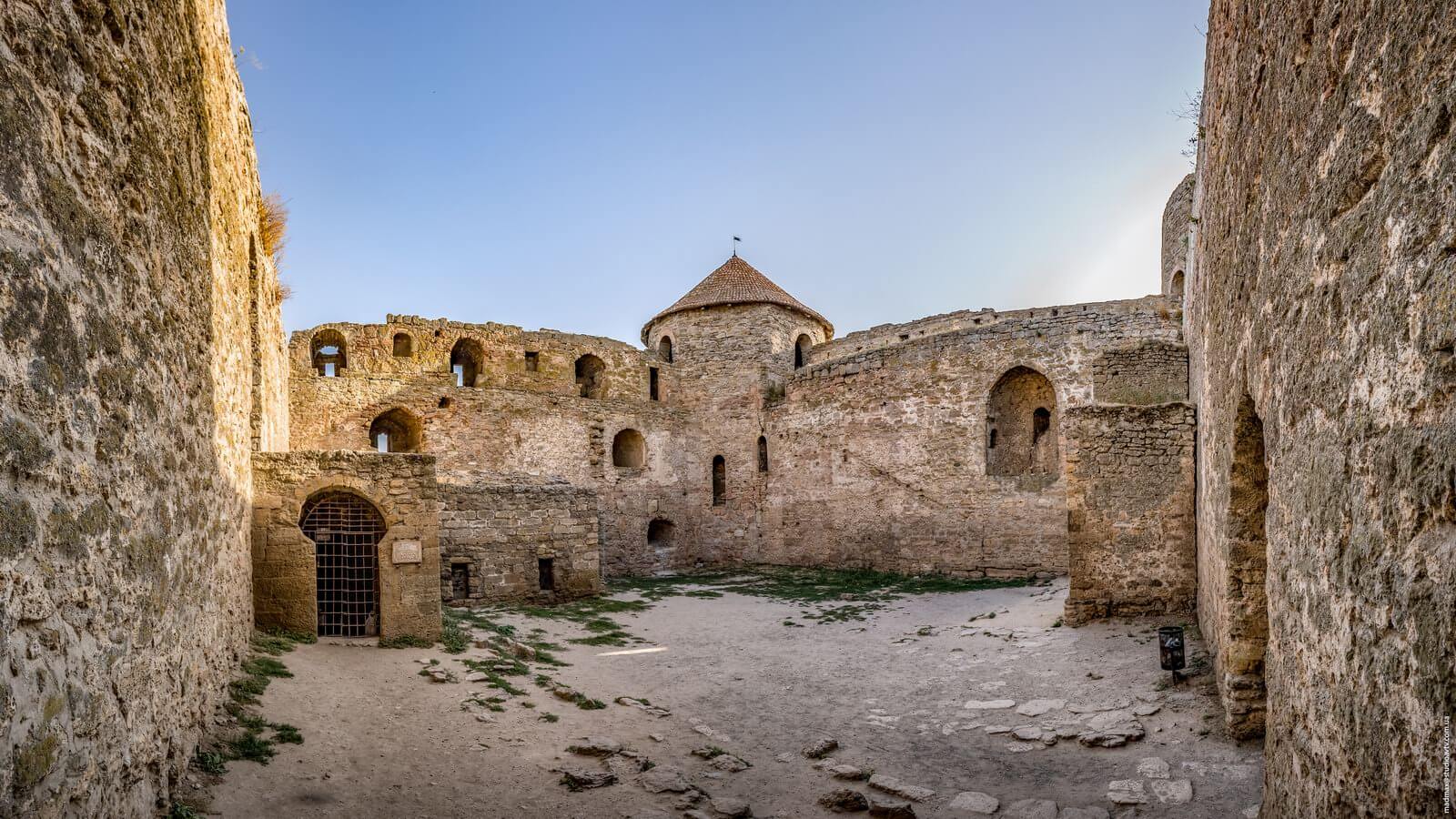 ---
The largest and most powerful fortified sites in the northwest Black Sea region in XIII-XV centuries
---
Address: 2B Admiral Ushakov street, Bilhorod-Dnistrovskyi
Bilhorod-Dnistrovskyi fortress (or Akkerman fortress) is a historical and architectural monument of the 13th-14th centuries. It is located in Bilhorod-Dnistrovskyi in the Odessa region.
The fortress in Bilhorod-Dnistrovskyi is a monument of history and town-planning of the 13th-15th centuries, one of the best preserved fortresses on the territory of Ukraine. The total area of ​​the fortress is 9 hectares, the length of the walls – 2.5 km.
It was one of the largest and most powerful fortified sites in the northwest Black Sea region in XIII-XV centuries. In 1484, after a long siege of the fortress, the Ottoman Empire seized it and named Akkerman (White Castle). It has been under the Turkish rule for more than 300 years. The fortress is surrounded by 14 meters deep moat. The shape of the building resembles an irregular polygon. The fortress was built on the remains of the Greek city of Tyras founded 2,500 years ago. Numerous tribes and peoples inhabited the land after the Greeks left it.
The fortress walls were reinforced with 34 towers of different forms and shapes – rectangular, round, octagonal, three-tier. Every tower had a name, such as the Prison, Commandant Tower, Pushkin Tower, Ovid Tower, etc. Only 26 towers have been preserved. The fortress walls were divided into several yards, namely Garrison, Civic and Quarantine (other carried the names of Dockside or Economic) that could be transformed into independent defense frontiers.
...the city is fortified from all the sides by walls and moats. Fortress with a lot of weapon located on the bank of the river... Two gates, both of which have drawbridges. Here is a trade marina on the way to Constantinople, Tatar land, Trabzon and other places...

the Italian monk Niccolo Barci, 17th century
There are legends associated with the names of some towers. On the southeast, there is a tower with two names, Maiden and Ovid's tower. It is located to the left of the main gate. At the estuary, opposite the Ovid Tower, there is Pushkin Tower. The fortress is one of the most popular tourist sites in southern Ukraine. It is a popular destination for staged performances and music festivals. The fortress is a good shooting set for different movies.
Photo: Maxim Ritus
Website | Facebook | Instagram
---