Main — Business — Denys Shmyhal: negotiations with Putin it is a manifestation of naivety, weakness or hypocrisy
Business
Denys Shmyhal: negotiations with Putin it is a manifestation of naivety, weakness or hypocrisy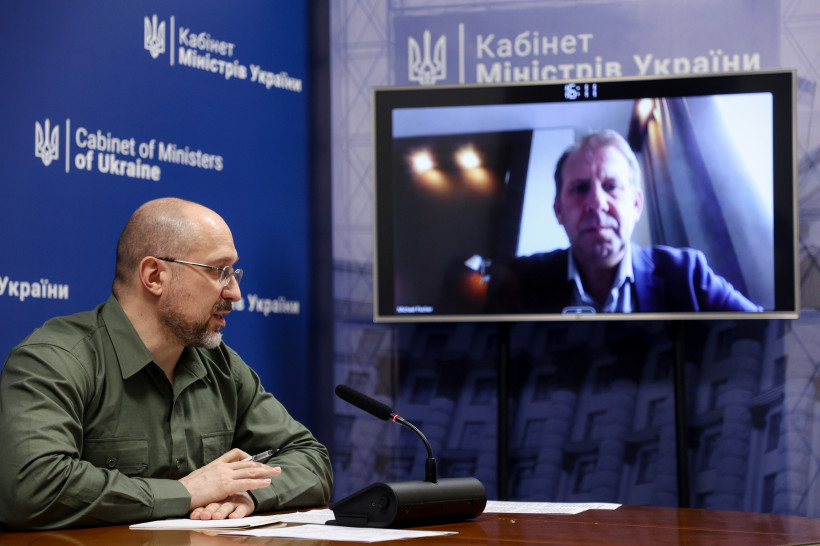 ---
Interview of the Prime Minister of Ukraine Denys Shmyhal to the Deutsche Presse-Agentur press agency
---
In the first months of the war, Ukraine repeatedly accused Germany of the lack of support. Do you now have the feeling that Germany is offering sufficient assistance to Ukraine?
Germany has made great progress in providing Ukraine with weapons. We are grateful to Germany, grateful to Chancellor Olaf Scholz for supporting Ukraine. At first, only protective equipment or helmets were supplied, today it is the cutting edge weapons: air defense systems or multiple-launch rocket systems, artillery, etc. Definitely, we want to get even more weaponry and equipment as soon as possible. A change in the philosophy of arms supply is also critical. I mean: modern combat tanks must be provided as well.
That is, you mean that Germany should supply Leopard-2 tanks directly to Ukraine?
Yes, that's exactly what I mean. We expect the United States to supply us with its Abrams tanks, and Germany - with its Leopard-2. These are those main tanks that Ukraine needs on the battlefield. Moreover, the German side announced the delivery of an advanced IRIS-T air defense system to Ukraine. Currently, it's about several missile complexes, but Ukraine could place an order for a total of 12 such systems to build up a complex airspace protection.
What kind of financial assistance do you expect from Germany?
We are grateful to Germany for the financial assistance it provides. Ukraine received the first tranche of EUR 1 billion from the European Commission. We expect another sum of EUR 5 billion in September this year. A few weeks ago, we had a fruitful conversation with the Federal Minister of Finance of Germany, Christian Lindner, in the course if which he assured that Germany would promote and take the lead in ensuring that Ukraine obtains the aforesaid funds as soon as possible.
We also expect Chancellor Olaf Scholz to play a major role when it comes to further assistance from the International Monetary Fund or the EU Commission. Lacking international support, Ukraine's economy is likely to fall into hyperinflation. Therefore, financial support from the European Union, the Federal Republic of Germany and international financial institutions is no less important than the supply of weapons.
Now in Germany, less public attention is paid to Ukraine's defensive battle, while the emphasis is shifted towards whether there will be sufficient amount of gas in the winter and how high the prices must soar. Don't you fear that war fatigue will spread across Europe and that the willingness to support Ukraine will fade?
When the war started, they [russian invaders] were sure they have only three days to finish us off, now we succeed in repulsing the attacks of russia for the six consecutive months. We remain united with our allies, with our partners in a united Europe, with the United States and Great Britain. We stand for freedom. I don't think you can get fatigue from fighting for freedom. Anyone in Germany who enters into discussions about war fatigue should be watching russian talk shows. There they also raise debates about the fate of Germany, the Baltic states, and Europe as a whole. We are all targets by this regime, we must unite and fight together for freedom in Europe.
In Germany there are heard calls for negotiations with Putin and easing of sanctions against russia? What is your answer for those who demand it?
What else is there to say, it is a manifestation of naivety, weakness or hypocrisy. One must clearly understand that russia is also a threat to the whole of Europe. Not only military threats are in place, but hybrid warfare, for example, in the energy and food sectors. The only way is to fight in synergy. We must achieve this victory in a war against russia together. Financial support to Ukraine and arms deliveries must be prolonged, and sanctions - intensified.
Ukraine urged to impose entry ban on russian citizens, and EU foreign ministers have now made a decision to do so. The Chancellor is rather skeptical about entry restrictions. He says 'This is Putin's war', we mustn't consider all russians accountable for that. What do you think about that?
Unfortunately, polls show that about 80 percent of people in russia support a war against our country. Unfortunately, this is not only Putin's war. 200,000 russian soldiers are fighting against Ukraine. Even their families do not say anything against it, the population as a whole supports this war. You cannot divide russians into good and bad. It is unbearable for us that some russians kill and rape people in our country, while the other part lives a comfortable life in the West, goes on vacation, and enjoys dolce vita. russian society needs a cold shower in the shape of a visa ban for tourists and students.
Ukraine accuses russia of genocide. Do you expect Germany to agree with your assessment of the situation?
If you compare how many soldiers and how many civilians died on the Ukrainian side, then you can see that the death toll among the civilians exceeds severalfold. It is russian policy to kill civilians of Ukraine just because they are Ukrainian citizens. This is called genocide. Taken into account all the facts, all the signs of genocide are present. We expect our partners, including Germany, to agree with our assessment.
You will also meet Federal President Frank-Walter Steinmeier in Berlin. Will you invite him to Kyiv again?
We expect that Federal President Frank-Walter Steinmeier will visit Kyiv at the invitation of President of Ukraine Volodymyr Zelenskyy.
Is it possible that President Zelenskyy visits Germany?
Volodymyr Zelenskyy is the Supreme Commander-in-Chief of the Ukrainian army in the war. It is only up to him to decide when it makes sense to pay a foreign visit.
---