Main — Culture — Favourite of the Romanov's Family Mattia Battistini
Culture
Favourite of the Romanov's Family Mattia Battistini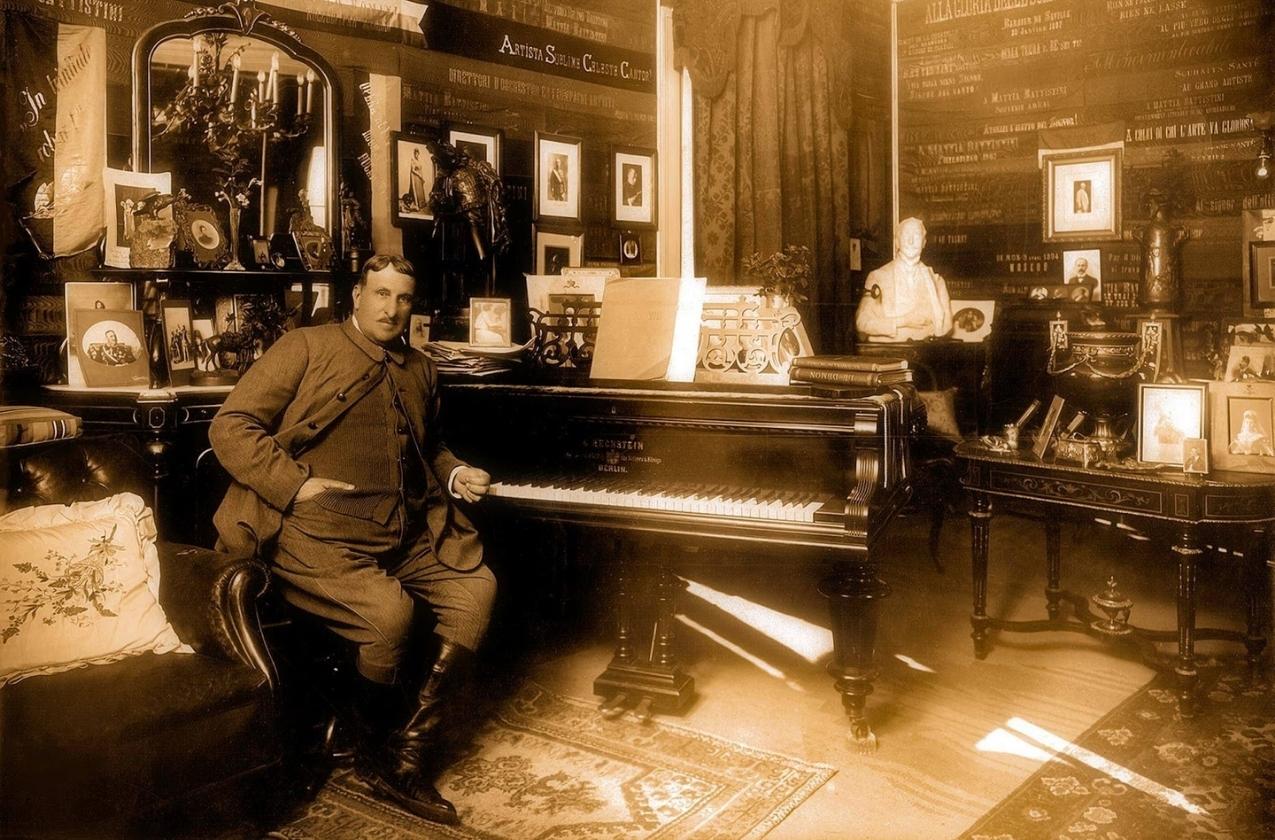 ---
Mattia Battistini was the most acclaimed singer of his time by the Russian aristocracy. He returned to Russia regularly for 23 seasons! Many times he have been in Odessa. An interesting story happened in our city was found in the diaries of the famour russian singer Yuriy Morfessi.
---
Mattia Battistini was born in Rome and brought up largely at Collebaccaro di Contigliano, a village near Rieti, where his parents had an estate.
A 22-year-old Battistini made his operatic début at the Teatro Argentina, Rome, as Alfonso in Donizetti's La favorita, on 11 December 1878. During the first three years of his professional career he toured Italy, honing his voice and gaining invaluable experience by singing principal rôles in such varied operas as La forza del destino, Il trovatore, Rigoletto, Il Guarany, Gli Ugonotti, Dinorah, L'Africana, I Puritani, Lucia di Lammermoor, Aïda, and Ernani.
From 1892 onwards, Battistini established himself as an immense favourite with audiences at Russia's two imperial theatres in Saint Petersburg and Moscow: Mariinsky and Bolshoi. He returned to Russia regularly, appearing there for 23 seasons in total, and touring extensively elsewhere in Eastern Europe, using Warsaw as his stepping-stone.
Battistini recorded a lot and willingly; there are several dozen titles in his discography. These are not only arias from Italian operas - Verdi, Donizetti, Rossini; today you can listen to him performing Mozart, Weber and even Wagner. Battistini enjoyed the special favor of the royal Romanov family and became a favorite artist of the Russian nobility. The financial situation of Battistini was luxurious, any of his wishes were fulfilled. He traveled to Warsaw, Saint Petersburg, Moscow and Odessa like a prince, travelling in his own private rail coach with a retinue of servants and innumerable trunks containing a vast stage wardrobe renowned for its elegance and lavishness.
The singer's repertoire also included Russian music that was new at that time: in 1899 he performed in Tchaikovsky's Eugene Onegin on the stage of the Warsaw Opera House. Onegin performed by the recognised master of bel canto is an unexpected look at the music of Tchaikovsky for the modern listener.
He gave his last concert performance one year before his death, his voice was still in very fine condition. His career lasted almost 50 years!
An interesting story happened with the famous Russian singer of Greek origin Yuriy Morfessi during the Mattia Battistini's tour in Odessa.
Yuriy Morfessi wanted to become an architect, with the support of the Greek community he entered the school, but one day, returning home from classes, he noticed a large crowd on Primorsky Boulevard. People surrounded a strange apparatus with a bell, and the owner of this curiosity called out to the crowd: "Great Century's Wonder - a gramophone machine! It will record your voice, and whoever likes the recording will receive it for only 20 kopecks, which will make a step towards immortality, preserving his voice for posterity."
From the bell just sounded an anecdote with a stench, which was reveling in the big guy who was standing there and then who had just sounded that vulgarity, clearly anticipating the reaction of the descendants. Yuriy sighed, felt a few coins in his pocket, which he grabbed from breakfast in pencils, and handed the owner the gramophone. He put a brown plate on a rotating disk and turned the bell towards the next contender for immortality. Yura thought for a second what to say to the descendants, but did not say anything, and sang "The Weeping Willows Slumber", my mother's favourite romance. And when he finished, he felt that someone was pulling him to the side by the sleeve.
A short, elegant man said, "Boy, you have a nice tone. It makes sense for you to see a specialist." The specialist turned out to be the famous Italian baritone Mattia Battistini, who was just on tour in Odessa. Battistini did not know the Russian language, and spoke delicious: "Bravissimo!"
From Yuriy Morfessi Diary:
Teachers, they directly advised: why do you need science, Morfessi? You will enter the theater, and life will teach you everything else. I myself was drawn to the theater ... I saved up money in order to listen to the operetta and the Italian opera that often came to us from the upper tiers of the gallery. Odessa was a very musical city, and who among the Italian stars did not tour with us: Marcella Zembrich, Mazini, Tamagno, Giraldoni and many others and, of course, the divine Battistini.
I remember my acquaintance with Battistini. Acquaintance is too loud, even blasphemous. With awe I stepped into the Londonskaya Hotel occupied by the king of baritones. You shouldn't tremble! A great artist, wrapped and caressed by world fame. I knew his biography. I knew that, unlike other Italian singers, Battistini was from an aristocratic family and in his youth served in the guard of his king. I also knew that many crowned heads of Europe, including our emperor, treated him with particular favor precisely because, being a great singer, he was also a man of high society.
After all this, my trepidation of a sixteen-year-old provincial youth is understandable. But the first impression dispelled all my fears. Battistini was charmingly simple with me. Sovereign simplicity, disarming and conquering. But there was something majestic about his manner. Many years later, remembering this meeting, after I got to St. Petersburg and saw the great light myself, I realized the simplicity of Battistini's evasion.
With a captivating smile, straightening the folds of the most wonderful business card - I have never seen one like this before - Battistini sat down at the piano, took a note and addressed me in French:
"Repeat!"
I, who had had time to listen to Battistini in a number of operas, took this note in his own style and spirit.
Removing his long, thin fingers from the key, the demigod looked at me in amazement.
"Young man, you have a rare imitative talent! You convey my voice with indescribable accuracy!"
And, turning to my patron, Battistini continued: - He needs to go to Italy and go directly to the famous Cotoni. If he is even the second Cotoni, he will make himself a world name. Send it to Italy without wasting time! The wizard Cotoni will process his voice ...
I never got to Italy ... Everyday reality surrounded me from all sides, taking something, giving something in return. Where could one think of Italy! And here, in Odessa, my artistic career grew by leaps and bounds...
---