Main — Diplomacy — "Invictus Games": Rivne swimmer brought two medals from Hague
Diplomacy
"Invictus Games": Rivne swimmer brought two medals from Hague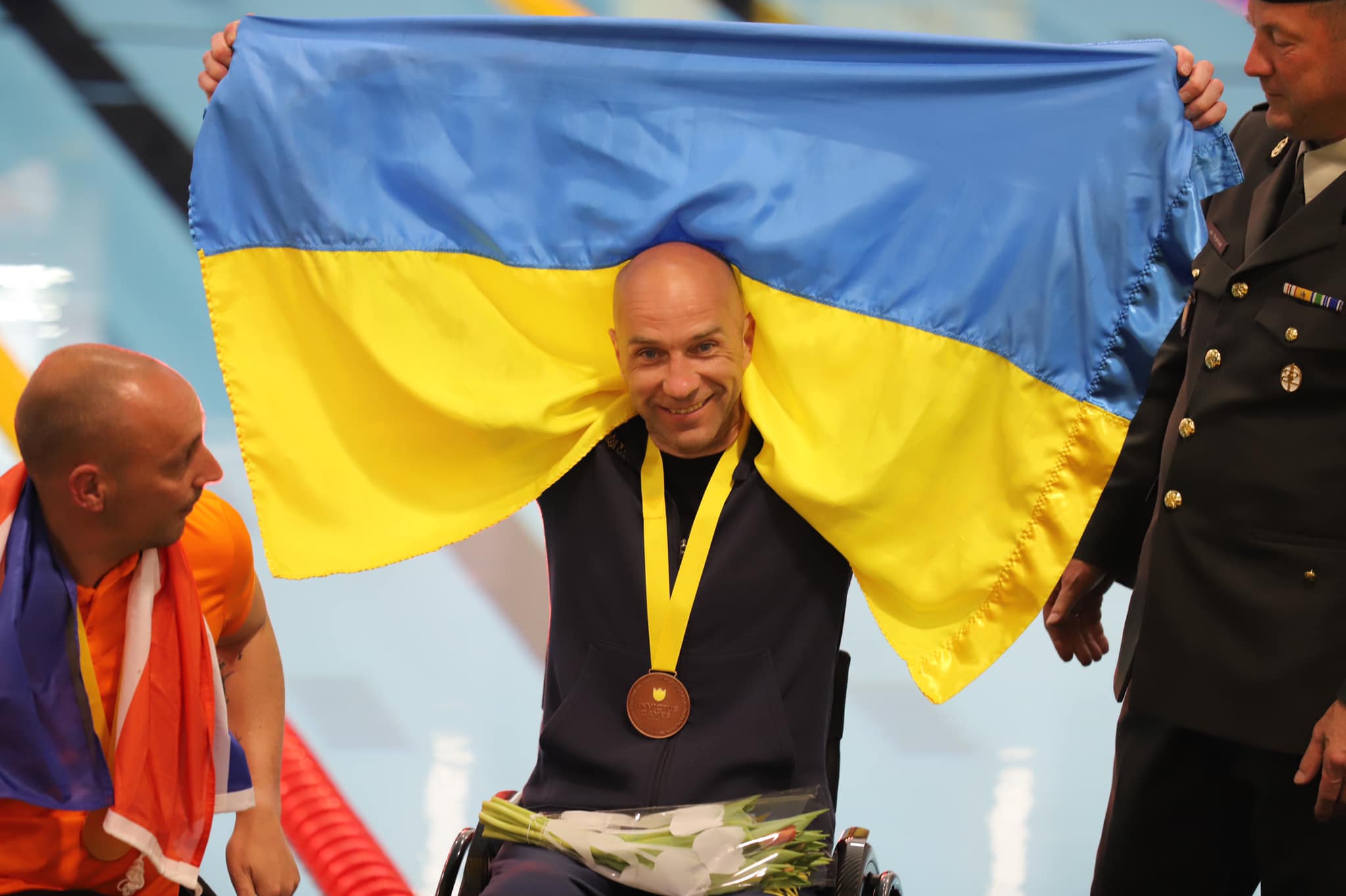 ---
An article about a courageous military was prepared by journalists from Rivne
"Gold" and "bronze" were brought from the Hague to Rivne by a veteran of the Armed Forces of Ukraine, spy Andriy Badarak. Our veteran performed well at the Invictus Games.
Back in 2016 in the Donbass, Andrew was seriously injured and became a wheelchair user. The veteran's thirst for life was restored by swimming, which he began to do for rehabilitation. And his second participation in the Invictus Games, organized by Prince Harry - the grandson of Queen Elizabeth II of Great Britain, brought two awards.
Andrew was wounded after mine explosion. He could no longer walk because he had suffered a severe spinal injury. So the doctors advised him to swim, as he was undergoing rehabilitation at the hospital for war invalids in Klevan.
The scout was a professional swimmer in the army, so the results came quickly - he won the Ukrainian championship. Then friends and rehabilitators advised - it was time for international competitions.
We practiced every day, at first for a short time, even the sensitivity of the legs appeared. His friends and we persuaded him to participate in competitions

Muhammad Timraz, head of the hospital's physiotherapy department
These "Invictus Games" became the second in Andrew's career. He won a gold medal in the 50-meter backstroke, although he did not expect such a result - he had hardly swum for the last four months.
My best result was 54 seconds at the Ukrainian Championship. In the games, he swam in 49 seconds, without training, without form. Who is an athlete - must understand

Andriy Badarak
And in the style of "breaststroke" - he won bronze. The scout was struck by the atmosphere of the injured military competition. He says that veterans of many countries actively supported the Ukrainian team:
I was more impressed not by the meeting with Prince Harry, but by other teams of veterans - especially the United States, Britain, Canada and Georgia. They were more interested in how our war is going, because they also "dislike" the Muscovites.

Andriy Badarak
Andrew is currently undergoing another rehabilitation at the hospital. He swims in the pool every day and dreams of performing at the Invictus Games again.
---