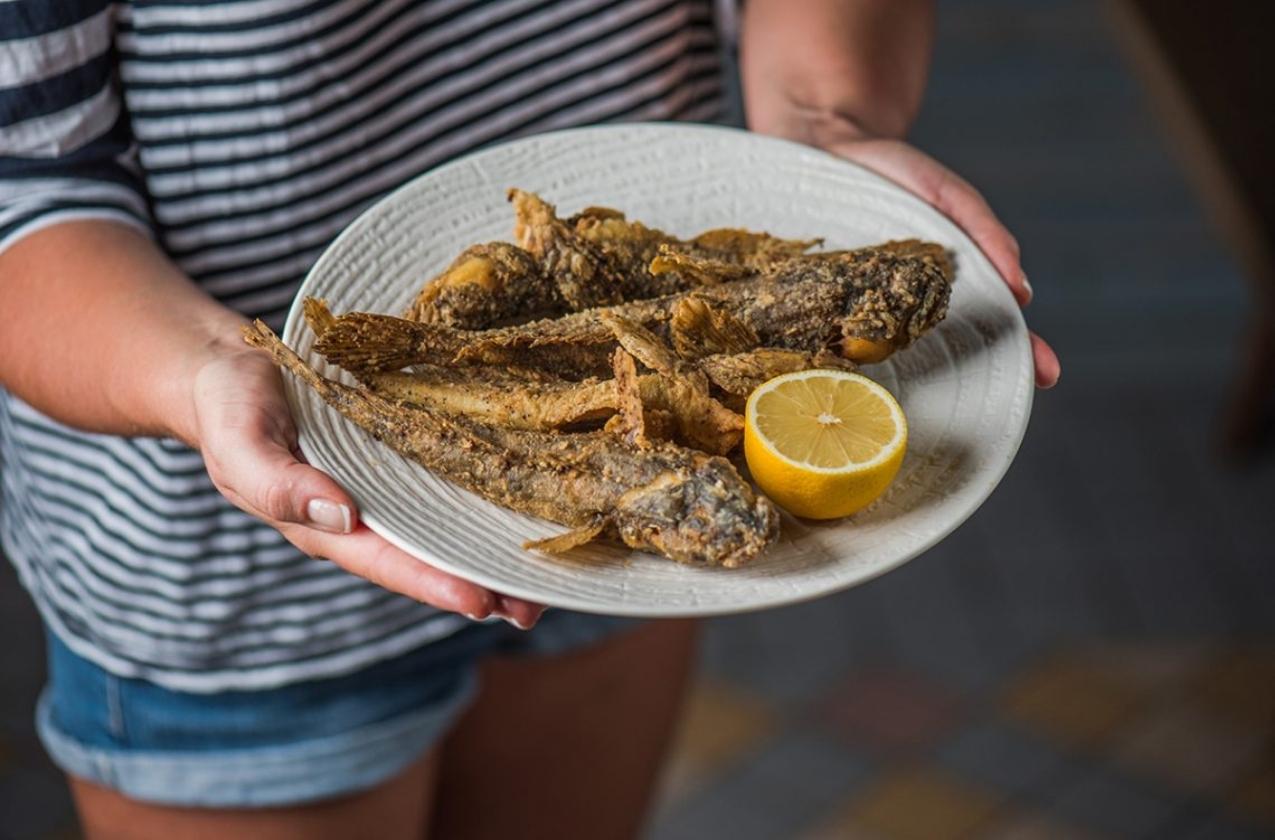 ---
Maria Kalenska is a third generation Odessite, currently living in London. Having made a career in the corporate world, she has now exchanged her business suit for a kitchen apron. Maria currently writes for gastronomic and travel publications, along with organising culinary master classes and exclusive enogastronomic tours and pop-up dinners.
Her heart forever belongs to Odessa, but in London she has an important mission – to promote Ukrainian and Odessa cuisine!
---
Whatever one may say, but gobies are another "sacred gastronomic cow" of the city by the very blue sea. Some Odessa residents, who grew up in Moldovan courtyards and remember the smell of fried gobies cooked outside in a primus stove, wry when people who got sunburnt on the first beach day, run to the nearest restaurant to try this local delicacy. They, those people, can tell you about their grandfather, about his tarred boat, about morning fishing and how you can catch gobies lazily from the pier. Then, without any hesitation, eat it for breakfast fresh, salted with seawater and seasoned with summer.
You can fish gobies from anywhere, or you can catch it on the Privoz. If you are not too lazy (or you are lucky) – buy gobies from anglers, the whole bundle, you will not regret it. Traditionally, in Odessa they love the toad gobies – a bit sweeter and heartier than ordinary ones. At home, gobies should be cleaned, but not like ordinary fish. Gobies are gutted, but head and fins are left, and then you will understand why. Toad gobies are cleaned faster, while the ordinary one requires a little time and patience. The gutted fish should be slightly salted. Just to sprinkle.
Put the liver, caviar and milt separately on a plate – we will fry them at the very end, but so far, they can also be salted. After that, go for a walk for 30-40 minutes, get busy, chat with a neighbor – or anything you want to do. In case you decide to fry your purchase right away – the gobies will play up in the pan, and you get fed up turning them and decide that you no longer need it, but you need it.
After the set time, return to the gobies. Pour some corn grit (finest grinding) into a shallow and wide bowl. Well, three handfuls if you bought the whole bundle. Mix it with salt; also, you can add a bit of black powdered pepper. While you are messing with flour – put a frying pan on the stove and pour fine sunflower oil in it, so that it covered the bottom or even more. When the oil begins to crack, grab the goby, roll it in corn grits and carefully put it on the frying pan directly in the cracking oil. It may seem that your goby might burn or overdry. Much more things may seem to you. But relax, and after a couple of minutes carefully turn the goby. Do you see this crust on top? Do you smell it throughout the flat? And this is only half a goby…
If you are a culinary specialist and the size of your pan allows you to place several gobies in it at the same time – for God's sake, do not put them too close to each other. A goby should "breathe" when frying; otherwise, you will get just some kind of fried fish, not a goby. Do not try to cover it with a lid – it is better to wash the kitchen floor, stove and ceiling later than you spoil such a wonderful dish.
Remove from the fire and put quickly on the plate. Crispy. Tender. Sweet. When you eat such fried goby, imagine that you are already sitting in your wooden gallery facing the courtyard, in knee-high panties, on a stool with a special hole in the middle to make it convenient to grab with your hand. Around you, it smells like a young grape leaf; ripe tomato, sweet. It is better to go to the sea in the morning, as in the afternoon the water is very warm and not refreshing.
---
Maria Kalenska
Website | Facebook | Instagram
---