Main — Business — The freight train from China arrived to Odessa
Business
The freight train from China arrived to Odessa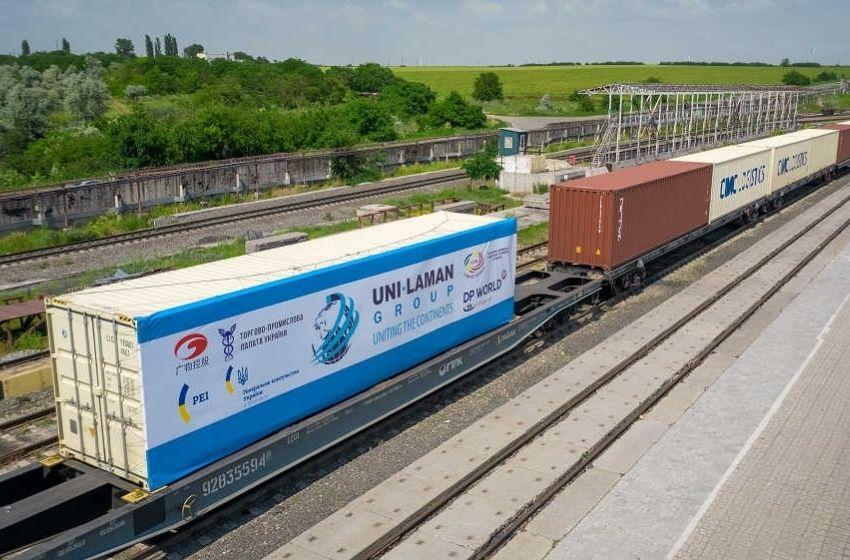 ---
The China-Europe freight train with household goods, which departed from Guangzhou on May 29, arrived at the DP World-TIS unloading sea container terminal in Yuzhniy Port, as reported by the press service of the Ukrainian logistics company Uni-Laman Group, organiser of the project.
---
According to the operator, the train arrived on June 19, but the official welcoming ceremony took place on Tuesday, June 22. The trip from Guangzhou to Odessa region took 22 days. The train ran through China, Mongolia, Russia, Ukraine, through the customs posts Erlian – Zamyn-Üüd, Naushki – Sükhbaatar, Valuiki – Topoli, Chornomorska station – TIS and covered 8,408 km.
Uni-Laman Group said that this train transported fifty containers of cargo, including: furniture, electrical equipment and other goods.
This train will help entrepreneurs receive goods from Guangdong and other Southern provinces twice as fast, along with a similar delivery by sea. Today, we see a great demand for this route, so we do not want to be satisfied with what has already been achieved and will direct our efforts towards further fruitful cooperation with China to expand trade between our countries. By the end of the year, we plan to increase the number of these trains to ten per month and make regular trips from other provinces of China.

Gennadiy Sorochynsky, Chairman of the Board, UNI-LAMAN Group
The preparation of the project took more than three months. Uni-Laman Group became the Ukrainian operator of the container train, Guangdong GW Railway Operator Ltd. which is a part of the State corporation Guangdong GW Holdings Group Co. Ltd. became a Chinese operator and partners, CIMC-logistics acted as local agents in China. Arrival and processing of the train in Ukraine will take place at the DP World-TIS Yuzhniy terminal, a modern private container terminal with its own developed railway facilities.
According to the press service, the train will run regularly on the schedule of the State railways of China. In the future, its average travel time will be reduced to 20 days.
It is planned to send 50 containers in one train. The DP World-TIS Pivdennyi terminal is the project partner at the train unloading stage.
The first container train from Guangzhou is a landmark event for us. Our involvement in this project is fully in line with the current global market strategy of DP World. The company sees itself as an active participant in multimodal logistics in the future, and is engaged in the development of multimodal projects around the world. Our terminal was chosen to meet the train from China not by chance and in many respects – due to the developed railway infrastructure of TIS.

Igor Zhigora, General Director of the DP World-TIS container terminal
---