Main — Culture — The "Re/Vision" project is launching in Odessa, exploring contemporary posters and iconic Ukrainian cinema
Culture
The "Re/Vision" project is launching in Odessa, exploring contemporary posters and iconic Ukrainian cinema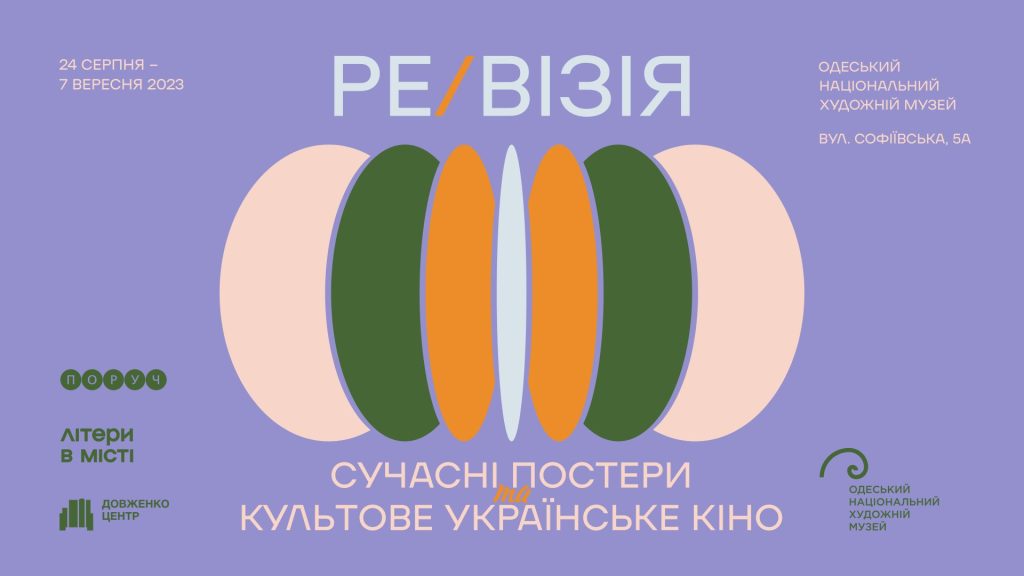 The "PORUCH" Festival of Contemporary Culture and the online museum of Odessa's typographic heritage, "Letters in the City," in collaboration with the Odesa National Art Museum, will open the "Re/Vision" exhibition of contemporary posters for iconic Ukrainian films on August 24th
"In this way, we aim to draw the attention of a wide audience to the history of Ukrainian cinema and its most significant achievements. We are grateful to all the artists and designers who have contributed their knowledge, skills, and artistic thinking to create new works and reinterpret our film heritage," says Olga Sydorushkina, the initiator of the "Re/Vision" project and founder of the PORUCH festival.
New posters for selected films from the "TOP-100 Ukrainian Films" ranking were created by well-known Ukrainian artists, illustrators, and designers, including EtchingRoom 1, Zhenya Oliynyk, Varvara Perekhrest, Victoria and Vitalina Lopukhiny, Marchela Muzhyna, Mykhailo Rafailik, Kyrylo Tkachov, and others - a total of 31 authors.
The common style of the posters was developed by designer Alexandra Korchevska, the author of the first course "History of Ukrainian Design" in Ukraine and winner of the worldwide Type Directors Club competition.
On August 26-27, the second PORUCH Festival of Contemporary Culture will take place in the courtyard of the Odesa National Art Museum. Special film screening programs will start at 19:00 on Saturday and Sunday.
Two films will be shown: "Zemlya (Earth)" by Oleksandr Dovzhenko and "Evening on Ivan Kupala" by Yuri Illienko. Before the screenings, short introductory lectures will be given by film experts from the Dovzhenko Center, Alona Penzii (live) and Stanislav Bityutsky (online).
The "Re/Vision" exhibition will be open at the Odesa National Art Museum from August 24th to September 7th. The opening will take place on August 24th at 15:00, and admission is free. Curators: "Letters in the City," Anastasia Yavtushenko, Volodymyr Damaskin.
After Odessa, the exhibition is planned to be shown in Lviv and Kyiv. Posters and postcards from the project will be available for purchase after the opening of the exhibition in Odessa