Main — Diplomacy — Tokyo 2020: Ukraine results
Diplomacy
Tokyo 2020: Ukraine results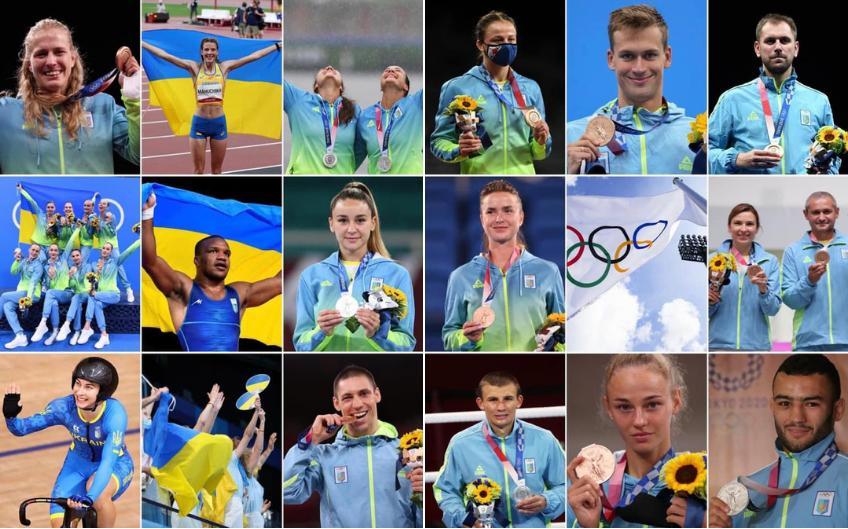 ---
The XXXII Olympiad ended in Tokyo. Among the 206 participating countries, the Ukrainian Olympic team is in the TOP-20 in the total number of medals!
---
Every eighth athlete of our national team won a medal, which is much better than the results of the previous Olympics: then 206 athletes brought 11 medals. As a result, we have 19 medals in Tokyo: twelve bronze, six silver and one gold.
For winning prizes and medals at the Olympic Games, Ukrainian athletes this year received a monetary reward from the state: for "gold" - 125 thousand dollars, for "silver" - 80 thousand dollars, for "bronze" - 55 thousand dollars.
Ukrainian medalists of the XXXII Olympic Games:
"Gold"
"Silver"
Mykhailo Romanchuk (swimming, 1500 m freestyle)
Parviz Nasibov (Greco-Roman wrestling, 67 kg)
Angelica Terlyuga (karate, up to 55 kg)
Lyudmila Luzan and Anastasia Chetverikova (kayaking and canoeing, canoe double, 500 m)
Alexander Khizhnyak (boxing, up to 75 kg)
Olena Starikova (cycling track, sprint)
"Bronze"
Daria Bilodid (judo, 48 kg)
Igor Reizlin (fencing, sword)
Olena Kostevych and Oleg Omelchuk (bullet shooting, mixed)
Mykhailo Romanchuk (swimming, 800 meters freestyle)
Elina Svitolina (tennis)
Alla Cherkasova (women's wrestling, 68 kg)
Irina Kolyadenko (women's wrestling, 62 kg)
Marta Fedina and Anastasia Savchuk (artistic swimming, duet)
Ludmila Luzan (kayaking and canoeing, single canoe, 200 m)
Stanislav Goruna (karate, up to 75 kg)
Vladislava Aleksiyeva, Marina Aleksiyeva, Kateryna Reznik, Anastasia Savchuk Ksenia Sidorenko, Marta Fedina, Alina Shinkarenko, Elizaveta Yakhno (artistic swimming, group)
Yaroslava Maguchikh (athletics, high jump)
Another 23 athletes took 4-6 places in the finals. For the first time in history, Ukraine won medals at the Olympic Games in artistic swimming and karate. Our young athletes showed great results, I'm sure your Olympic gold is still ahead! And we will work together to make the anthem of Ukraine sound as often as possible at the next Olympics!
Thank you to the athletes, coaches and the whole great team that worked for the result. We are proud of you!
---