Main — Diplomacy — Underwater commemorative plaque after WWII prisoners died in the Black Sea
Diplomacy
Underwater commemorative plaque after WWII prisoners died in the Black Sea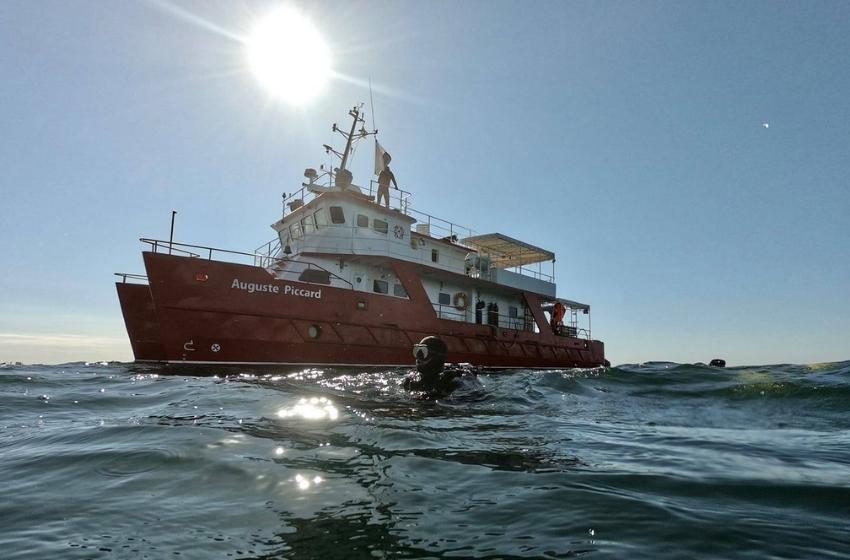 ---
Odessa divers erected an underwater memorial in memory of two thousand prisoners of war, died in a sink. A commemorative plaque was installed two miles from Cape Budaki (Belgorod-Dnestrovsky district of Odessa region), at a depth of 13 meters.
---
The fronts of the Great Patriotic War were approaching the Volga and the peaks Caucasus Mountains, when in the first days of October 1942 on the coastal beaches of the villages of Balabanovka, Lebedevka, located South-West of Odessa, the sea threw away nearly two thousand dead bodies. The bulk of the dead was Soviet military uniform. Some had documents. Obviously, there had been some kind of major disaster with transport at sea, transporting Soviet prisoners of war.
For many years, the Soviet press and historians did not recall the tragedy that had occurred in the area of ​​the Budaki lighthouse. Only in the book "Submariners are attacking" there was a mention that the ship "Salzburg" was sunk by a Soviet submarine, which, in turn, sank in the same area.
The story of the sinking of the boat is a tragedy that played out at sea in distant October 1942, and can be described by us today only as our speculation, since there in no sufficient historical research on the fact. This tragedy was revealed in the media only in the mid-seventies of the last century. According to the number of human victims, probably exceeded the tragedy of the well-known "Titanic". There were more than 2 thousands men on the "Salzburg".
Official German sources are extremely laconic about the tragedy that happened. In the reference book "Deuthlands Handelsschiffe 1939-1945", published in 1974 in Hamburg, we can read:
"… 1942, flight Ochakov-Constanta. On that day, the transport "SALZBURG" was attacked and torpedoed at Budak by submarine "M-118". This boat was destroyed by the Romanian gunboat "GHICULESCU". Romanian ships accompanying convoy, could not prevent this loss ...".
But why did it become necessary to transport such a big number of prisoners of war on one ship? According to official German data, "Salzburg" accepted 810 tons of iron ore (according to other sources, coal) and 2300 Soviet prisoners of war. The prisoners were most likely used for loading on board a vessel of dangerous cargo, damaged ammunition and scrap metal. Here is an explanation of the origin of the large the amount of damaged ammunition in the area of ​​the ship.
This story did not receive wide media portrayal, since neither side had anything to brag about. Soviet submarine destroyed more than two thousand of its own citizens.
Almost all Odessa scuba divers have visited Salzburg.
And this May 2021, Odessa divers have erected a memorial in the memory of two thousand Soviet prisoners of war. I was announced by the captain of the "Auguste Piccard" research catamaran and the head of the board of the Ukrainian Center for Marine Expeditions, Vladlen Tobak.
---