Main — War — Volodymyr Zelensky: Escalation of Russian missile and drone terror only led to the world responding with new aid to Ukraine
War
Volodymyr Zelensky: Escalation of Russian missile and drone terror only led to the world responding with new aid to Ukraine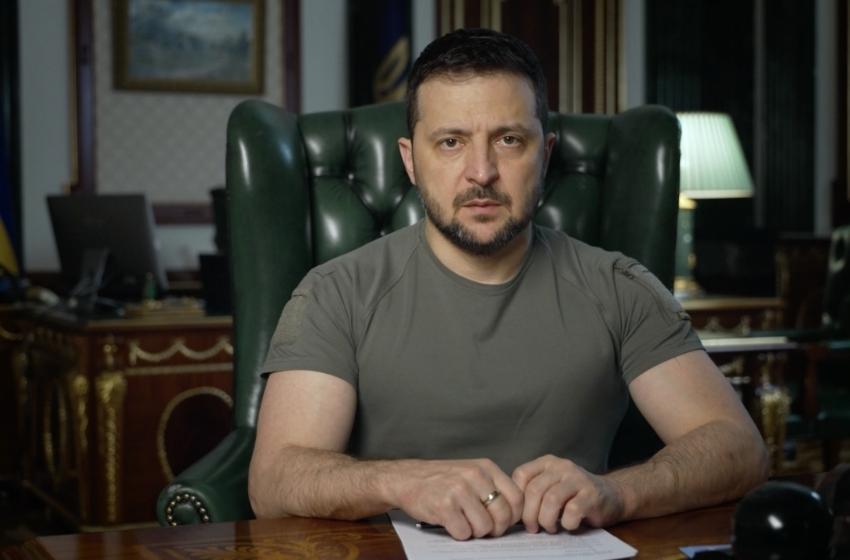 ---
I've just spoken with Benjamin Netanyahu, the leader of the bloc that won the elections in Israel. I congratulated him on victory. We discussed the main aspects of relations between our states.
I think it is clear to everyone what Ukraine emphasizes and what security emphasis Israel makes. I believe that we can significantly strengthen our states, especially since the threats to us are related.
Today, the occupiers struck more than 50 settlements in our country. Donbas, Zaporizhzhia, Kherson region, Mykolaiv region, Kharkiv region, Dnipropetrovsk region... Missiles, aviation, MLRS.
We respond everywhere. We have the necessary results - another Russian aircraft was shot down.
We also received new systems that significantly strengthen our air defense. The protection of the Ukrainian sky is, of course, not one hundred percent, but we are gradually moving towards our goal.
As of today, we can say that the recent escalation of Russian missile and drone terror has only resulted in the world responding - responding with new aid to Ukraine. We will do everything so that as many countries as possible join this aid.
In general, along the front, our forces are in a state of active defense - in some parts of the east and south, we are gradually pushing back the enemy. We are gradually moving forward.
The Donetsk region remains the epicenter of the greatest madness of the occupiers - they die by the hundreds every day. The ground in front of the Ukrainian positions is literally littered with the bodies of the occupiers...
And some of the Russian military started to think about what was happening. They "complained" to the governor of their region - Primorsky Krai - about colossal losses. And this governor, comrade Kozhemyako, predictably lied in response: he says that the losses are "far from being such".
Not such... And what kind are they?
From Vladivostok to Pavlovka, Donetsk region, it is more than 9 thousand kilometers. But he is sure that the losses "are not such." The governor, probably, can better see from there how many soldiers from his region are sent for slaughter and in what way. Or he was simply ordered to lie. Ordered from Moscow.
This is how the order to lie about Russian losses crosses thousands of kilometers. And even the bodies of most of those killed will not be brought back to some Vladivostok. But I am sure that Governor Kozhemyako will come out and explain why not everyone arrived, not everyone from those "not such" returned.
You can avoid this not by complaining to some wimps, but by your own opinion. And not in Telegram, but in public. Not by a complaint, but by a fierce protest. Not somewhere under the blanket, but on the streets. Against those in Moscow.
Or by surrendering to Ukrainian captivity. This is how you can survive as well.
Decision regarding some Ukrainian enterprises was announced today. This decision was dictated by military necessity and was agreed upon at the Staff of the Supreme Commander-in-Chief. Five strategic enterprises were forcibly alienated for wartime needs - Motor Sich, KrAZ, Ukrnafta, Ukrtatnafta and Zaporizhtransformator.
Some of them hardly worked. Now all of them will work. For defense. This is the repair and production of equipment, provision of the defense forces, and restoration of our infrastructure. A complex task that can be accomplished only through the system of military-state management.
I do not rule out other similar decisions either.
I delivered an important international address today. Climate summit in Egypt. A very significant event, a very representative gathering. Dozens of state leaders and heads of government.
The main thing for us is to inform the world about the ongoing Russian aggression, about the destabilizing influence that Russia exerts. When the world is focused on combating war, energy and food crises, the destruction of customary international relations, the climate agenda is clearly suffering. And the destruction of the climate cannot somehow be put on hold...
Therefore, anyone who is serious about the climate agenda should also be serious about the need to immediately stop Russian aggression, restore our territorial integrity, and force Russia into genuine peace negotiations.
Into such negotiations, which we have repeatedly proposed, and to which we always received insane Russian responses with new terrorist attacks, shelling or blackmail.
Once again - restoration of territorial integrity, respect for the UN Charter, compensation for all damages caused by the war, punishment of every war criminal and guarantees that this will not happen again. These are completely understandable conditions.
Today I signed the decree on awarding our heroes. 396 Ukrainian servicemen were honored with state awards.
Thank you to everyone who fights for Ukraine!
Thank you to everyone who works for our victory!
Thank you to all our partners who help us defend freedom!
Glory to Ukraine!
---