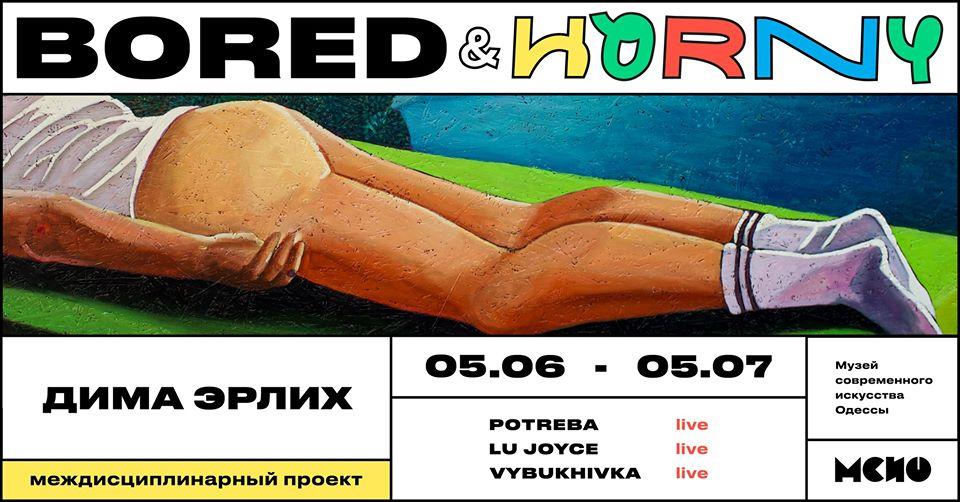 ---
An interdisciplinary project by Dima Erlikh
---
On Friday, June 5, at 18:00, an exhibition of Odessa artist Dima Erlikh "Bored & Horny" will open at the Odessa Museum of Modern Art.
The project is conceived as interdisciplinary and includes a visual part, sound design, floristic compositions and a series of performances by Odessa musicians and DJs. The opening party will feature: Lu Joyce, Potreba and Vybukhivka.
"Bored & Horny" is the second personal project of Dima Ehrlich, whose creative method is to highlight acute social manifestations, aesthetizing and mixing them in his works. Among his interests are painting of mannerism, the work of David Hockney, underground music, plants and masks. The project asks a rhetorical question:
"Are you excit when you are bored?"
Everyone can answer it in their own way, and this is the essence.
"In my work I often use masks and OSB boards. This is a kind of interpretation of the analysis of personality which is the shortest path to yourself. I combine the lighthearted softness of Hockney's creativity with respect to the hard and emotionally tense subjects of religious painting of mannerism with the technique of deconstructing the surrounding space: fragments of a board, plants, light, sound, geometry "

Dima Ehrlich
"The lack of faces behind a multi-colored mask is an attempt to get away from an obsessive personality, thereby providing the viewer with the opportunity to represent anyone in the plot of paintings and installations. It was important for me to show Dima's artistic practice in the project, which has recently been closely associated with underground music. I think it will be an interesting experience for the artistic environment of Odessa "

Andrey Siguntsov, curator of Odessa Museum of Modern Art
The opening and musical event will take place in the courtyard of the museum, the entrance to the exhibition will be carried out in groups of 15 people to avoid a large crowd of people.
The exhibition runs from June 5 to July 5. Entrance to the opening is free, in the following days the cost of the admission ticket is 40 UAH.
---