Main — Business — "Green Chef" super microgreen
Business
"Green Chef" super microgreen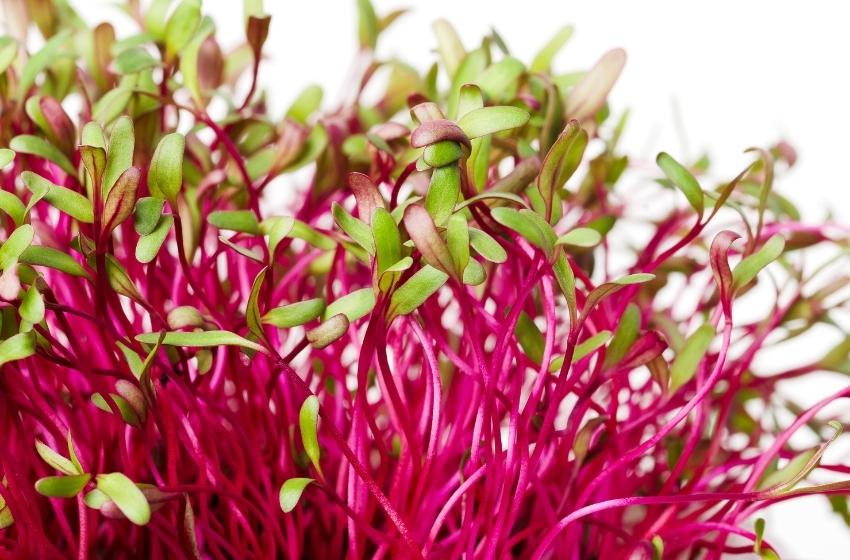 ---
A farm inside the city is a lucrative business. Ivan Vorobiev, a citizen of Odessa, has been growing greens on a vertical farm for 7 years. Every day, about 50 kilograms of the crop are harvested in his greenhouse.
---
Ivan Vorobyov is a cook by profession and he used to work in restaurants. Several years ago, he became interested in healthy eating and decided to independently grow in Ukraine the popular European microgreen - young 10-day-old sprouts of sunflower, radish, green peas and other vegetables and herbs that are added to food.
Microgreens are tiny sprouts of various plants harvested just after the cotyledon leaves have developed. Such plants are not only piquant, but also much more useful than traditional ones. They are used as a nutrition supplement, a visual enhancement, and a flavour and texture enhancement.
At the "micro" stage most of all useful substances, vitamins, and minerals are concentrated in the greens. American scientists conducted a study and came to the conclusion that microgreens are ten times more useful than ordinary greens.

Ivan Vorobyov
At first, Vorobyov grew greens for himself in his own apartment. Then he tried to sell the grown crops. The business did not go well. Combining restaurant work and agribusiness - even on such a modest scale - turned out to be unrealistic.
Vorobyev took a risk: he decided to change the profile and launch an industrial-scale vertical farm. Vorobyov's farm settled in a large rented space on the basement of a residential building on an area of ​​350 sq.m. The transfer of the business required the purchase of additional equipment - an investment of $ 15,000.
Peas, mustard, cabbage, sunflower, alfalfa, beet greens were planted on the new site - only about 20 varieties of microgreens, as well as edible flowers and baby leaves of various crops. The company was named "Green Chef".
At the new place, things did not go well at first either; Vorobyov attributes this to the low qualifications of employees. Only after he himself thoroughly understood the cultivation technology and began to train the staff for himself, the business went up. The company currently has seven employees.
There are shelves along the perimeter of the basement, each with 4-5 shelves with greenery, which are heated by phyto- and led-lamps. For germination of seeds, flowing hydroponics (growing plants on nutrient solutions), linen and synthetic rugs, coconut substrates in boxes and agrovat are used. 2-3 weeks pass from sowing to harvest. Plants are cut when they are 1 to 2 cm in height at the 3-4 leaf stage. Every day, about 50 kilograms of the crop are harvested here. Vorobyov sells 100 grams of greens for $ 1-3, depending on the greens.
"Green Chef" menu:
Sunflower
Watercress
Peas
Radish
Arugula
Purple cabbage
Basil
Mustard
Amaranth
Beet
Mizuna
Cilantro
Spinach
Lettuce
Lola rossa
Onion
Thanks to past experience, Vorobyov knew exactly who he would sell his greens to. Restaurants became his clients - in the resort town, interest in microgreens appeared instantly. According to him, "Green Chef" is already working with 250 restaurants and cafes, retail chains and small shops in million-plus cities.
Just four years ago, restaurants reacted very sluggishly to this idea, and now they take it very cheerfully. I managed to convey that parsley and dill are no longer as popular and fashionable as microgreens. It is used as a component of dishes, but in 95% of cases as a decoration. Any decoration must be edible; you cannot put plastic or metal decorative elements in the dish. People eat microgreens often, they are delicious and cool.

Ivan Vorobyov
In addition, to decorate dishes, Ivan grows edible flowers - viola, pelargonium, begonia and others. Their restaurants are bought almost in buckets, and the chef himself beautifully calls them "the sun on a plate."
The entrepreneur has launched an educational course on urban farming. The platform helps popularise a new kind of agriculture. His students have already opened more than a hundred vertical farms in Ukraine and other post-Soviet countries.
---