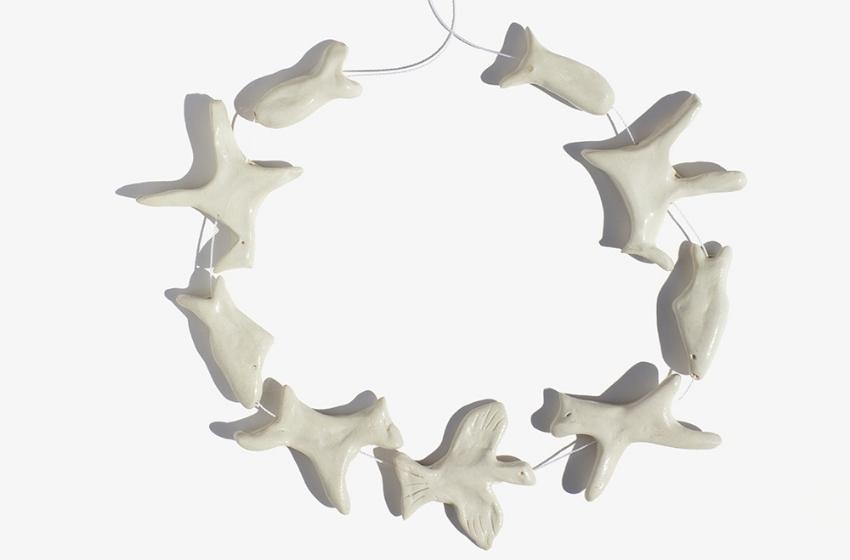 ---
Bevza presented the collection at New York Fashion Week. It is dedicated to Trypillia (Tripolye) culture which was extended from the Carpathian Mountains to the Southern regions of Ukraine.
---
Being a part of the New York Fashion Week with the spring / summer 2021 collection, Svetlana Bevza introduces to the West an ancient Ukrainian culture. She explores the archetype of the Ukrainian woman turning to Tripolye culture . The pagan civilization deified women, the central figure of their existence, worshiped female energy and maternal instincts, even prayed to statues of the female form.
Aesthetics of minimalism, characteristic of the brand, echoes elements of ancient Ukrainian culture. The structured knitted jacket is created on the basis of a casing - a traditional Ukrainian sheepskin coat. This product with a laconic design is knitted by hand from strips of cotton. The folklore symbol of the tree of life is present in minimalist dresses and tops.
I wanted to show how important it is to find your roots and show them to the world. The pandemic has separated us from other peoples and cultures. We can reach each other by telling the story of our country.

Svetlana Bevza
Among BEVZA's favorite slip dresses and jumpsuits, one can see a structured knitted jacket based on a casing - a traditional Ukrainian sheepskin coat.
Pottery and ceramics are also plays a central role in the collection. It was the cultural pillar of the Trypillyan civilization, starting from 5400 BC. e.
The friend and Svetlana's collegue Nadia Shapoval created a series of handmade jewelry for the collection under her own brand Nadiia. Nadiia is a brand founded in 2018 by Nadia Shapoval and focused on unleashing the spiritual, artistic and tactile potential of physical objects that we encounter in our daily life. All prototypes were created by Nadia by hand and made by Ukrainian ceramic master 8komora in Kiev.
I worked with raw clay to create the effect of an excavated item. I wanted it to look unpolished and authentic. I hope that through these objects women of any country in the world will be able to contemplate and feel the power and energy of femininity. At the same time the mission is to reveal and show the world not fully disclosed history and culture of Ukraine, which have always been at the heart of the Nadiia project.

Nadia Shapoval
Svetlana Bevza noted that this collection was designed during the quarantine and became one of the closest to her main ideas.
For inspiration, Svetlana and Nadia went to the Tripolye regions, where they filmed its rural lands. The result is a series of meditative, immersive scenes of swaying wheat fields and idyllic wildlife. With the support of the Trypillian Culture State Historical and Cultural Reserve, the duo was able to demonstrate rare images of ancient ceramics. This is how the art film 'TRYP' was born - a 15-minute film about a new collection with ceramics from Nadia Shapoval and aerial filming of Tripolye.
This project expands the boundaries of fashion. The purpose of this film is to share the beauty of our heritage with people from other cultures and countries.

Svetlana Bevza
[video]
---