Main — Diplomacy — The President of Ukraine: We are laying the foundation for the arsenal of the free world
Diplomacy
The President of Ukraine: We are laying the foundation for the arsenal of the free world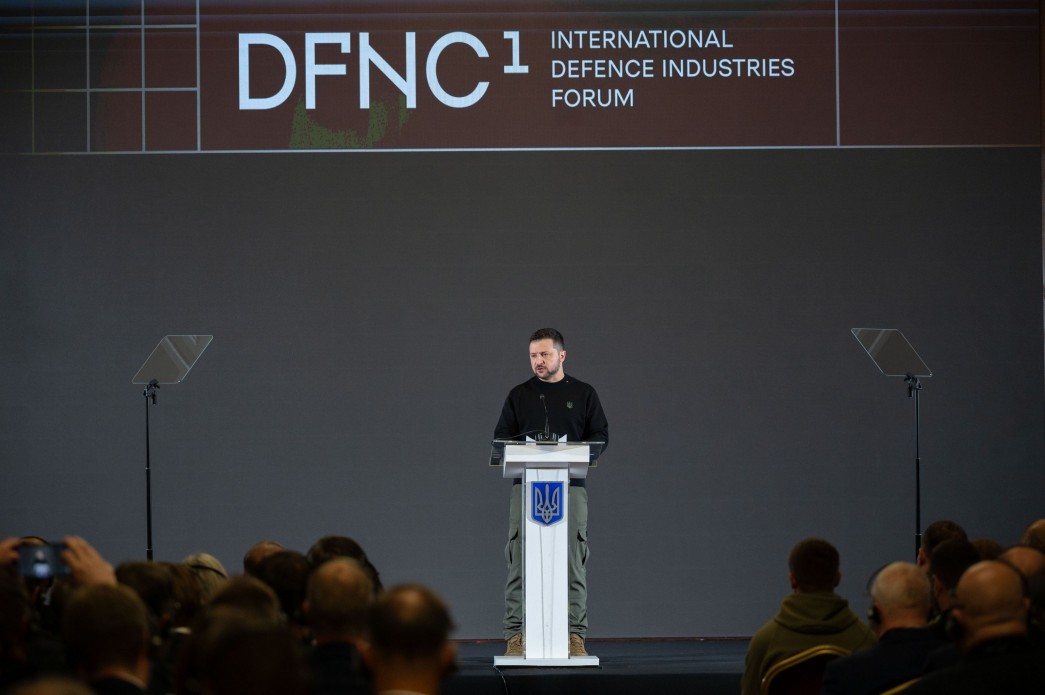 The speech by the President of Ukraine at the First International Defense Industries Forum
For me, it is an honor to open in Ukraine, in our capital, in free Kyiv, the First International Defense Industries Forum. Right now, over 30 countries from around the world are represented here. Europe, America, Asia, Australia. 252 defense companies that manufacture a full range of weapons and defense systems and solutions.
But most importantly, in this hall, there is confidence. Confidence of the free world. Confidence that we can protect our people, our values, and our freedom. And we will do it. For sure. Because we will build the necessary arsenal. And I am pleased to welcome all of you to the Forum. All of you who are ready to build the arsenal of the free world together with Ukraine and in Ukraine. A modern and powerful arsenal that will leave no chance for any aggressor.
This is not just about Russia's aggression.
Yes, our primary task is to win in this war and bring back long-lasting and, most importantly, reliable peace to our people. We will accomplish this task. Thanks to our cooperation with you, with the majority of the world. Thanks to broad coalitions supporting our defense. Thanks to the production of weapons and ammunition in Ukraine. And thanks to the fact that we implement technology in Ukraine's defense and use the most effective battle practices, real practices of pushing forward, effective practices of protecting people and infrastructure from Russian terror. But everything we have learned ourselves, we are ready to teach and share practices with our partners. Everything that serves our defense can serve - and very successfully - the defense of our partners. This is how we are laying the foundation for the arsenal of the free world.
With its criminal and unprovoked aggression against Ukraine, Russia has shown every nation that it can threaten the sovereignty and normal life of any people on the planet.
And looking at our defense in this war, at our movement towards liberating our own territory, every state understands what it needs for its own defense. What kind of weapons, what industries, what modern technologies, what alliances.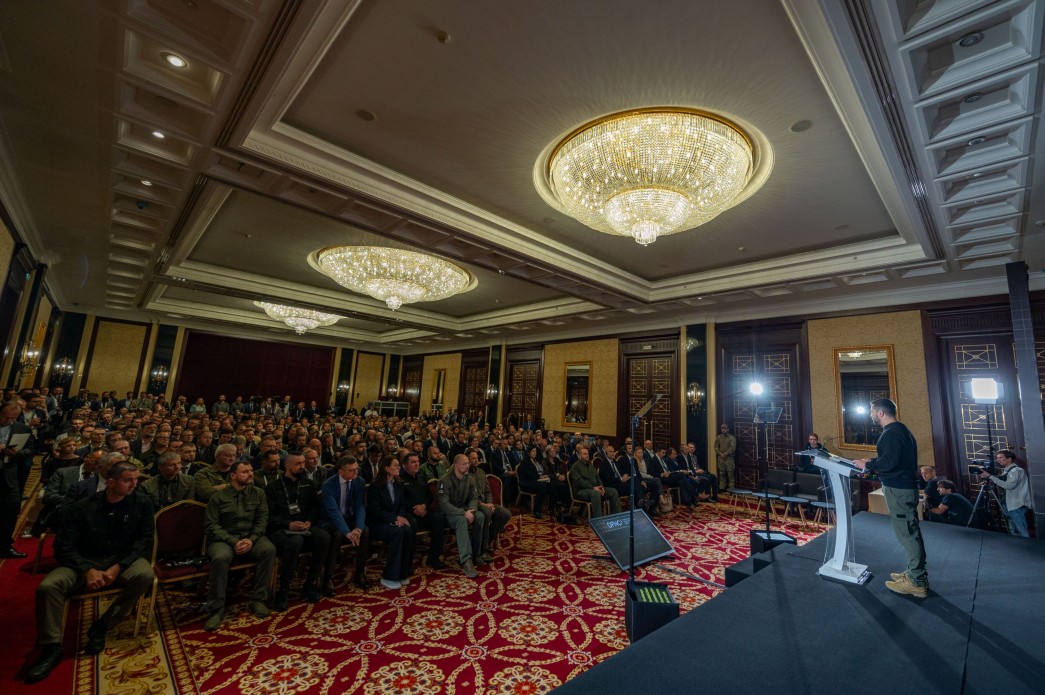 By how we have endured in the war and by how Ukraine will prevail, we provide a successful strategy for national and collective defense to all others in the world who value peace. A long-term strategy. Right now, for the next decades, the most powerful defense-industrial complexes are being determined, what their priorities will be, and what the standard of defense in the world will be. It is being determined precisely in Ukraine.
Ukraine is at a point in the defense marathon where it is absolutely essential to move forward without any retreat. A frontline result is needed every day.
I am grateful to everyone around the world who helps us achieve such results. But it's evident that without our own production of weapons and ammunition, without our own defense technologies, this would simply be impossible. I take pride in the fact that at this Forum today, we have not only representatives of cutting-edge foreign companies but also representatives of our domestic Ukrainian enterprises. Enterprises that are growing stronger during this time of war. State-owned and private enterprises. Established defense companies with a long history and entirely new defense companies, defense startups that have just begun but are already making a name for themselves.
The world sees what Ukrainian missiles, technologies, and drones are capable of. We are creating the world's first fleet of naval drones that render Russian military ships ineffective and force them into hiding. We have initiated the production of cannons and "NATO caliber" ammunition that are needed on the battlefield. You know this – 155 mm. Our anti-tank guided missile systems have a longer range and are safer to operate than a whole range of other analogs. We offer our software solutions for defense, from management to cybersecurity. We are interested in localizing the production of equipment – so necessary for our defense – and each of those cutting-edge defense systems used by our warriors, which are delivering the best results for Ukraine on the frontline today.
This kind of collaboration – in the production of weapons, equipment, and ammunition – is already being negotiated with our partners. Regarding what can and should be publicly disclosed today, I'd like to highlight recent agreements with the United States of America. We have reached agreements on joint production – essentially the establishment of a new industrial ecosystem that will strengthen both Ukraine and the United States, and all our partners. This is one of the key outcomes of my negotiations with President Biden in Washington, and a clear signal to the world that Ukrainian strength is not just worthy of trust but that the world's strongest are ready to combine their potential with our strength – the strength of our state.
Today, at this forum, we are announcing the creation of the Defense Industries Alliance. An alliance that values international law and is capable of working for the real protection of international law. Protection of security – I'm talking not only about Ukraine, but also about the security of any nation in the world from aggression.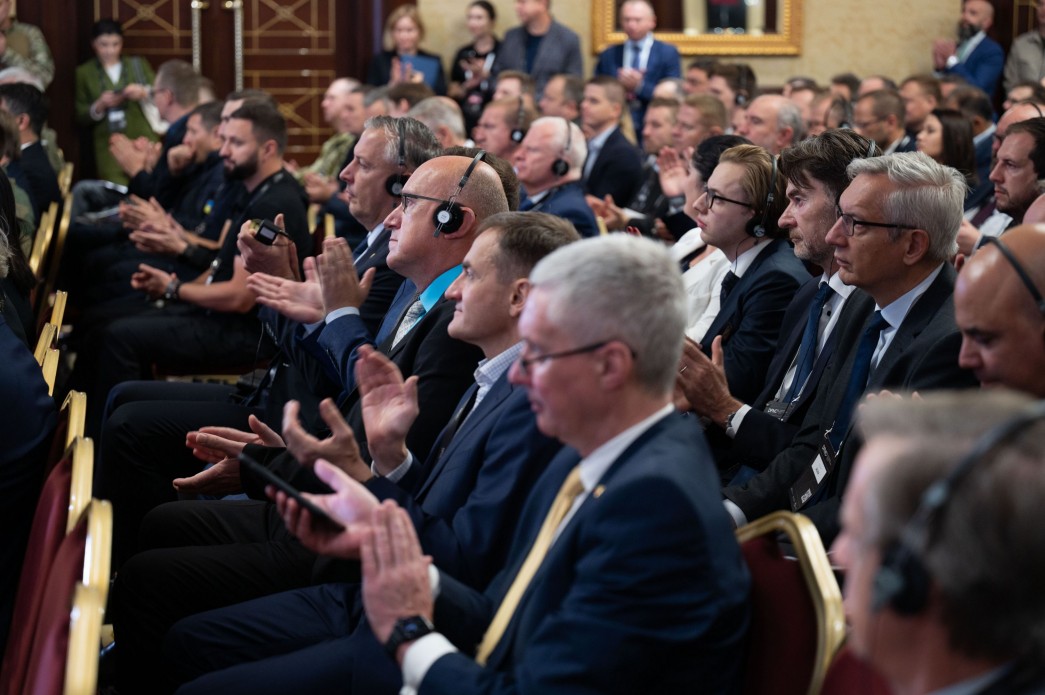 We have drawn up a corresponding basic declaration as the foundation of this alliance, and manufacturers of weapons and military equipment from all over the world who share our intention to provide real protection from aggression in this high-risk environment of our time can join it. Today, at its inception, 13 prominent companies have already signed this declaration, showing their readiness to build a new arsenal of the free world alongside Ukraine.
I'm pleased to announce in this format, secondly, that Ukraine is developing a special economic regime for the defense-industrial complex. To give all the opportunities to realize their potential to every company that works for the sake of defense – in Ukraine and with Ukraine or that wants to come to Ukraine.
Thirdly, in Ukraine, we will establish a special Defense Fund, which will provide additional resources, including for the development of military production and support of relevant collaborations, for the creation of new military facilities and programs needed to ensure defense and take care of our warriors. The fund's resources will be an addition to the state's expenditures on defense, defense production, and private investments. The fund will be replenished through dividends from state-owned defense assets and profits from the sale of confiscated Russian assets.
Soon, it will be 600 days of the full-scale war. 600. But no matter what happened, there hasn't been a day throughout this long period when Ukraine felt any hopelessness and when Russia had even a glimmer of real hope to break us. We are confident in ourselves, confident in our citizens, in our partners. We are a strong nation. We are a courageous people. A state with global significance. We will undoubtedly prevail. We will create such a defense potential for Ukraine, and therefore for the entire free world, that it will be a reflection of our strength.
I thank everyone who works in Ukraine, who works with Ukraine! And I invite everyone who wishes to multiply their strength to cooperate – with our country, it is possible.
Glory to Ukraine!