Main — Diplomacy — A new giant graffiti in Odessa by a famous Ukrainian artist
Diplomacy
A new giant graffiti in Odessa by a famous Ukrainian artist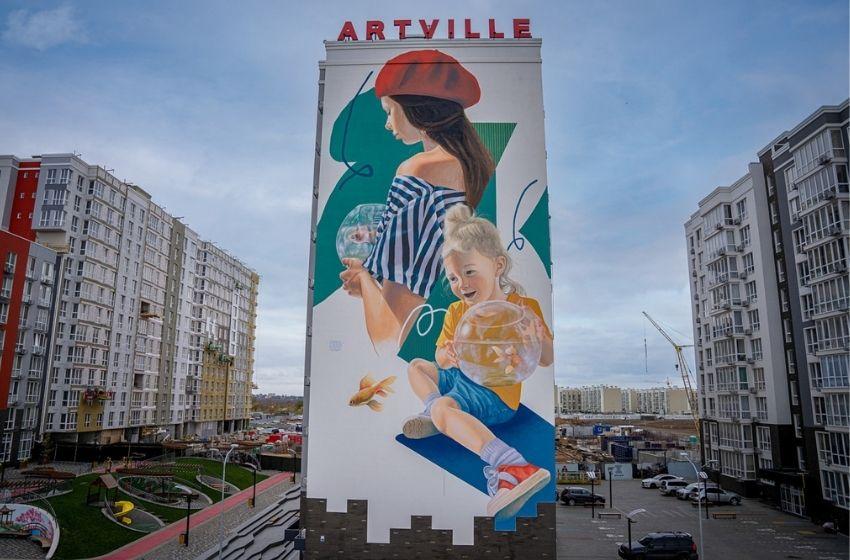 ---
A new mural artwork, big as an advertisement, by the famous Ukrainian artist Alexander (Sasha) Korban appeared in Odessa.
---
Alexander Korban is a famous muralist painter. His works are in many cities of Ukraine. Some of them were created by order of the UN and cover acute social topics like domestic violence. The artist is often invited to work abroad; he has already decorated with his murals many cities of Italy, Georgia and Turkey.
Alexander began his career 11 years ago in the city of Kirov, Donetsk region. Then he worked as a miner, and graffiti was a hobby that took up all his free time. In 2014, he moved to Kyiv. "There was only 1,000 hryvnia in his pocket", he said. He did not know what he would eat and where he would live, but he knew for sure that he wanted to devote himself to creativity. Here his first major work appeared: "Boy with Airplanes".
Two weeks ago, Alexander Korban finished work on his new mural. The graffiti, 20 meters high, is located not far from the 7 km industrial market, in the ARTVILLE residential town. It can be clearly seen from the Ovidiopol road.
With this graffiti, the artist wanted to remind modern parents that some children spend too much time with gadgets and too little time in the real world. Thus began the series of murals "Happy Childhood", which now has seven works in different cities of Ukraine.
Alexander Korban created a new work by order of the ARTVILLE residential town. Mural is already admired by residents of the city and nearby villages. It took the artist two weeks to create the mural. It depicts a girl with an aquarium and a girl. Goldfish swim around the heroines. They, according to the artist, are the main figures of the mural.
The theme that the artist conveys through his work is the importance of transferring experience from older generations to younger ones. He reminds that children, like sponges, absorb all the knowledge they receive from adults, therefore it is very important to instill in them life values ​​by their example.
The appearance of the new mural sparked discussion among the audience. They argue about the meaning of the job and share their impressions. This proves that street art interacts with a person, responding to his needs for aesthetics. Understanding this is shaping a new trend in construction - moving away from simple construction of buildings to creating a comfortable environment in which beauty is as important as functionality.
---
Source and pictures: Dumskaya.net
---