Main — Culture — Mural in Odessa in honour of doctors: "Atlantes saving the world"
Culture
Mural in Odessa in honour of doctors: "Atlantes saving the world"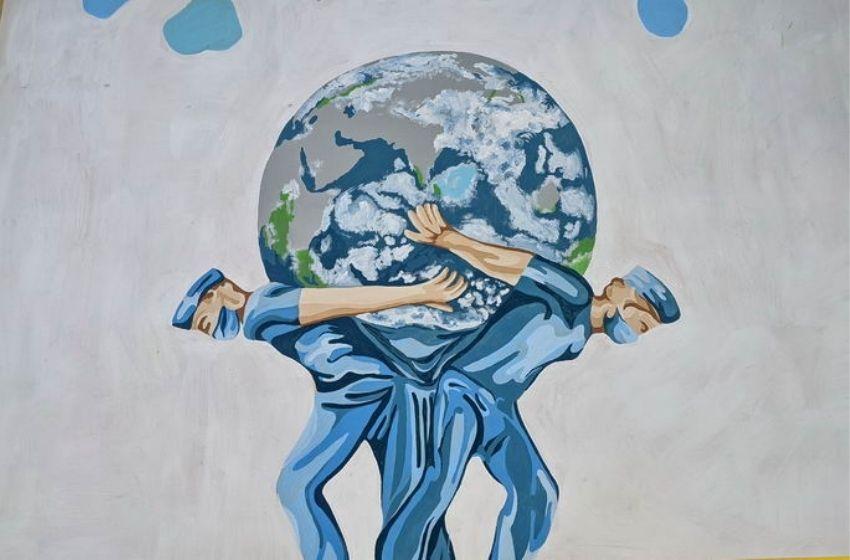 ---
On the area of the Jewish Hospital in Odessa, artists from the Peach Studio painted a mural dedicated to doctors.
---
The author of the idea is Alexey Shkurat, creator famous street art objects and head of the Peach Studio. He is also two-time record holder of Ukraine with more than 34,000 sqm. paintings.
In the context of the COVID-19 epidemic, doctors have become like the famous sculpture of the Odessa Atlantes, on whose backs the whole world rests, says Shkurat, who is also the project's patron.
Doctors have repeatedly saved Odessa from various epidemics. Plague, cholera, now covid; at the cost of their own lives, health, they are always the first to come face to face with diseases. We wanted to connect Odessa culture, doctors and the value of their work in one project. This is how the Odessa Atlantes became doctors who support the planet on their shoulders and save our lives.

Alexey Shkurat
The artists chose the Jewish hospital for a reason; there are two departments for patients with Covid. On this mural Alexey worked in collaboration with Avgustina Zemlyanskaya. In the future, Aleksey Shkurat intends to bring to life a series of similar art objects with other Odessa artists. Artists use environmentally friendly paints, after the completion of the work, the mural will be covered with varnish, which will protect it from wind and rain.
On the eve of Earth Day, I would like to remind the townspeople that in the last year it is on the shoulders of doctors that our planet is held. I would like to express my gratitude and support to them on behalf of the citizens of Odessa.

Avgustina Zemlyanskaya, multimedia artist, curator, member of the Qatar Association of Artists
---
Source: CULTUREMETER
---