Main — War — Prime Minister meets with President of the Bundestag: We expect assistance from Germany and German companies in rebuilding Ukraine
War
Prime Minister meets with President of the Bundestag: We expect assistance from Germany and German companies in rebuilding Ukraine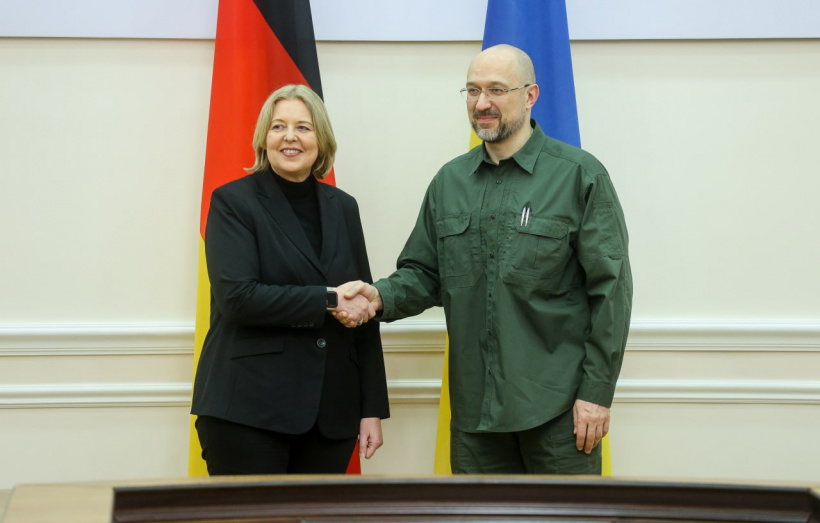 ---
Four areas of cooperation are seen as of strategic importance for Ukraine: weaponry, sanctions, finance and the European perspective. This was stated by the Prime Minister of Ukraine Denys Shmyhal during a meeting with the President of the Bundestag of the Federal Republic of Germany Bärbel Bas on May 8 in Kyiv.
Denys Shmyhal welcomed the decision of the Bundestag to provide Ukraine with heavy weapons. According to him, this type of weapons can help our country protect both Ukrainian and European borders.
"We hope that Germany, as one of the largest arms exporters, can quickly help and resolve the issue of providing Ukraine with sufficient amount of quality weapons," said the Prime Minister.
The Head of the Ukrainian Government thanked for the support of Ukraine's European integration in the German federal parliament and expressed belief that the status of a candidate for EU membership would be granted to Ukraine in the near future.
Denys Shmyhal and Bärbel Bas also tackled the problems of Ukrainian agricultural exports. The Prime Minister of Ukraine appealed to Germany with a request to help create pressure on russia to unblock seaports and return to our country the ability to export almost 90 million tons of grain, oil and corn to countries of Europe, Africa and Asia.
"Not only Ukraine is suffering the war nowadays. russia is also waging war in Europe with using hybrid methods. The energy crisis it started last year, the migration crisis it wanted to cause by committing atrocities and killings of civilians in Ukraine, the food crisis it is now causing by blocking our ports and destroying grain storage facilities," urged the Prime Minister of Ukraine.
During the meeting, Denys Shmyhal briefed about the Ukraine Recovery Plan, which is being developed by the authorities and which envisages the participation of all our partners.
"We are also looking forward to participation of Germany and German companies in the rehabilitation of Ukraine. We design the plan on a regional basis: each region, each city can choose to restore one particular Ukrainian region or Ukrainian city. We don't just want to rebuild what was destroyed. We want to transform our country, implement all the reforms and become one of the most attractive countries to live on the European continent," said the Prime Minister.
For her part, President of the Bundestag Bärbel Bas noted that her visit to Kyiv was a sign of Germany's solidarity with Ukraine and the Ukrainian people in this struggle. The top official assured that Germany stands firmly on Ukraine's side and strongly supports Ukraine's accession to the EU.
Moreover, the President of the Bundestag said that Germany accelerated the process of abandoning russian oil and gas and wanted to tighten sanctions to demonstrate russia its readiness to resort to such moves to support Ukraine.
---