Main — Culture — Ukrainian director's documentary wins at the 61st Florence Film Festival Dei Popoli
Culture
Ukrainian director's documentary wins at the 61st Florence Film Festival Dei Popoli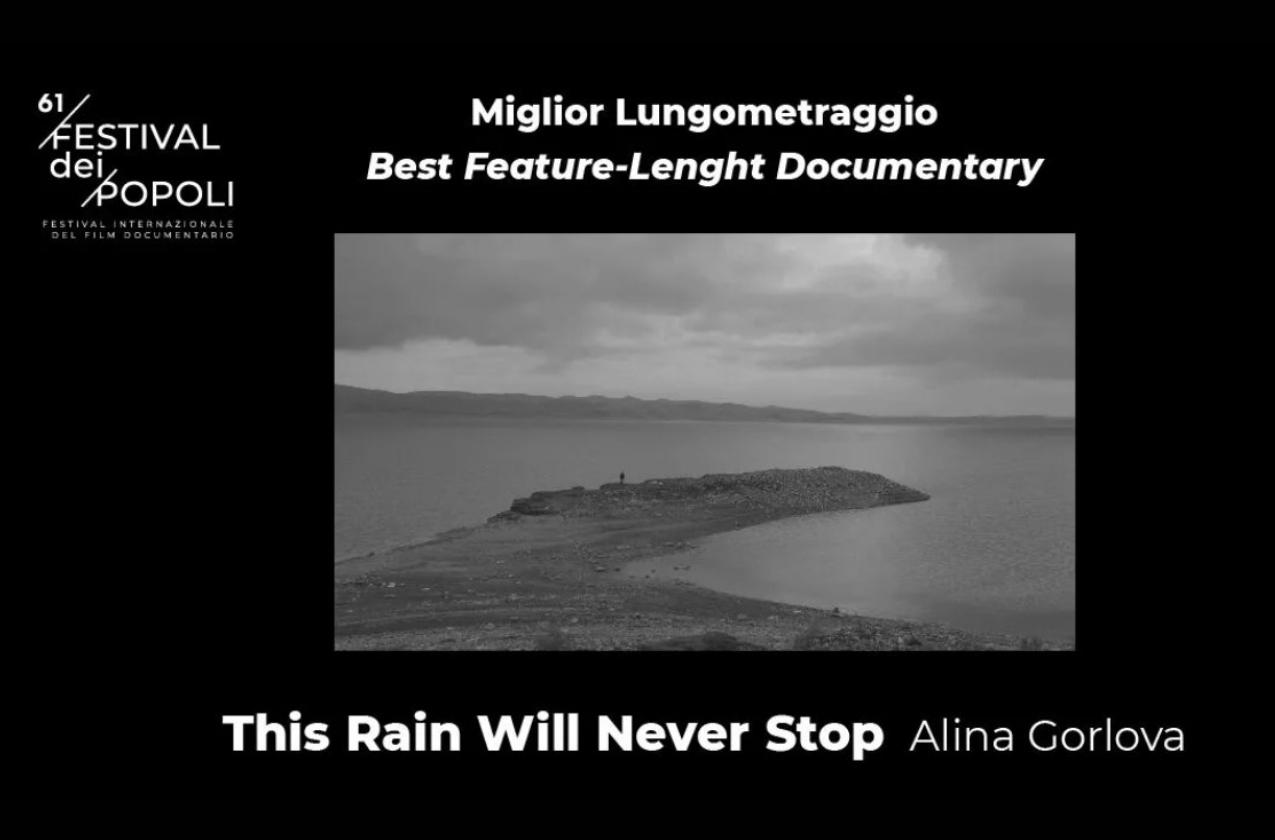 ---
The film "This Rain Will Never Stop" by Ukrainian director Alina Gorlova won the oldest Italian documentary film festival, Festival dei Popoli, which has been held in Florence for over 60 years. It received the main award for Best Feature Film. This year's event took place online for the first time.
---
The International Jury of the 61th Festival dei Popoli is composed of:
JOËLLE BERTOSSA (Switzerland)
MARIA BONSANTI (Italy)
ANDREI UJICA (Romania)
Motivation:
"Ukraine has been the stage of some of the most horrifying tragedies of the 20th century: the Holodomor, the Holocaust, Chernobyl. As one of the gates to the European Union, Ukraine became nowadays a transit territory to their refuge for the migrants, victims of the wars deployed around from Donbas to Syria. This Rain Will Never Stop depicts the dark aura of this place tortured by history using strong black and white images which remind of the great school of the nonfictional Soviet cinema".
"This Rain Will Never End" tells the story of 20-year-old Andriy Suleiman, who was born in Syria, but, fleeing the war, moved with his family to Ukraine. But a military conflict also began here, and the hero went to Donbass as a Red Cross volunteer. When Andrei's father dies, he decides to bury his body in Syria.
The film is a joint project of Ukraine, Latvia, Germany and Qatar. The producer is Maxim Nakonechny. It also takes part in the largest documentary film festival IDFA, which takes place in Amsterdam. The premiere of the film "This Rain Will Never End" in Ukraine is scheduled for 2021.
[video]
Alina Gorlova shot her first documentary, Cold Yar, in 2016. Then, in 2017, together with two other Ukrainian directors, Irina Tsilyk and Svetlana Leshchinskaya, she presented the film "Invisible Battalion" about women soldiers, who are fighting in the ATO zone. Gorlova is also the director of No Obvious Manifestations, which tells the story of a woman who has returned from the war in Donbass and is struggling with post-traumatic stress disorder.
---