Main — Culture — Commemorative plaque on the Bleshunov house-museum with a quote from the Polish writer Jozef Krashevsky
Culture
Commemorative plaque on the Bleshunov house-museum with a quote from the Polish writer Jozef Krashevsky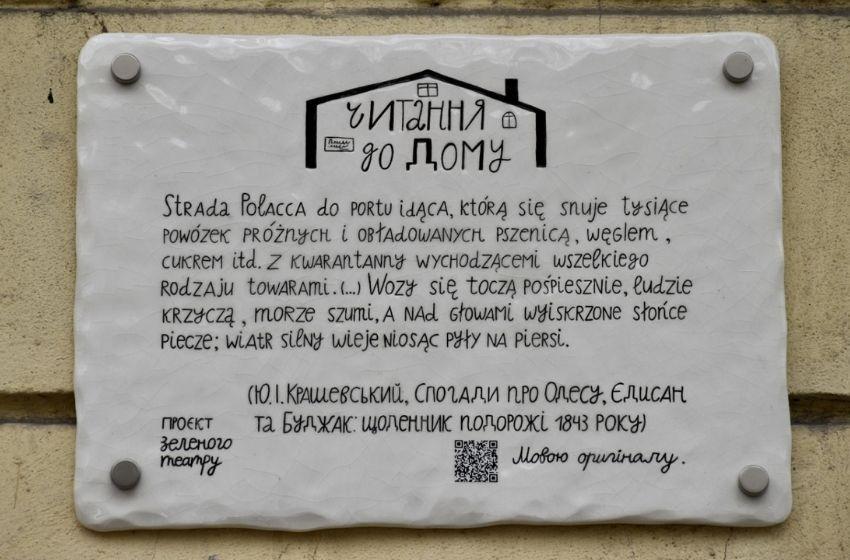 ---
Jozef Krashevsky is a Polish writer of the 19th century, who visited Odessa in the summer of 1843 and described in detail what he saw in his diary, having previously immersed himself in detail in the history of the city. The book was first published in 1845.
---
The commemorative plaque with a quote from the Polish writer was created with the support of the Consulate General of the Republic of Poland in Odessa. The opening to show the plate on the facade of the Odessa house-museum of Alexander Bleshunov was attended by the Consul General of Poland Katarzyna Solek.
The text on the plate is written in the original language and means:
Strada Polacca (the initial Italian name for "Polish street"), which leads to the port, which scurry about thousands of carts, empty and loaded with wheat, coal, sugar and others released from the quarantine of all type of goods. (…) The carts roll in a hurry, people shout, the sea is rustling, and the scorching sun is shining overhead; a strong wind blows, carrying dust on his chest.
Local historian and translator Stella Mikhailova presented the diplomat with the book "Memories of Odessa, Edisan and Budzhak" by Jozef Krashevsky, which she translated for the first time in 2019.
Ironically, Kraszewski, the great Polish writer who was in Odessa in 1843 and left unique, incomparable memories, has never been translated from Polish before. Therefore, I knitted such work for myself. This book is absolutely amazing, and Odessa today paid tribute to the great Polish writer.

Stella Mikhailova, historian
According to the translator, there was no photograph yet during Krashevsky's trip to Odessa, but the writer described his observations in great detail. Today, the information he has collected helps restorers in their work in the restoration of the Vorontsov Palace.
---
This initiative is part of the joint project "Reading at home" by the Green Theater and the travel agency "Tudoi-Syudoy".
This is the eighth tablet, which appeared in Odessa. Previously, such tablets appeared on the Stroganov Bridge (with an excerpt from the book by Yuri Olesha "Stadium in Odessa"), on the territory of the Green Theater (with quotes from Vladimir Zhabotinsky and Mikhail Zhvanetsky), on Sofievskaya 17 (with an excerpt from the "Odessa Tales of Isaac Babel"), on the wall of house No. 133 on Staroportofrankovskaya (another text by Zhvanetsky) and at the entrance to the Suvorovskaya Alley of Shevchenko Park (quote from Lesya Ukrainka).
The authors of the project planned also a guidebook with illustrations, which will indicate all installed signs on Odessa streets. In addition, in June, the "Reading at Home" project will be presented at an exhibition in the Mystetskiy Arsenal.
---
Source: Dumskaya
---