Main — Diplomacy — Igor Yureskul: the coach who trained the youngest world champion in the history of Ukrainian boxing
Diplomacy
Igor Yureskul: the coach who trained the youngest world champion in the history of Ukrainian boxing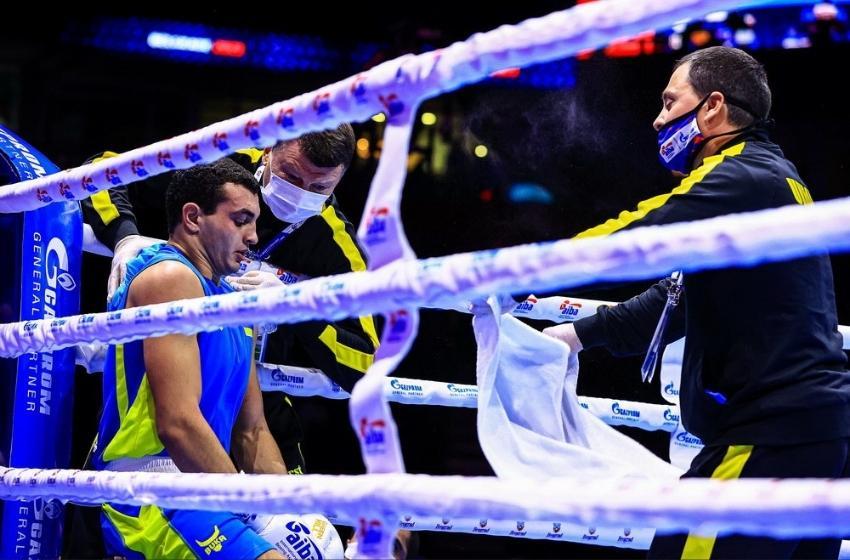 ---
We present Igor Yureskul - Honored Coach of Ukraine in boxing, whose students won 7 medals at major international competitions, including November 6, when the 19-year-old world champion was Yuriy Zakhareyev.
---
Honored coach of Ukraine in boxing. Boxing coach of the Sports Club "Black Sea" (Andriyivka village, Odessa region). Candidate for Master of Sports in kickboxing, candidate for Master of Sports in Thai boxing. During his sports career, he was a prize-winner and winner of all-Ukrainian tournaments in kickboxing and Thai boxing, a silver medalist in hand-to-hand combat.
Igor Yureskul's students have already won seven medals at major international starts: four in Yuriy Zakhareyev's assets - he was twice European champion among youth, and this year he won the world championship twice - youth (in April) and adult (in November); Maxim Molodan has two - in 2018 he became a bronze medalist of the World Cup, in 2021 - a silver medalist of the European Youth Championship; one for Dmitriy Molodan, who won silver at the Junior Euro in 2019.
Igor has been involved in martial arts since he was 15 years old. The first type was kickboxing, which he did while studying at the technical school in Belgorod-Dniester. I went to the sports club "Champion" for training with coach Anatoly Stepanov. He managed to try and kickboxing, and Thai boxing, and boxing, and hand-to-hand combat.
Then there was Thai boxing. After entering the university in Odessa, he continued playing sports with Maxim Neledva. Under his leadership, Igor trained for three years while studying. During this time, he took part in competitions and became a prize-winner of Ukraine in Thai boxing. By the way, he trained himself. Also performed at the Ukrainian championship, where he became a silver medalist.
In the village of Andriyivka there are no cinema and disco, but the world champion.

Igor Yureskul
Then he returned to Belgorod-Dniester, where he trained for about a year in the boxing club "Ackerman" with Alexander Bogatyrsky.
When he returned from the army, he went to work at a private enterprise (in the Andriyivka village). Here, Volodymyr Orekhovsky, who used to box, suggested that Igor Yureskul recruit children to the sports section. They found the premises, made maintenance, and equipped the gym. An active coaching career began in 2012.
Igor Yureskul emphasizes the fact that he was engaged in various types of martial arts. After all, he use all the elements during the training. For example, kickboxing and Thai boxing use complete stretching for athletes at every workout: stretching the body, stretching the muscles, etc. This makes the guys much more flexible.
I am sure that if there are obstacles on the way to the top, it will only harden both the coach and the athletes.

Igor Yureskul
---
Igor Yureskul about Yuriy Zakhareyev
Zakhareyev came to me small and round-shaped. At first, he cried a lot. However, we slowly turned him into a man. Many thanks to his mother, who supported and helped us a lot in our work. Psychologically mentored and still mentors Yura. He learned from his mistakes. They hardened him. Three times he became the third at the championships of Ukraine. In Chernivtsi, he was not given a well-deserved victory at all. Everyone remembers that scandalous fight. Yura overcame himself every time and did not give up. Yuriy is an interesting guy in general. He constantly needs to be at work. Yuri can not rest for long. They are entirely different from Molodan. It is necessary that he was always moving and moving forward.
---
Igor Yureskul about Dmitry Molodan and Maxim Molodan
Dima Molodan, the youngest of the brothers, came to me first. He later pulled up his older brother. Guys - well done! They are really an example of hard work, very disciplined and, most importantly, good people. I wish every coach to have such students. Molodan became the vice-champion of Europe under 22 years. He had an injury after the European Championship. Now, thank God, all is well. They wanted to box at the Ukrainian championship among adults but decided to save Maxim. He was at the meeting, preparing. He is currently training in Koncha Zaspa. After that, he goes with the national team under 22 to the training camp in Scotland, where, as far as I know, the match between Ukraine and Scotland will take place. Let's see what happens next. Maybe we will combine professional boxing with Olympics. We will decide by the new year.
---
I want my guys to do well! Dima Molodan will be boxing in the under-22 age group. I wish him success! I want Yura Zakhareyev and Maxim Molodan to gain a foothold in the adult men's team, win the European and World Championships. Let's try to get to the Olympics!
Igor Yureskul
---