Main — Diplomacy — Tactical medicine training offered by Reva Foundation in Odessa
Diplomacy
Tactical medicine training offered by Reva Foundation in Odessa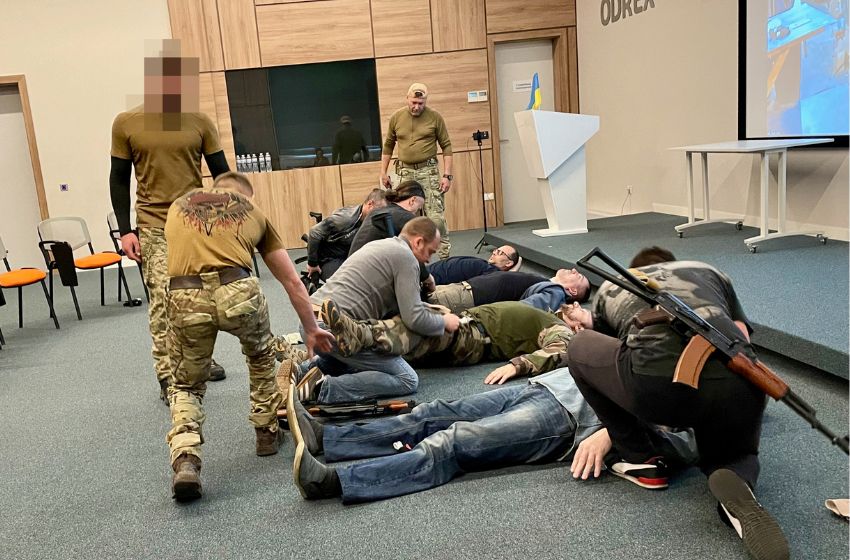 ---
One of the consequences of this war is a "militarization of the health care system", which affects not only combat doctors, but also civilians. REVA Foundation was able to coordinate the purchase and distribution of individual first-aid kits (IFAKs) and found highly qualified specialists with practical experience in using tactical medicine to provide practical training in Odessa.
---
Mikhail Reva is a Ukrainian artist, sculptor, and a legendary character epitomizing Odessa. In 2015, Mikhail founded the nonprofit REVA Foundation, which four years later laid the framework for several groundbreaking community arts and culture projects. Unfortunately, when COVID-19 hit, they were forced to postpone them all for a variety of reasons, including mandatory border closures.  Like so many nonprofits, they ushered in 2022 with a renewed sense of hope and big plans: a monumental complex in the Kharkiv region for the 300th anniversary of a prominent Ukrainian philosopher G. Skovoroda, the opening the "Heart of the Creator" monument in Dnipro, and the launch of the NFT collection of the REVA Foundation.
On February 24th, all these plans came crashing down once again..
I was in Odessa, woke up early in the morning, and heard that my city was being bombed. And then came the shocking realization: it is war. I knew how much grief, suffering, and an unimaginable amount of death this war would bring. As an artist, all the tragedy, the pain instantly penetrated every cell of my body. An artist is always the nerve of the times.  And I understood that later, I would have to turn this terrible energy into a powerful story that could only be told through the magic of images.

Mikhail Reva
Still, this was early on in the war. No one believed a full-scale war would ever happen.  No one believed that Ukraine would hold out for more than 72 hours. Everyone was in shock and filled with foreboding.
On the first weeks of the war, the volunteers of the Foundation realized that they could use the existing structure of the organisation to help Odessa—and help Ukraine. Through the piercing howls of the air raid sirens, the first announcement was being recorded, the script was being written, the video was being edited, and at the same time PayPal was being tested with friends around the world to make sure people could use that platform to make donations. Having barely posted the video on Facebook, they began receiving requests for humanitarian assistance, both from various units of the Armed Forces of Ukraine and from individuals who wanted to help Ukraine and its defenders. 
In addition, they started getting phone calls from even more friends, and strangers, from Poland and the Czech Republic, Germany and France, America and Canada, Brazil and Mexico. There was an undeniable feeling that the entire civilized world had sided with Ukraine. 
From the first weeks of the war, they decided to focus on supplying individual first-aid kits, or IFAKs, for military personnel, but even that was not as easy as they anticipated. They soon realized that there was both a huge shortage and a confusion about what exactly should be included in those kits. As it turned out, what goes into different IFAKs varies greatly, as does the price. Many volunteers around the world rushed to buy tourniquets, "Israeli bandages," occlusive bandages, Celox, and similar products. "Pseudo-mycins" also appeared in the shopping lists of various well-meaning, but uninformed, volunteer buyers working for non-profits. Most of them did not have a clear understanding of what any of that equipment was or how it was used, the difference between various models from different manufacturers and, most tragically, even the military did not know how to use most of it the potentially lifesaving supplies in the kits, rendering them effectively useless.
REVA Foundation turned to ambulance doctors, paramedics, and other medical professionals for advice. It didn't always make a difference. Through no fault of their own, there were a lot of contradictory opinions, even among these experts. Most of them, like us, had never experienced the life changing realities of war. That led them to the conclusion that it was necessary to find highly specialized experts with practical experience in using tactical first-aid kits in the world's "hot spots."
Some of the REVA fellow Odessites living in San Diego, California introduced them to an instructor with the highest level of knowledge in tactical medicine. This was the first time someone had been able to clearly explain all the specifics needed on a live battlefield. But it made no sense to give out supplies that people were unfamiliar with and had no practical skills in using.
The new challenge: in addition to supplying the kits, they had to arrange training sessions with an overseas instructor in a foreign language.  By chance, both the chief instructor as well as REVA's group of volunteers, who were training in first aid at the military department of the Polytechnic University, were joined by several more veterans who had participated in conflicts in the Middle East.  After learning about the goals and objectives, these guys immediately came to Odessa as volunteers. One of the volunteers living in California even provided commercial space for the training sessions.
One of the consequences of this war is the "militarization of the health care system," something which affects not only combat doctors, but also civilians (for example, attacks on medical institutions are used as an instrument of terror). The aftermath persists for years after a war has ended—somewhere that, tragically, is still nowhere in sight.
Another issue the volunteers learned as time passed: the role of a combat medic is one that is very different in training sessions versus in live-action war. It might seem his or her task is simply to keep the wounded alive before they reach professional doctors, much the way we view emergency medical workers like ambulance drivers and EMTs. But in an actual war, to accomplish that— simply keeping a human being alive—one must be prepared for the unexpected. These often amateur medics (many are courageous volunteers) must not only have experience in providing first aid, but also evacuating victims (husbands, wives, mothers, daughters, sons, children, teens) directly from a battlefield, all the while dealing with others' emotional trauma as a psychologist would typically do. In other words, they must be a soldier, a medic, a psychologist, and in many cases, play the role a professional evacuation team would otherwise do in a non-war setting. It can be a daunting task.
From April to June, more than 100 people were provided access to and received the training; some even became volunteer instructors and have already independently trained more than 1,400 servicemen from various army units in southern Ukraine. Those numbers may sound small to some, but they represent a great victory in that their impact has saved thousands of lives, and not just because every single person who completed our training received the IFAKs and tourniquets for stopping heavy bleeding. Because these people are now equipped to make informed decisions on the battlefield that save countless lives, something that could only be done with the help of not just these volunteers, but all who donated to make it a reality.  Our work is far from done, and we hope you will join us in the battle to save more lives.
We need your help to continue acquiring first aid kits and to train more civilians and military personnel in tactical emergency medical care.
Together, we will win.
---